Vidyalaya School Management Software now in Uttar Pradesh, "The Heartland Of India"..!!!!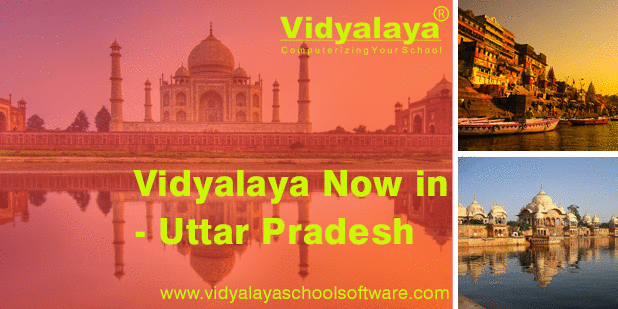 Uttar Pradesh is fourth largest State of India, Previously known as United Provinces. UP is also most Populous state of India.
Uttar Pradesh is famous for Rich culture and tradition. It is always has been center of attraction of not only national but international tourist. It is state of birthplace of Lord Rama and Lord Krishna, in Ayoydhya and Mathura. World famous TAJ MAHAL one wonder out of 7 wonders is also in UP. Uttar Pradesh has historical, natural, and all main religious(i.e Hindu, Buddha, Muslim) Destinations, which are world famous. Here are some places which must be visited.
Agra

– Taj Mahal, some garden and historical monuments.

Ayoydhya

– The birthplace of Lord Rama

Mathura & Vrundavan

– The birthplace of Lord Krishna and Neminath of Jainism.

Allahabad

– Place of TRIVENI SANGAM- Meeting point of Ganges, Yamuna, Sarsawati Rivers, where Kumbh mela is well known.

Varanasi

– 'The Religious Capital of India' , ' The oldest city of the world' , holy place of Lord Shiva.

Jhansi

– Rani Laxmibai's battlefield Against British, Jhansi fort.

Lucknow

– "The city of Nawab" Several historical places Mughal, British and ancient India.

Fatehpur sikri

– Historical Place for Mughal empire's Places and forts, Which are famous for its architecture.

Kushinagar

– Popular Buddhist pilgrim center, where Gautama Buddha have attained Parinirvana after his death.

Sarnath

– Another Pilgrim center of Buddhist, Where Buddha had given first sermon.it is also birthplace of Shreyansanath, and Jain Tirthankar of the Jainism.

Gorakhpur

– The home of Buddhist, Hindu, Muslim,Jain and Sikh saints.

Dudhwa National Park

– One of the best Tiger reserves in India.
Uttar Pradesh was called Educational Hub of India, As It was selected as destination for Education from starting of vaidic period. Sanskrit, Persian, Arabic language was firstly taught in Uttar Pradesh during Gupta Rule. In last five year UP has made drastic change in Management of Primary school. Currently state is having 8,66,361 Primary schools, 8459 Higher secondary school, 758 Degree colleges, 26 universities. Literacy Rate is increased up to 67.68% as per survey in 2011. Most of schools are affiliated with U.P. Board , CBSC, CISCE.
After having Invaluable 15 years of Experience in school management software, India's No-1 Vidyalaya school management software is now penetrate in to Uttar Pradesh, to contribute eduction revolution in to existing system of Uttar Pradesh. Vidyalaya is complete ERP based school management solutions for small, medium, and large size of Uttar Pradesh schools. Vidyalaya has huge potential to change the face of Uttar Pradesh education system in the coming days.
Before 15 years Sapphire Software Solutions has started to develop Vidyalaya School management software, Which is capable to handle every activities of school like student admission, Fees, administration, Library, Pay roll, Examination and many more crusial modules very easily. Vidyalaya school management software can support multi organization tradition. Most favorite Part of vidyalaya School management software by our existing clients is vidyalaya is very user friendly. School management Software with mobile app makes the relationship between parents and teachers much more strong. It is highly integrated software with SMS, Biomatric, OMR sheet checker, E-Examination and many more plugins.
Now with availability of vidyalaya school management software in Uttar Pradesh, Schools of UP may enjoy all the benefits of Vidyalaya without any hard work and very instantly with more accurate and good result.
Click HERE for our free trial.