Top Four Primary Benefits of the Web Based School ERP Software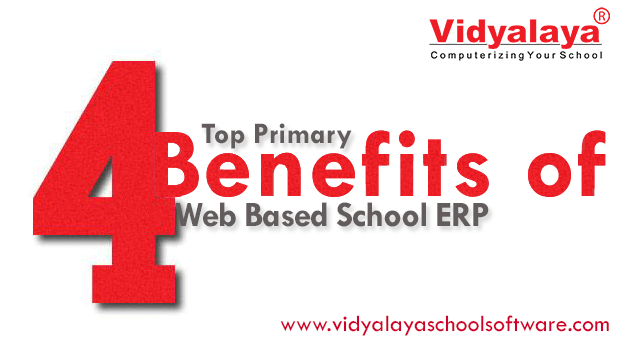 After a decade of internet revolution in India, School based Enterprise resource planning (ERP) software is been an important necessity for any of Educational organizations. Benefits and features of these software can directly lead to software the increased stability in school's administrative tasks and their efficiency.
However, ERP software are not only used in academic institution these ERP solutions are designed for different organizations in various industries for various requirements but without ERP software it would be very difficult for managing with the traditional type of models. In market, there are many ERP software providers, and this situation led to the confusion about which one is right for your institution and is it worth spending expense on it.
Many types of the School ERP open source software could be downloaded through online, and most of them are charge free completely, but this comes with n customization and configuration responsibility. But having a certified ERP provider gives you the resources on which any educational institute can rely on, below are the key primary benefits of having a Web based school ERP software.
Web based School ERP software:
Proper control:
With the web based school ERP all the administrative activities could be effectively managed due to real time management of the data, and the regular upgradation make it easy for management to access any information or record any time.
No extra special hardware:
It's another phenomenal benefit that is, to use the web based School ERP software, for installation of software apart for the access device no other installation on other devices so hardware interdependency is eliminated. So, no need of any special hardware for managing your ERP systems.
No installation:
Apart from hardware education institution don't need to install any other software too. Since everything is cloud based and everything is available in the web using the login credentials, operator can then begin feeding and fetching the data into school ERP software from any sources like computers, laptop, mobiles, tabs through an internet connection. Indeed, schools don't need to take care about the server or any other traditional based cases that have to be installed on every machine.
Accessible from anywhere, anytime:
This is one of the main and incredible school ERP benefit as it can be used from anywhere anytime you just need a device and internet connection and you can see, manage from any nooks and corners of the world.
Use of Web based school ERP solutions are one of the best way to make sure, that all school activities and records are on the tip and can be access within few clicks.