Evidya IT Solutions is our official channel partner in Andhra Pradesh and Telangana for Vidyalaya – School Management Software.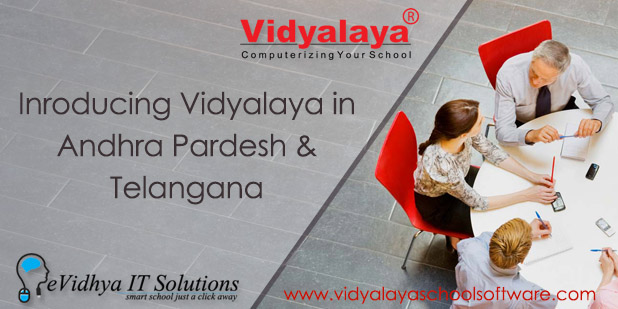 Andhra Pradesh and Telangana, the most prominent states of southern India with capital city Amaravati and Hyderabad respectively, has huge numbers of schools, colleges and universities. With the considerable increase in literacy ratio, these states are focusing more on education. These states run many private schools and a government is imparting equally in promoting education by providing free education through various education schemes. Many colleges and universities in these states have got national and international recognition too and attracting hundreds of students globally each year.
Schools and Colleges in these states have improved drastically in a field of digitization. As part of PM's Digital India initiatives schools are focusing more on computerizing school management system that helps them in providing more quality time for students. With such unique objective, we are getting a good number of enquiries from Andhra Pradesh and Telangana where in school want to fully digitize their school management system and that with unique features like mobile app to notify parents with all latest update about their ward and school in real time.
Vidyalaya School Management Software is an exact match for all school management needs and its inbuilt plugins like SMS, OMR, Biometric, E-exam, Parent Portal and Mobile Apps making it Integrated School Software. To outreach all enquiries we were searching for dedicated Channel Partner so more and more numbers of schools get benefited with Vidyalaya School ERP. And from a bunch of enquiries, we have sorted few by looking at infrastructure, resources and other facilities. Finally, we are very happy to announce Evidya IT Solutions as an official channel partner for Vidyalaya in Andhra Pradesh and the Telangana States.
Evidya IT Solutions is Located at Tirupati city of Chittoor district, Andhra Pradesh and having good resources, infrastructure and facilities to reach all nearby districts of Andhra Pradesh and Telangana like Anantapur, Guntur, Godavari, Kakinada, Kadapa, Krishna, Kurnool, Nellore, Visakhapatnam, Adilabad, Hyderabad, Karimnagar, Nalgonda, Rangareddy, Khammam, Warangal and few other.
We hope that with this partnership all school management requirements in Andhra Pradesh and Telangana will be taken in a better way with the unique blend of communication and technology.
To know more how Vidyalaya Benefit to you Please visit: www.vidyalayaschoolsoftware.com
To Get live demonstration in Andhra Pradesh and Telangana Please Contact: www.evidhyagroup.com