Everything you need to know about Vidyalaya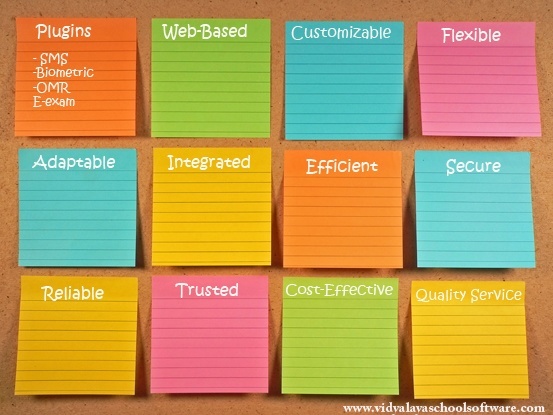 Vidyalaya journey started about 15 years ago. In past 15 year huge changes took place in technology. Hence the Vidyalaya also went through the process of modification from time to time in order to keep itself updated. Looking to the changing time Vidyalaya comes up with something new, we are very much pleased to introduce "Vidyalaya Web".
Web-based software is software that can be accessed over the Internet using a web browser. The user accesses the software on a central server over a network instead of installing the software on a desktop system. Web-based software is software you use over the internet with a web browser. You don't have to install any CDs, download any software, or worry about upgrades. If you use an online bank or web-based email program like Gmail, or Yahoo Mail then you have already used web-based software before.
Vidyalaya is a complete, fully customizable School Management Software ideal for schools, colleges, universities, training centers and educational Institutes. It offers the flexibility to select the feature and functionality to suit your school right now and other functionality can be added as and when required.
Vidyalaya comes with various modules. It manages end to end school operations right from student admission to student leaving. Apart from core module other communication, data analysis, resource management and integration module make it single integrated solution for school, college and universities.
Under the umbrella of Vidyalaya schools can get advantages of various modern amenities like "Vidyalaya SMS", "Vidyalaya OMR" "Vidyalaya Biometric" and "Online Vidyalaya" to make School/School work paper less.
Vidyalaya SMS – Integrated SMS solution with school/School Management for quick message alerts.
Vidyalaya OMR – Integrated OMR solution for MCQ based exams.
Vidyalaya Biometric – Integrated Biometric solution for Student/ Staff presence.
Website – website can be designed as per School need.
OnlineVidyalya.net – Integrated online portal where School can publish students all information over internet.
Apart from all the best that Vidyalaya provides is its quality service. We at Vidyalaya believe that "Everything starts with customer".Vidyalaya offers flexible support options for customers of all sizes. These support options provide you with the best available expertise to increase your productivity, reduce your business costs, and accelerate your processes