What Is Adaptive Learning and Why is It Important EdTech industry?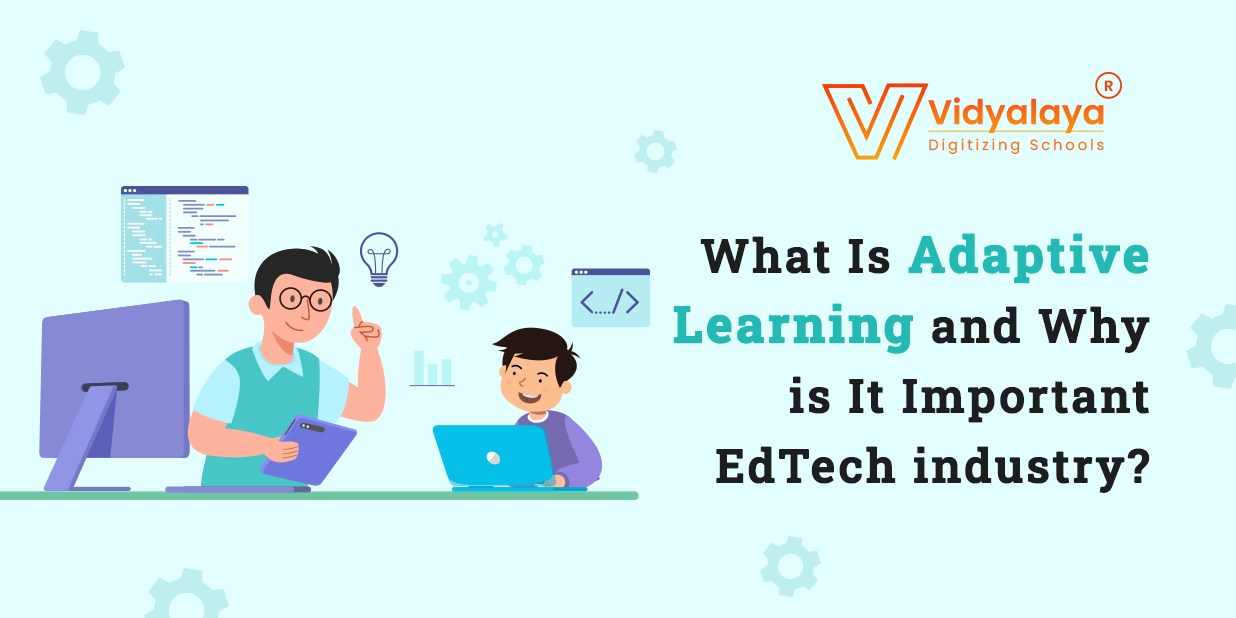 Do you remember while studying in class, only a few students were getting what the teacher was teaching in the classes and others were struggling to match the speed of the teacher? We know every student is special and different. Not all students can cope with the speed and become first-time learners. So, to get out of this type of tedious situation, we need to think out of the box and modify the learning approaches. Teachers need to create a cozy atmosphere that can cater to students' learning needs. This approach is promoted by adaptive learning. It addresses differences in ability by targeting teaching practices. By taking leverage of technology, adaptive learning is going to be an integral aspect of EdTech products in the future! 
Adaptive learning allows personalization in the learning process, creating customized course material as per the learner's learning capabilities and needs to offer a unique experience. In contrast to traditional learning methods, this approach considers the learner's needs thoroughly and brings customization. With the advancements in technology, adaptive learning is promoted using leading technologies like AI, ML, or compute algorithms. This approach adapts instructional content, pace, and learning methodologies based on each student's unique needs, capabilities, and progress. It also includes continuous assessment and analysis of student data, adaptive learning software modifies the content, sequencing, and complexity levels so that learning outcomes are optimized. 
What are the Benefits of Adaptive Learning in the EdTech Industry?
Adaptive learning is designed purely considering students' capabilities and thus is considered a more productive approach. The Benefits of adaptive learning are explored below: 
More flexible and Promotes Self-directed Learning:
As we are studying in the age of virtual classrooms, it is not realistic to assume that students will access the course content at the same time and place. So, it is the responsibility of an educational institute to address and cater to the different learning requirements. Releasing the adaptive learning-based ERPs that are mobile-based also, can fulfill this requirement and offer a flexible approach. With the mobile app, students as well as teachers can access the course content anytime, anywhere. This can make them feel more engaged and inspired to study proactively. 
Personalized and Curated Learning Experience:
Overcoming the flaws of the traditional monotonous learning approach, adaptive learning introduces several modes of presentation of content for one course- audio, visuals, text, videos, and short podcasts. This modern approach is apt for today's learners and offers a curated learning experience. This gives concise content which is highly relevant and meets learners' requirements easily. This attractive shot of content brings engagement and ensures better learning experiences for them. 
Efficient Use of Resources:
Educational institutes need to work on resource management constantly to keep up the budgetary requirements. Adaptive learning brings optimization to the resource management process and delivers content and activities based on the individual learner's profile. This targeted approach eliminates redundancy and saves time and resources. With the implementation of an adaptive learning approach, students can focus on the areas of improvement and optimize the impact of learning.
Improves Student Engagement:
Adaptive learning contributes to learner engagement by fostering a dynamic learning environment. This tailor-made and interactive nature of the adaptive learning environment improves learner engagement and promotes individual academic growth. This also includes more modes of learning content which is prone to improve student engagement. 
What are the Challenges of Adaptive Learning Implementation?
Although adaptive learning benefits are substantial, one should learn and address the challenges of adaptive learning. And here are they:
1. Data Privacy and Security:
In adaptive learning, analysis and collection of learners' data helps to personalize the learning experience. We all know that data privacy and security is a major concern nowadays, and educational institutes must establish stringent data protection measures. These measures should comply with data privacy policies and should shield learners' data from unauthorized access. Transparency in the policies and communication always builds trust among the stakeholders and mitigates data privacy and security concerns. 
2. Content development and Adaption:
Teachers may find creating content development a complex process. A thorough analysis of learners' capabilities and needs, assessment of data, and other aspects may get involved in content development. It requires additional resources which can be expensive without proper awareness and research. Designing an adaptive learning platform is cost-intensive and requires the right kinds of tools. 
3. Choosing the right vendor:
There are several School ERP vendors in the market, so it becomes tedious to finalize one that suits your requirements. The Benefits of Adaptive learning are attractive, as many vendors offer user-friendly AI-based educational products. So, educational institutes need to select the right vendor to avoid further consequences. 
4. Creating a Content Library:
Personalized content for each learner is a base for adaptive learning. Teachers need to create multiple iterations for the one-course topic by looking at the learner's requirements. Some iterations may include visuals, some may be more passive, and some may focus on active learning. Such creation of different versions of content may cater to several student learning capabilities and may be tedious for teachers. 
The education sector is going through several transformations and making it more student-centric. Educational institutes are relying on technology to serve their purpose. Adaptive learning implementation is one of the effective steps adopted by educational institutes to make a move toward student-oriented learning. Thus, they maximize the efficiencies of learning programs by creating tailor-made content for the learners. Vidyalaya, a leading name in EdTech products integrates adaptive learning and lets you create personalized course content creation within a few clicks. Educational institutes can avail of data-driven insights, contextual supports, in-app guidance, easy navigation, and such features to perform their responsibilities better. Contact us and ask for a free demo to understand how Vidyalaya can offer you adaptive learning benefits to shine more!