Spreadsheet Vs Education ERP Software – Which One Better?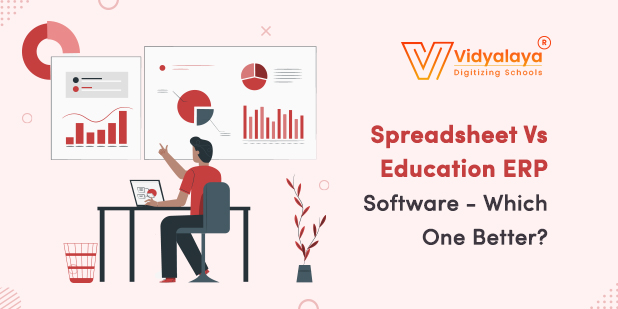 Microsoft launched MS Excel in 1985 and since then, the application has become a part of daily life for many of us. Be it simple or complex calculations, or storing data, Excel has made it easy. In the education sector, thousands of records are updated on a daily basis referring to different bases like admin, staff, payroll, transport, and others. You must have come across office staff who are continuously making data entries in spreadsheets all day long in the absence of school ERP. But along with its continuous annoying tickling of keys on the keyboard, this method comes with its own flaws. Only a well-integrated education ERP software can overcome these flaws and can be a stress-buster. Although investing in the software may look like an expensive affair, indulge in the benefits that come along with it!
What is Spreadsheet software?
A spreadsheet software is software that arranges, displays, and updates data in rows and columns format. It is widely used to store numeric data and short text strings. They were invented as computerized analogs of paper accounting sheets. Enriched with various mathematical and advanced functions, the spreadsheet is widely used in maintaining and calculating financial data on a daily basis. In the education sector, a spreadsheet is widely used to store students' academic records, calculate results, do payroll calculations, and others.
what is Education ERP Software?
On the contrary, Education ERP Software is software, which is specifically designed for automating educational processes like admission, payroll, academics, transport, attendance, and others. All these operations generate massive data which is stored and streamlined by education ERP software. This product is also enriched with analytical features, which may be helpful in making improved decisions.
What to choose- Spreadsheet or Education ERP Software?
An education ERP software is intended to streamline school processes and it definitely overcomes the shortfalls of Excel in order to provide enhanced functioning. Here are the differences between a spreadsheet and an education ERP software:
Intention for use:
Excel sheets are intended to make calculations and handle short-string types of data. They are not prominent players in handling school operations. On the other hand, the school management software is tailor-made for managing school operations only. The exact simulation of school processes, it enhances the user experience and brings efficiency. It also supports decision members with integrated analytical features.
Usability and Flexibility:
You might have heard about Excel proficiency tests. What are they? Excel spreadsheets are not that much easy to operate. It requires skilled knowledge to achieve the desired level of productivity. But this is not the case for the education ERP software. Anyone who can enter data can operate the ERP system. And the rest of the things are taken care of by the software itself. Also, in the case of flexibility, educational ERP aces in many ways like easy data pooling, handling complex types of data, updating data, and many others. All these complex tasks are handled by the software without any human intervention.
Data Security:
As Excel provides open access, the data present across the spreadsheet is vulnerable to corruption. Once a spreadsheet is altered, it is difficult to retrieve and even in some cases, the chances become zero. As educational institute engages sensitive data, any small alteration is not affordable. So, they always demand highly secure educational ERP software which is secured through advanced security practices woven into it. Most of the latest software is cloud-based, so high-level data security is achieved.
Access to data:
While working with spreadsheets with shared access, you might have come across head-spinning mistakes or alteration of data at the wrong place! You must have thought that what if I could give only limited access to this person where he/she is assumed to work? A school management software rectifies this correctly with its expertise. With cloud integration and role-based access, the software provides limited and authorized access to data so that there is no tampering or loss of the data. This is highly useful to avoid unintentional or deliberate changes to the data. It assigns roles and access privileges based on their roles in the educational hierarchy. This will help to maintain the security of the ERP intact.
Excel to ERP: Thinking of Switch?
Frustrated with the shortcomings of Excel, are you ready to make a switch from Excel to ERP? Here are some factors to be considered:
1. Think of your data process:
Ask your vendor how they are going to map your current data processes, how they will capture the data and where are they going to store it. Discuss different types of information you are generating and using throughout the processes with the vendor. Also, make sure that flaws and insufficiencies of your existing software/system are well addressed in the new school management software.
2. Span of data:
Educational institutes generate a huge amount of data- students, teachers, staff, academics, and even parents. Excel single-handedly cannot handle this data and will fail to provide critical insights into the institute's performance. So, consider your data span and wisely choose an education ERP over Excel to have improved decision-making capabilities.
3. Data transfer Methods:
Educational institutes having multiple branches or having a wide span of operations can definitely go for a mass data transfer. But gradual data transfer is considered the easiest and most beneficial in either case. But if you demand constant access to all your data, even through the transition phase, then it is better to go with the mass option.
Excel and school ERP, both are efficient software products on their own. Even if they look like the closest alternative for each other, there is a difference between day and night. Working in the education sector includes a lot of paperwork to do on a daily basis. But school ERPs are now cutting down this usage and giving you a sigh of relief. If you are still using spreadsheets to manage your daily chores at your educational institute, it's high time to think of school management software. A spreadsheet may not provide you with the capacity that dedicated software can.
Looking at the points mentioned in this article, it is proved that ERP software outperforms in terms of security, efficiency, functionality, and business expansion. So, don't waste your time hitting those keys on the keyboard, but drop a mail to have a free demo of your own tailor-made education ERP software!