What is Enterprise Resource Planning? and Benefits of ERP Software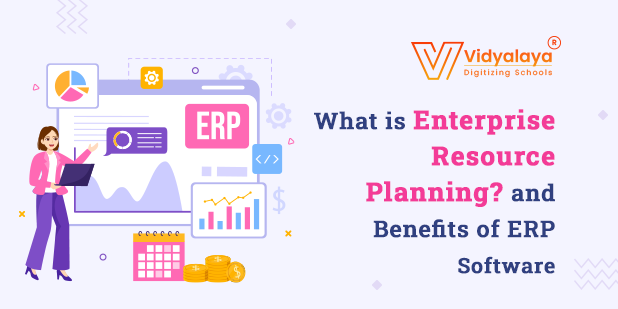 ERP or Enterprise Resource Planning may not be a newbie for you, as there may be perhaps a few sectors where you may have missed this term. Almost every other sector is gaining new dimensions with this technological invention. To achieve a high level of operational efficiency, technology is coming in handy in the form of various software products. ERP is a complete bliss for almost every sector and the education sector is not an exception. Educational institutes always stretch to thrive the overall student experience and they can make this happen with a great finish with ERP implementation.  Heightened functionality facilitates not only students but also the institution and its faculty as well. Let us take the opportunity to illustrate this in detail.
What is Enterprise Resource Planning?
Modern-day schools are inundated with data and relevant things. It has become of utmost importance to go with the flow and adopt a technological approach in managing the underlying operations like school admissions, fee management, academic management, and inter-department linking. An enterprise resource planning or ERP perfectly fits these criteria and facilitates school management to streamline the workflows along with boosting decision-making features. 
Enterprise Resource Planning is a key software for educational institutes to manage, and control their operations and daily workflows regardless of their periodicity. As educational institutes generate massive data on a daily basis, there are different data subject to various channels. And stakeholders need distilled information to build their decisions and implement the right measures. Through the automation of workflows, educational institutes can achieve a higher degree of excellence and efficiency along with advanced data storage and retrieval methodologies. All these are bundled in a single school ERP Software.
So, here are the reasons behind the adoption of the ERP system:
An ERP system automates the underlying processes like school admission, fee collection, transport management, academics, and payroll.

Through the elimination of human intervention, ERP excels at efficiency levels. 

It overcomes the flaws of the manual process and provides real-time information to boost decision-making. 

It connects various departments like finance, operations, human resource, and others by smooth data sharing and also establishes an improved relationship among all stakeholders. 
What are the benefits of ERP Software?
An ERP system accelerates business processes and brings positive changes that are beneficial for all stakeholders- students, teachers, parents, and school staff.
Let us give you a list of benefits you will be getting after successful ERP implementation. 
1. Accelerated Productivity:
Educational institutes deal with different datasets on a daily basis and generate massive data through various transactions. This data needs to be organized and made useful for institute stakeholders. An Enterprise Resource Planning Software does exactly this and automates its core business processes so that stakeholders can concentrate on their value-added activities. This ERP eliminates the monotonous and duplicate efforts and sets the staff free. It also establishes smooth communication and keeps them bonded. With these great connections, stakeholders can have more control which results in higher productivity.
2. High Scalability:
Many educational institutes have branches in different locations and thus it becomes very difficult to track down every single activity happening at every branch from a single location. This is very crucial for school administrators to make wide decisions. An educational ERP software enables handling increased workloads and transactions at multiple branches without compromising performance. The centralized platform of ERP ensures smooth integration along with streamlining various functionalities. 
3. Enhanced Agility:
An ERP system is unique from manual and on-premise systems in that it gives you real-time updates. With this, it is easy for educational institutes to identify and act on new opportunities. It also improves institutional agility by speeding up the decision-making process, lowering the response time, and improving overall user experience. 
4. Data Analysis and Compliance Management:
The ability of improved data analysis is one of the captivating features of school ERP. It provides real-time data analysis and reporting capabilities so that new opportunities and areas of improvement can be identified and can work on them proactively. This actively helps in the optimization of institutional processes and improving performance. ERP  always helps you to comply with all government policies and regulations. This helps you to build your institute compliance-ready against statutory necessities like data privacy, financial reporting, and data security standards. 
How can cloud ERP Software can transform the education sector?
A cloud ERP is an Enterprise Resource Planning software that operates through the internet that is often referred as the cloud. A cloud ERP brings plus points of the technology and integrates several features like centralized data storage, easy updates and installation, higher agility, and others.
Here is a brief explains how a cloud ERP is shaping a new future for the education sector:
A cloud

ERP

can overcome flaws of manual or on-premise ERP and will be a cost-effective and time-saving option. As cloud solutions are normally subscription-based, one needs to pay for what they use. Here software and hardware costs are significantly reduced along with their maintenance and support costs. 

Data security is enhanced when you opt for a cloud

ERP

. As these solutions are hosted on secured servers, they provide high-end security along with robust backup and recovery features. This adds an enhanced security aspect to protect data from unauthorized access. 

Several institutes are already working with different systems and cloud

ERP software

seamlessly integrates with existing and new systems to enhance the functionality canvas. Other systems such as the student information system, payroll, and learning management system easily integrate and work perfectly fine. 

With cloud ERP, school administration need not worry about the scalability aspect. This system easily handles user management and makes the system easily scalable. 
The education sector bears ultra-importance as it hones the talent of a child. Thus, educational institutes harness cognitive and academic development. And this is the reason behind the sector majorly contributing to the robust and enterprise-ready software. Enterprise Resource Planning is a perfect solution for this. ERP implementation brings affirmative changes in the institute looking at the business's present demands and requirements. And, this is the perfect timing to bring agility into education and perform even better with each passing day. Let our school ERP software empower you to achieve this goal!