Why MIS Reports play an essential role For Educational Institutes?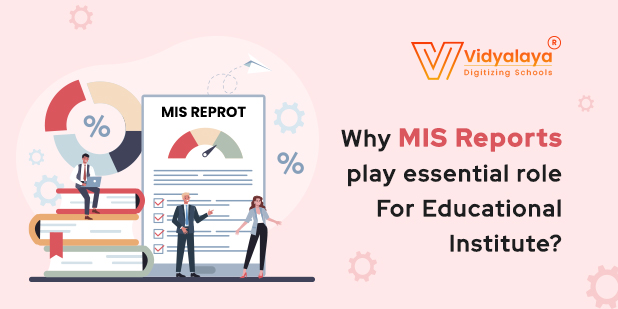 You must have come across MIS well before this. It is not a new concept and rather comes along with reporting references. Today's educational institutes depend on technological tools to run and manage the daily routine. But they halt at the need for a single software or system which connects all underlying operations and systems to provide seamless access to all operations. An education management information system is the wagon that can resume their journey. This new-age software will become a backbone for educational institutes to manage their vital operations. Educational institutes generate massive information about teachers, students, administrative staff and institute authorities. Institutes may take help from the MIS system to move ahead from paper records to digitalization and to control and visualize this data in the form of structured reports. Wait over this blog to know the importance of MIS reports in educational institutes! 
What is a management information system?
A management information system is a set of systems, used for decision-making and for seamless coordination, analysis, dissemination, and representation of data. It helps educational institutes to sort out educational policies and strategies for great learning success. Educational institutes are evaluated by different accreditations such as NAAC, NBA and others. To achieve this, management information systems offer a technology-driven way to manage, catalogue, control, and present data. With the help of MIS reports, one can fetch data in standard and customized forms within a few clicks. 
Why MIS is important in the educational sector?
A cloud-based management information system helps educational institutes to understand the functionality and monitor data management seamlessly. Here are some of the major reasons that highlight the benefits of MIS for educational institutes:
1. Reduced workload and optimize Efficiency:
The Education management information system makes educational institutes paperless. Converting the manual processes to digitalized and transferring data from paper-based records to digitalized ones, MIS systems make it easy to operate daily routines and bring desired efficiency to daily operations. Staff don't need to worry about the accuracy of the data presented in the reports while dealing with MIS-based reports. These systems allow to save, segregate, and structure the student and institute data in a single online software. Dashboards 
2. Accessibility Control:
MIS reports in education keep track and record demographics such as student attendance, behaviour, and achievements, along with academic records. But these reports not only deal with student data but also manage teacher, staff, and institutional data that includes information about performance, outputs, and attendance. This information is accessed by different users, so needs a secured layer around the data. A thoughtfully designed MIS system restricts access to data and integrates higher security checks so that only authentic users can access the sensitive data. This is highly useful in avoiding the misuse of data.
3. Performance Tracking:
Performance is the core parameter for every educational institute, whether it is related to students or staff. Management information systems give you real-time insights into data and can give you tools to compare and analyse the data. With BI integration, mis reports can help you to establish a concrete ground for one-to-one communication with poorly performing students and discuss the scope of improvement. It can help students to have lifted morale and show positive results that are oriented to student progress. 
4. Optimize the underlying process:
Educational institute undergoes several operations, such as admission, fee management, and examination management. These processes are interlinked and generate a huge amount of data. Like, the admission process registers student academic and personal data which are again used by the fee management process. Student information is updated with constant academic details and behaviour details which are used by different modules of an education management information system. Through this single system, one can set up seamless data sharing and effortless communication which optimizes the efficiency of all processes. 
5. Identify the gaps and shortfalls:
Educational institutes continuously work on the challenges to make themselves better. It is possible when correct data and that too presented in a structured form. Data related to student performance, and staff details, can give insights into shortfalls and make corrective decisions to achieve the overall goals. With cloud-based technology, it empowers educational institutes with tailored digitized solutions that meet educational requirements.
According to experts, the most commendable and valuable commodity in this world is information. Educational institutes are not an exception that rely on information to succeed. Information presented in the form of reports, whether they are student evaluation reports, institute progress or fee collection reports always give the progress status. This information needs to be harnessed, utilized, managed, and presented in a structured form to boost the decision-making process.  MIS reports in education help institutes improve performance and build or mould strategies for successful and growth-oriented paths.

Vidyalaya integrates the management information system in its all-leading products to facilitate schools of all sizes so that they can function better and stride ahead with flawless data and premeditated decisions based on the information. Adopt this technology-oriented approach and set new benchmarks with ever-growing results! Call us or write an email for further enquiry and get a free demo!