Why Quality Assurance play pivotal role in Higher Education?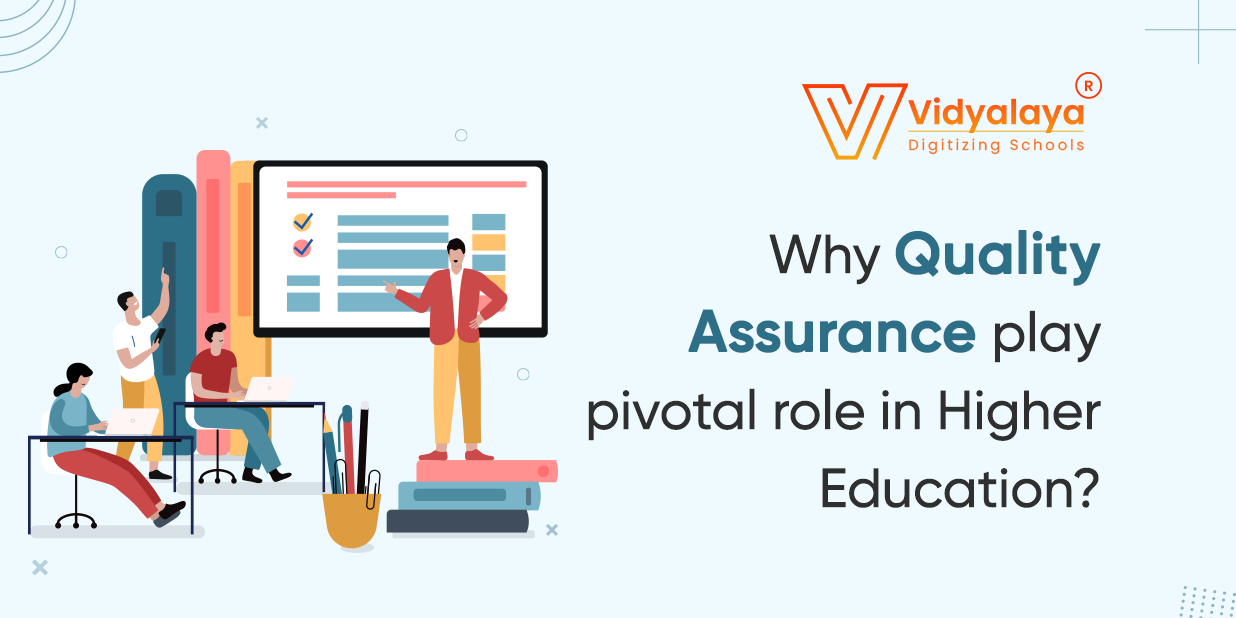 "Ensuring Quality Higher Education is one of the most important things we can do for future generations." – Ron Lewis.
Quality is of utmost importance in every stream, and the education system is not an exception. Higher education plays a significant role in competitiveness, growth, and achieving excellence. However, ensuring quality assurance of higher education programs has become the biggest challenge in several countries, like India. The best of it includes core values of academic freedom, social responsibility, and building and preserving fundamental values. We always make sure that students get quality education and how to ensure that and what it means. Let's learn from this blog. 
What is Quality Assurance in Higher Education?
Quality assurance in higher education refers to organized evaluation and monitoring of the quality of education that educational institutes offer. This process ensures education being provided by the institutes meets the specified standards and requirements and that students acquire the knowledge and develop skills, so that they can excel in their selected fields. 
Education ministry has set some policies and every educational institute needs to implement those policies to assure standard quality higher education. The purpose behind this implementation is to ensure transparency, meeting the requisites of diverse stakeholders, and high-quality education. One of the simplest ways to achieve this aim is to have a well-developed school management system installed on the premises. This will significantly cut down human intervention and will automate the core processes to boost productivity and ensure excellence. 
Why Quality Assurance is important in higher education?
Following the latest global trends, it has become mandatory for educational institutes to enhance the entire learning process and build the trust of every stakeholder.
Following are some key aspects that illustrate the importance of quality assurance in higher education and how technology can help in this entire process:
1. Transparency:
To maintain high standards, educational institutes need to complete the accreditation process. This really helps to increase public trust and become a word of mouth. Accreditation is one of the ways of external quality assurance. The only thing is that educational institutes need to provide transparent information about the benefits offered by them to students. Also, they need to be clear about their educational practices, research methodologies, and knowledge transfer practices. To accommodate all these, the school management system can help a lot. It can streamline all institutional data and can make the quality assessment process easier and smoother. 
2. Aim Fulfilment:
Educational institutes are driven by certain goals like achieving academic excellence, and developing skilled students by implementing practical aspects of course material. They also impart value-based education to the students and make them responsible members of society. In fulfilling this vision, school ERP systems can contribute to implementing different approaches for optimizing learning outcomes. It also leaves an affirmative impact on the entire accreditation process. 
3. Focus on Student Development:
Student development is the ultimate aim of the learning process. This development needs to address different domains like cognitive, psychomotor, and affective areas. A school management system can help in establishing a learner-centered approach. This will help teachers to focus on student's development of cognitive learning and skill development. Different chat groups, easy access to academic and non-academic information, improved communication with teachers, and others are some of the benefits that a school management system offers to students. 
4. Implementation of Unique Methodologies:
Learning practices that used to be followed by teachers a decade ago are not that useful nowadays. As learning needs and demands have changed, educational institutes need to collaborate and sustain in the volatile educational trends. They need to sync the learning prerequisites with learning outcomes and implement the right practices. A school ERP can make this challenging task easier by making room for innovative methodologies. 
5. Stretch on Continuous Improvement:
In the conventional approach, exams were held on an annual or half-yearly basis. But this approach doesn't give comprehensive and efficient evaluation outcomes. To rectify this, school ERP systems can play a pivotal role. It can improve the learning experience and upgrade the assessment structure. It promotes formative and summative assessments to evaluate students' performance comprehensively. This will help to determine the pace of individual growth of students rather than merely concentrating on how students are scoring the exams. 
Higher education has become a crucial aspect in society's development as it offers a platform to acquire deep knowledge, develop specialized skills, and has the capacity to impact personal, social, and economic growth. In this case, ensuring quality assurance of education provided by the educational institute becomes of utmost importance. Vidyalaya, the most renowned name in the Indian and global EdTech sector, comes forward to help you in this tedious process of ensuring high-quality education.  Its school management software is the simplest and most effective way of ensuring only quality education is delivered. This high-end product is developed to streamline the challenges of quality assurance and accreditation process and enhance the quality factor for the educational institution. For more details, ask for a free demo or just call us!