Enhancing Hostel Security with Hostel Management System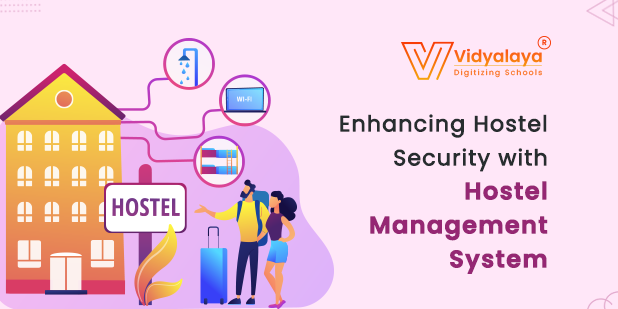 The popularity of residential schools has raised in recent few years. The modern amenities, discipline, self-independence, quality education, affordable fees, and overall development of kids are among the reasons that lead to having a preference towards educational institutes with hostel facilities. Among all these, the security of children becomes the topmost priority for both parents and hostel staff. Institutes continuously stretch themselves and implement several practices to enhance security. Vidyalaya, a leading educational software provider, facilitates institutes by offering them hostel management software so that they can have a full-proof secure environment at hostel premises. Here is a thorough write-up of how a cleverly designed hostel management system can improve the hostel security along with the blend of technology:
What is a Hostel Management System?
A hostel management system is an automated system that keeps track of hostel activities like student registration, room allocation, maintaining in-out entry records, fee collection, mess collection, room maintenance, and several other aspects. This new approach is best suitable for all stakeholders-parents, students, and hostel staff to be on the same page through a common platform. If you are still in the court of manual one, let us give you a glimpse of the drawbacks of manual hostel management:
Maintaining a manual record of every student is not less than a headache as it involves dealing with several documents like student application forms, room allocation forms, identification documents, fee receipts, and so on. 

Validating the student and checking the room for allocation is one more task where manual intervention errors like biased allocation, wrong allocation, and delayed intimation about deallocation/allocation can be expected. Also, changing room request processing is like a continuous ongoing process. 

It is not possible to have a strict and timed watch on every student's in and out timings and register it in the records. If done manually, there needs a dedicated resource for it, which again can lead to human intervention errors.

Getting reports based on various criteria can take some time as one needs to look out for different files and folders. 

Students/parents need to visit campus physically to pay the fees, and this may waste time, energy, and money. 
The solution to the above problems may lead you to a Hostel Management System which may overrule all these flaws and offer you a safe and secure hostel. 
Why is Hostel Management Software needed?
A school hostel management software is enriched with different features that are essential to keep the system updated and streamlined. Here is opting for a tailor-made hostel software can lead to better efficiency and security:
1. Digitalized Hostel Records:
Hostel management deals with various document processing and the generation of data every day. Maintaining all these records manually can lead to only heaps of files and inefficient results. Opting for automation is always a better choice when transforming manual chores into automated ones. While digitalizing the records, it is a matter of a few clicks when you have to access the files. Also, get a bird's eye view of all hostels on the campus at any moment with a single software. This is blissful for hostel administrators to keep a tab on different hostels. All this is best possible with a hostel management system. 
2. Secured Fee Collection:
In the manual method, students/parents need to visit the hostel office to pay the fees. This wastes resources, energy, time, and effort. Adopting hostel management software provides a secure approach that enables parents/students to pay fees online without visiting campus physically. Integrating with a reliable payment gateway, parents can pay fees anytime and generate receipts instantly. 
3. Real-Time Updates:
Right from students' admission to the hostel to his/her daily in-outs, parents are getting updates on their mobile through a smooth integration with hostel management software. This is a fantastic way to have a keen tab onward while being away. As in-outs are integrated with a biometric machine or RFID scanner, it is obvious that parents will get real-time updates about their ward's whereabouts. Also, the automated system will automatically maintain this record without any special resources. This real-time record maintenance plays an important role in the compliance process. 
4. Pre-Registration:
Hostel administrators can make a protocol for pre-registering the information of visitors to maintain security. As visitors have a fixed time every month, the hostel management system allows visitors to sign in quickly so that load on the system can be avoided. 
5. Approval-based Entry:
Tightening security by allowing approval-based entry to visitors is one of the most-demanded features of school hostel management software. This will always keep the system secure and compliance-proof. This will also restrict unauthorized visits and will keep the students safe. 
Parents whose kids are learning by living in the hostels are always worried about the security and safety of their wards. Also, hostel administration also keeps student security ahead of everything so students and their parents can have sound sleep. To help in this significant aspect, Vidyalaya's hostel management software can tighten security in the most advanced ways and offers real-time updates to all stakeholders. Check-in-out timings, pay fees online, accuracy through automation, and standard reporting are some of the benefits of the software. No need to worry and do not have double thought about your kid's safety when Vidyalaya's hostel management system is there!