The Benefits of the Hostel Management System in Higher Education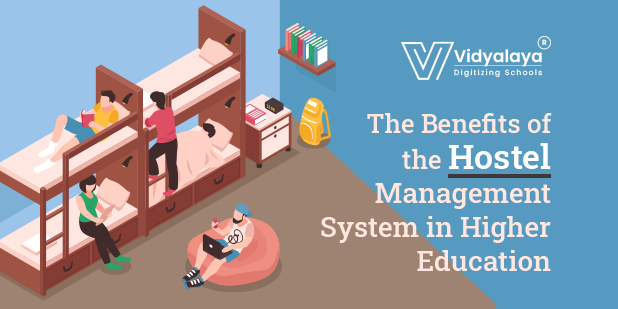 India has a great legacy of Gurukul where students used to stay in the Ashram till the completion of education. Gurukul resembles boarding schools of today's age, just in Gurukul teachers used to stay with students in the same place. The legacy has great benefits so modern education adopted and proposed the concept of hostels. School hostels become second homes for resident students. With the advancement of time, schools are refining the education system and so the ancient hostel management systems are getting new faces.
Vidyalaya, a leading ed-tech software provider company introduces an apt software that will perfectly match today's hostel management requirements. The software is a perfect blend of strategic management and advanced features. This is confirmed by the large customer base of more than 1300+ clients. The long experience in the domain will help the institutes to streamline the operations with great efficiency.
Hostel management is not an easy task, it involves various aspects like student registration, checking room availability, in-out time, fees management, various reports. These activities consume manpower, time, and energy. The manual pen-and-register method imposes various flaws.
Have a glance at the drawbacks of the manual method:
Uneven Workload may impact the efficiency and productivity of staff.
Human intervention leaves scope for errors. Serious mistakes may cause loss to the institute.
Difficult record maintenance does not give desired results.
Heavy demand for resources may impose cash flow problems on the institute.
Overcome these flaws by adopting Vidyalaya's hostel management software on your campus. Although the core aim of institutes is providing education, the provision of residence has become one of the necessary provisions in today's throat-cutting competition era. Hostel management requires continuous supervision and thus, large manpower and great efficiency are required to do daily routine activities. If you impose a dedicated hostel management system, the change in daily routine is fascinating.
Have a look at the benefits of Vidyalaya's hostel management system:
1. Time-saving and efficient:
The manual process of hostel management is pretty lengthy and consumes lots of time. For medium and big-scale hostels, it becomes complex to operate without efficient hostel management software. Vidyalaya introduces biometric integration to punch the daily in-out timings so that manual flaws can be eliminated.
The hostel management system saves time in carrying out the daily activities and automation of different processes brings efficiency to the system. Checking the availability of rooms, admission of new hostel students, preparing various reports is now a task of a few clicks with the help of Vidyalaya's software.
2. Automation of daily routines:
We all know that manual working imposes several flaws in the system. Hostel conducts monotonous activities like recording in and out timings, checking the room availability, new admission, sending fees reminders, mess management. Conversion of these processes to automation will make them more accurate and efficient. Also, the productivity of the staff boosts with automation and they can concentrate on other core activities. Automation of daily routine saves time, effort, energy, and manpower. This can result in a cost-saving for entire processes. Automation can help to do time-consuming activities like checking room availability or room changing faster.
Vidyalaya helps institutes to change the paradigm from manual to automation without compromising on quality and accuracy. The school hostel management system automates the primary functionalities and brings desired results that will complete the hostel activities cycle complete.
3. Security to the data:
Have you ever encountered an institute that follows the manual hostel management method? If yes, then you must have noticed the different registers laying on tables without any security. Anyone can access them or if locked, little effort will require to access them. Data of students staying in a hostel is crucial like their personal details, in-out timings, payment details. In any fatal case, in-out timings and attendance matter a lot and can be a piece of evidence. This data must not be altered or deleted so requires utmost security.
Vidyalaya's hostel management system will provide cloud-based security such that the system is fenced by role-based security. This will help the administrators to set up different roles for the users so that specific data is accessed by only authorized users.
4. Online hostel fees management:
Many institutes keep separate systems for hostel fees and school fees payment. Vidyalaya eliminates the need for visiting the hostel physically just for fee payment by introducing online hostel fee payment-based software. The software enables parents to pay the fees online and get the receipt of the same without any delay. Also, the secure payment gateway integration will help the parents to make transactions without any hesitation.
Vidyalaya's hostel management software also sends different reminders to parents regarding fee payments. This will reduce the workload of staff of calling parents over the phone or sending emails reminding them about fees. Also, the push notifications or app reminders will not disturb the hectic schedule of parents, same time keeping them updated.
5. Lift up your institute's reputation:
Parents of today's age are very much particular about their ward's education. So, they always prefer the institutes that match their requirements to the fullest and those who have advanced facilities. Vidyalaya brings you in the front row by offering you a school hostel management system that is ahead of time.
Integration with different third-party systems like biometric, payment gateway, SMS will help the institute to offer time-matching facilities to students and parents.
6. Monitor the attendance:
Attendance of students in the hostel is proof of their safety. The manual system of attendance is full of flaws of tampering, deleting, loss, or misleading. Vidyalaya's integration with biometric will help the institute to offer a complete secure attendance management system.
Institute can also demand RFID-based attendance or biometric depending upon the requirement. Students' check-in and check-out are activities that may be repeated multiple times a day. Vidyalaya keeps a complete log of attendance and reminders are sent to the parents' registered mobile number so that they can be also aware of their ward's whereabouts. These logs created by hostel management software are monitored by the warden for better supervision.
7. Keep track of asset assignment:
Different assets are assigned to the students for a comfortable stay in the hostel. Maintaining track of these assets is a necessary thing that the warden needs to do. Vidyalaya reduces the work by offering automated asset tracking through its hostel management system.
Warden will take a relaxed breath as all necessities are managed in a few clicks. Detailed information like asset category, availability, assign date is stored in the form which is accessed by authorized users only.
Before the invention of commute provisions, education was limited to nearby places. Eliminate the risk of mismanagement of hostels and offer a dedicated school hostel management system to your students with the help of Vidyalaya.