What you would choose -Smart Education or Traditional Education?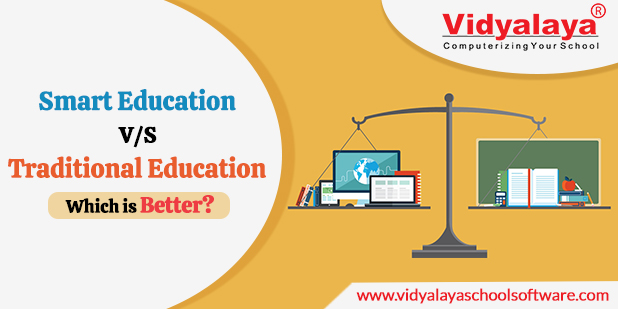 Traditional Education is good, but the Smart Education is much better. The capabilities of the younger generation define the quality of a nation's social, political and economic future. A new generation of smart schools comprising of intelligent education systems aims to increase the capabilities of next-gen students with the help of visualization, which plays a major role in understanding and learning.
Traditional Education System:-
Traditional education, also known as back-to-basics, conventional education or customary education, refers to long-established customs that society traditionally used in schools. Some forms of education reform promote the adoption of progressive education practices, a more holistic approach which focuses on individual students' needs and self-control. The study is rhetoric in nature and learning is rote.
Smart Education System:-
Smart classes (education) are designed for the purpose of providing assistance to teachers for overcoming several challenges in classrooms, in addition to enhancing the academic performance of students. These goals are achieved by adopting technology in a very practical, simple and meaningful manner, all of which will surely help in changing the atmosphere of the classroom from boring to interesting.
Traditional Education System
Smart Education System
Classes used to be under the tree or in poor infrastructure school
Smart classes in school means class providing education through digital methods like projectors, white boards, educating students through visual effects.
Manual school database management use to be time consuming as well as prone to human errors
Smart school management through software is easy to manage as well as an automated process to maintain school data
Earlier there was no mode of communication, only way to communicate was face to face interaction of teacher and parents
Technology has made communication easiest for people with multiple modes of messaging, calling. This helps in providing instant notification to parents about students work
Earlier times books were the only mode of learning for students, that too were shared between students
Today we have enormous ways to earn knowledge through books, internet, web material and many other medium
Ancient time exams used to be on practical methods of life and few years later it used to be written on paper
Trend is changing and all exams are now performed Online, their evaluation and report is also submitted online with the help of various school management software
With various education management systems available in the market, want to know how Vidyalaya will make your organization's education smarter.