Benefits of Attendance Management Software for Colleges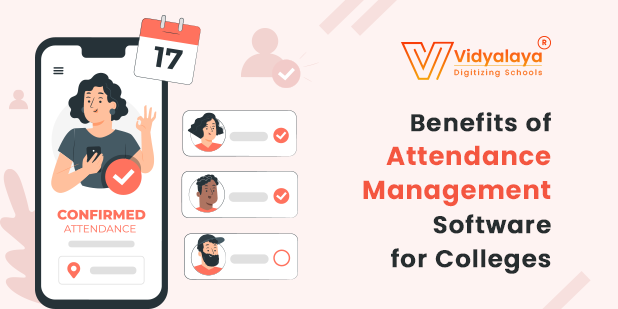 The student attendance management system in India is indispensable in today's contemporary and fast-paced era.  As student attendance has a direct impact on students' growth and apparently the institute's fame, it is obligatory to have a dedicated system. Managing attendance manually is difficult and brings lots of troubles and inefficient outcomes. Teachers need to spend a major stake of their precious time in accomplishing this monotonous and tiresome task every day. They can use this time to concentrate on core teaching and improving the quality of teaching. If they need any data, they have to traverse hefty registers which consume lots of time and yield inefficient results. Again, technology can help in this and new-age advancement can get rid of all the hassles of manual attendance systems.
Why attendance is an important measure of student growth?
One must wonder why it is important to maintain a separate register and what is the significance of attendance in college years.
Let us illustrate why attendance matters and how it affects student's growth:
Students learn self-discipline, which can help them in both their personal and professional life.
Regular attendance improves academic performance and fulfilling the desired aims.
Some colleges offer job-related training to students, those who attend college regularly can reap the benefits.
Regular attendance may aid in the mental and physical development of students.
For teachers and school administration, student attendance is a medium to track the performance and regularity of students. So, it becomes important to maintain the attendance registers.
How Vidyalaya can help you in the attendance management process?
Vidyalaya, a leading ed-tech software provider, facilitates educational institutes with the most-accredited attendance management software in India. Our attendance management system eliminates human intervention and brings technology in the form of biometrics or RFID to mark attendance. The integrated module of our attendance management manages the entire attendance process and stores the data digitally on the cloud. The system sends an SMS to the parent's registered mobile number when the ward punches the attendance. Teachers and school management can access the attendance data anytime with proper access privileges.
What are the benefits of implementing an online attendance management system?
Our product offers several benefits to colleges and works in a straight line without chaos. Just you have to register and fill in the details of every student and leave the rest to us. Get ready to reap several plus points from the leading attendance management system in India:
1. Authentic Accuracy:
The flaws of the manual attendance management system include errors in marking the attendance, wastage of paper and resources, less security, difficulty in retrieving the desired data, and lot others. Our attendance management system ensures accuracy in record maintenance with almost negligible human intervention. This improves reliability and brings transparency to the attendance procedure. The system updates the data in real time, reducing the chances of students'/teachers' intervention with the system. And, an automatic notification is sent to parent through an integrated SMS facility so that they can also have a detailed track of their ward's attendance.
2 Ease of Doing:
It is really tiresome to maintain a separate attendance register for each class, carry it every day and update time by time. All these hassles are eliminated when you implement an automated attendance management system online. Just a biometric or RFID scanner is needed to install and the rest will be taken care of by the system itself. With this automatic tracking system, one can save time and chances of errors drastically.
3. Real-Time Tracking:
This one is the plus point of an automated attendance management system over a manual. You can check updates in real-time as entire data is stored on the clouds with proper access privileges. This is also beneficial for school administrators to get insights into students' attendance for a particular subject or teacher. These fruitful insights can help them make important decisions to improve the situation.
4. Data Security:
Have you ever noticed where all the attendance registers are kept? In the staff room or in the college office. The place is easily accessible to anyone for tampering with the data or has the potential of data loss. With the prominent attendance management software in India, Vidyalaya promises you the utmost security for your data by storing all the data on the cloud and restricting access by role-based security.
5. Keep the Parents Notified:
In the traditional PTMs, it is a frequent scenario that teachers and parents are arguing over the attendance of students. How can parents be ensured after they leave their wards for college? The manual method cannot give answers to this question. Vidyalaya's most demanding attendance management system in India has a solution for this. Our integration with the SMS feature immediately notifies the parents as the ward punches their attendance. This will keep them ensure the safety of their wards also.
6. Easy Reporting:
It is very difficult to refer to that jargon and prepare monthly or subject-wise attendance reports which may not be 100% accurate. Plus, you have to organize data in the specified form and then craft the reports. This difficulty increases if there is a demand for customized reports. Forget all these by installing our attendance management system online and you can have reports within a few seconds at your fingertips.
7. Cost-Effective Solution:
Our attendance management software not only brings a contemporary approach to the attendance process but also saves your money in many ways. Digitalization of data and process can save your money that would have been spent on heaps of paperwork. Also, there is a significant saving in time, money, and resources if you opt for an automated attendance management system.
It is a common scenario that teachers maintain hefty attendance registers, different for each class. Lots of inconveniences led to looking for a dedicated system that will overrule the flaws of the manual attendance system and will give results that are evident. Vidyalaya, a leading name in the college software industry facilitates you with an attendance management system online that gives you real-time insights into attendance data. Attendance is an important measure in academics that is directly related to students' success. Let's count it without a single error with our renowned attendance management system in India!