Effortless Attendance Tracking: Power of Attendance Management System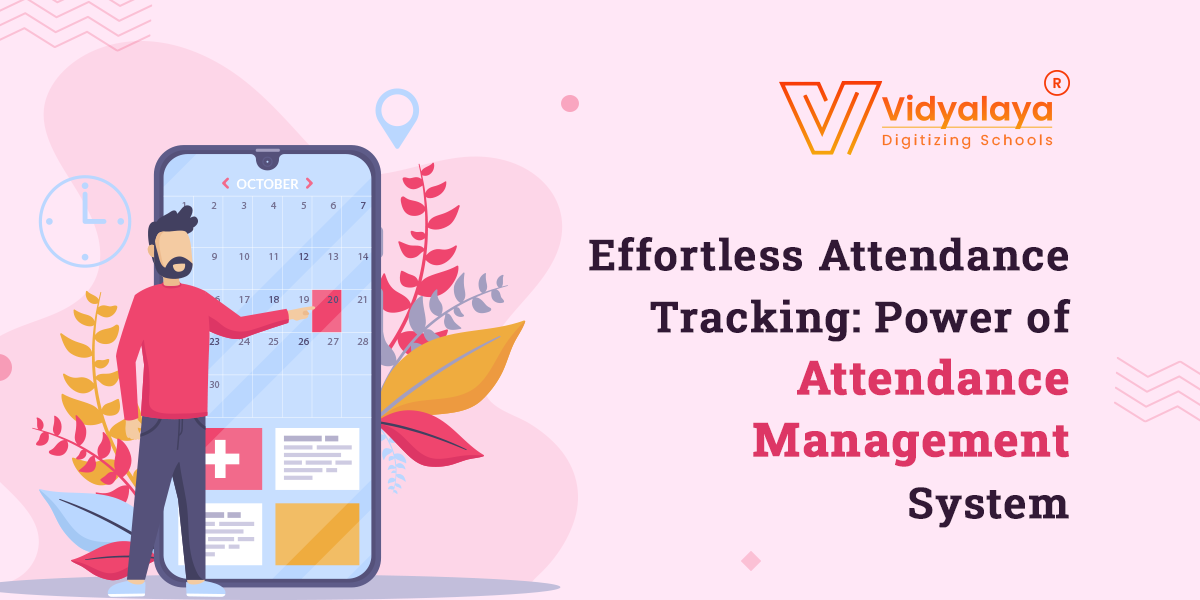 Gone are the days when attendance used to register in the jargon books and teachers used to spend at least 15 minutes every day while noting down this. During this process, parents were neither aware of the actual attendance status nor they were notified. This scenario has changed a lot with the modern attendance management system. With this modern alternative, educational institutes can streamline the attendance monitoring process by overcoming the flaws of the conventional system. As attendance is an integral part of the academic journey, keeping track of it becomes one of the mandatory tasks. Get rid of manual ways and adopt the innovative Attendance Tracking System to reap the numerous benefits!
What is Attendance Management System?
An attendance management system is an automated version of attendance monitoring that keeps track of the attendance of students. The system uses RFID-based or biometric attendance, automatically registers the attendance, and sends a message/ email to parent's registered mobile numbers. This system eliminates the flaws of its manual counterpart and delivers efficient results. It offers flexibility, accuracy, and cost optimization across.
What are the prime features of Attendance Management Software?
An attendance management software is enriched with several key features that keep your attendance tasks smooth. Here are the Seven-Star features:
1. In-Out Time:
An advanced attendance management system keeps accurate records of every student's in and out timing. All data is stored on cloud storage and provides faster access to analyze the results. This also sends a notification message or email to the parent's registered number and conveys the time of in and out. This will help to keep a check on student's punctuality and discipline behavior. The timing intimation sent to the parents also ensures that the child has been entered and out of the school at the right time. 
2. Automatic Registration:
Biometric or RFID-based attendance management software automatically detects the students punching and registers the attendance in the system. In the manual method, the teacher's role in registering attendance was very crucial yet daunting as it is a very monotonous task. Software removes this complexity by cutting out the role of teachers and automating the entire process.
3. Notification Message to Parent's Mobile Number:
Parents always get worried about their children's safety when they leave their wards for school. This worry is well handled by the attendance tracking system by sending instant SMS or Email to parent's registered mobile numbers/emails as soon as the student enters or leaves the campus. This also brings transparency to the entire attendance procedure and can improve parent-school relationships. 
4. Cloud Storage:
With the attendance management software, teachers do not have to maintain the jargon as entire attendance data is digitally stored on the cloud. This digitalization saves the possibilities of tampering, and loss of data and gives faster access to data. 
5. Reporting:
Attendance management system is equipped with a reporting module that facilitates standard and customized reports. These reports retrieve the data fast and provide better accuracy to support your decisions. This system also allows us to prepare customized reports quickly to fulfill personalized needs. 
6. Calendar Integration:
Advanced attendance tracking system, when integrated with the school calendar, gives optimized results. This integration can convey changes in regular timings on special days like annual days, half days, or events. It helps students and parents to plan their schedules accordingly. This can also help school administration in making the necessary arrangements on the early or late schedule of the day. 
7. Advanced Analytics:
Attendance is a crucial factor in student's life and has a direct impact on students' growth. Teachers can analyze the attendance data and can fetch various reports. This fast retrieval of data in the form of reports may help school administration also to make concrete decisions like, which subject has low attendance, which teacher has high attendance, and where the attendance gets declined results. Also, student-wise attendance reports can throw some light on students' performance and can work for improvements. 
Attendance Management system is indispensable in today's contemporary era. Student attendance has a direct impact on students' performance and thus no school can escape from this monotonous task. Vidyalaya eliminates redundancy and complexity and makes the attendance task of few clicks. The cloud-based attendance captures correctly ranging from registering the attendance and spreadsheets to biometric devices. Transform your attendance systems with Vidyalaya's advanced Attendance Tracking System and let accurate decisions show affirmative results on students' bright future!