Top Unique Features to Look in Learning Management System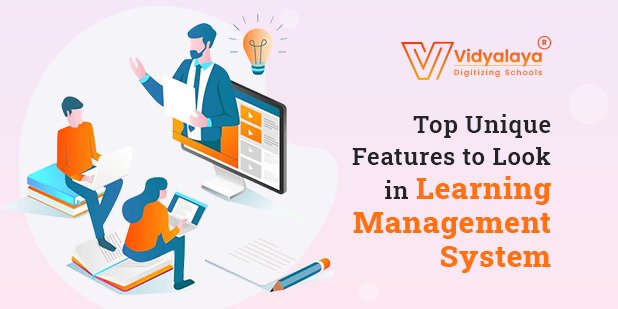 It is a very challenging task to create a full-proof digital environment where students can enjoy the learning process. Problems like digital literacy, infrastructural problems, less motivation, and others can make this task more tedious. A well-designed learning management system in place can make this task more manageable for integrating parties. As chalk-and-talk methods and classroom-led learning have become old-school concepts, schools are gearing up for new alternatives for their gen-z students. No wonder this techno-savvy generation feels this advanced system closer to them and becomes more engaged in the learning process.
What is Learning Management Software?
A learning management software provides a digital platform where learners can access the sources of learning through online courses and training materials and administrators manage these sources to bring more efficiency to the overall process. 
Don't compare it will plain file-sharing services as this system is more organized than it is where you can add students and assign courses to them. It has a user-friendly interface which makes users to handle the system efficiently and access the course materials. 
What are the Top Unique Features one Should Look into LMS Software?
The success of any LMS software depends upon the features that are designed to keep the learners at the center. There are several learning management software available in the market today. If you are new to this trend or want to upgrade your existing system with advancement, then there are some unique features you must check into the LMS to make it fit for the present and future.
Here is an overview of it:
Exceptional User Experience
The ultimate goal of LMS software is to simplify the learning process, so it is an unwritten rule that creators must provide an easy-to-handle system considering all types of users from beginners to experts. An engaging user interface with easy navigation will help users to locate the course material quickly. Look for the ultimate user experience such that your users have the highest confidence that they are in the right place once they reach your content. 
Personalization is the area where you can stand out in software and services. As every learner learns at their own pace, make sure that your LMS software provides you with personalized learning paths luxury. This will help learners to set individual learning paths that are tailored to their needs and interests. Also, the rise of the 'on-demand' consumption concept leads the technology providers to embed this feature into their products to make it more apt and popular among users. This can be implemented in the education system also where the learner will subscribe only to the courses, he/ she has an interest in and at their own pace.  
A clear distinction between Members and Non-Members
There are two types of users for a learning management system- free members who can access the content without spending cost, and premium or membership users who have paid money to access the content of the course. This obviously distinguishes the users based on their user type. Administrators must get a clear idea about both types of users and their willingness to access the content. If you give more benefits and convince the users to have a membership, provide them with quality material for each penny they spent. If you manage this system wisely, LMS software can pay for itself. 
Robust Content Libraries 
Content management is an elementary yet crucial component of any learning management system. As today's generation has access to various modes of content and in different forms like audio, video, ppt, MP3s, e-book, providing content in all possible formats becomes the need of the hour. This system should host all these formats seamlessly so that users will get enriched learning as compared to the conventional book-notebook method. The integrated content libraries should be managed easily and intuitively, and thus, should serve the basic purpose of the learning management system. The system should enable users to upload exam content, videos, or exterior links to website content that is hosted elsewhere without any friction. Thus, the organization of curriculum, content, and assessment must be meaningful with the help of this new alternative. Even further, if you want to have internationally accredited LMS software, make sure the software follows SCORM and TinCan/xAPI standards. 
Outstanding Customer Service
Poor customer service and support are one of the core reasons for the failure of many good learning management systems today. If the system is not supported by a strong and knowledgeable team, users withdraw interest by annoying with the poor response. So, looking for outstanding customer service is the must-have feature to look for in LMS software. Ask about how the technology provider handles the onboarding, support, and training requirements thoroughly. Look for the customer support team and their efficiency before buying learning management software.
Detailed Reports and Analytics
Comprehensive retrospective reports become the backbone of any learning management system as it helps to track the learner's progress, course effectiveness, and completion rates.  These reports gauge the performances and help you make crucial decisions for enhancement. These are real-time metrics that will streamline their user experience by drilling down into learner experience at every phase.
The administrators should get real-time insights into the data and must get the idea about:
The current progress of any candidate and course

Average spending time

Time logs for different courses

Breakdown of assessments

Distinct parameters about completed courses
Multiple Software Integration
Digitalization is the way that everyone follows in today's world, whether it is educational or industrialization. Technology partners integrate different software to build a seamless workflow. When buying or upgrading to a new LMS software, you must understand your requirements for these integrations and seek them into the product. For a widely used learning management system, several integrations mentioned below are used popularly:
Video-Conferencing Tool
This is the most useful integration of any learning management software as it facilitates to conduct of tutor-led learning through webinars or teleconferencing sessions. 
Single Sign-on
This feature will help users to eliminate the need to every time log in whenever they access the system from multiple platforms. The single sign-on will let the users access the system from one consolidated space based on their access privileges. 
Every education institution, irrespective of scale opts for digital education in association with leading technology partners. We, at Vidyalaya, provide a top learning management system that has everything for both learners and school administrators. The system serves as a great tool for organizing online learning and training programs and will provide a platform to track progress. Over the past few years, online learning has become a necessity than a luxury. So, to sustain in the competition, we provide you with a complete solution that will fulfill your online learning requirements and simplifies the learning process. Collaborate with us and let us create a better classroom experience for you with our renowned learning management software!