Top 10 Unique Features of Student information Management System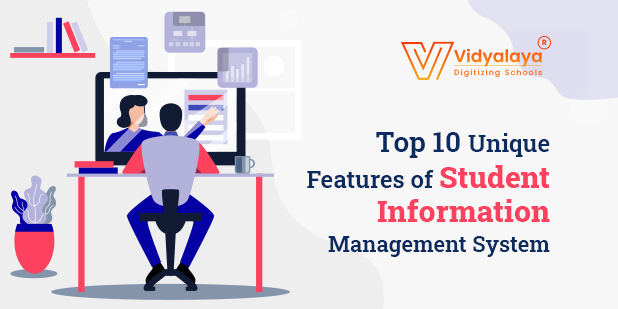 Data has gained utmost importance in today's data-driven world. Proverbs like data are new fuel underline the importance of data. The education industry is being a novice in getting the student information to be used for professional purposes. The industry has now recognized the importance of a dedicated student information management system and industry software providers are trying to enrich their products fit for both the purpose and the future. Products that are based on web platforms are gaining more popularity among the leading educators.
In traditional systems with no technical assistance, recording student information is accomplished with registers and files. Maintaining this jargon years after years is not less than a headache. So, a complete system that can save and maintain student records and make them available whenever needed is a need of the hour.
Vidyalaya with more than 20 years of experience in the education industry facilitates the ed-Tech market with its outstanding products. These products are already satisfying customers and the large clientele tell the stories of the success journey. Student information management software is one of the in-trend products released by Vidyalaya which has become a word of mouth of everyone.
What is student information management software?
Student information management software is a dedicated application designed to manage student data online with more clarity. Every student's data is essential and collectively the performance can be significantly improved. These systems help educators to gather school-wide data online that can be accessed by authenticated users anytime, anywhere. Student data includes students' registration details, fee details, hostel fees, scholarship details, along with academic details like test scores, attendance, measures of performance. A one-stop destination for all these records will save time, effort, money and bring efficiency to the relevant processes.
What are the top features that enforce institutes to invest in student information management systems?
Choose the best one among the crowd, with this rule, Vidyalaya offers entirely customized software that is designed and developed according to the client's requirements. This enables educators to store data in one place so that it can be a one-stop destination from several data points.
The system has something for every stakeholder of the education system like:
For administration, it is a simple integration solution that automates all day-to-day activities bringing efficiency to the business processes.
For teachers, it is a savior so that they can concentrate on academic tasks rather than time-consuming administrative responsibilities.
For students, it works as a one-stop platform where they can access updated information in real-time in one place.
For parents, the student management system works as a reliable and handy platform where they can know the real-time updates about activities happening in the schools.
Here is the illustration of fascinating features of Vidyalaya's student information management software:
No more overhead for office work
Free up your employees from burdened office work with the help of Vidyalaya's student information management system. As the automated processing of daily activities can reduce the stress of office work significantly, you can experience improved productivity and let them concentrate on more fruitful things rather than tangling in the monotonous clerical activities.
Manage student records proficiently
Ditch the traditional bricks-and-mortar system to store and manage the records. The unending flaws of the system will never help you to achieve what you want. So, it is better to shift to the advanced system for student information management so that you can store a massive amount of data at your fingertips. Not only storing is needed, retrieving the data at a faster speed whenever needed brings organized structure in the institute. The complete track starting from enrolment to academic activities and till alumni will help to understand the student's progress better and take the proper actions to improve the graph.
Hassle-free communication
Communication is the key to success and it is very much true in the education field. Effective communication between all stakeholders will end up in transparent, reliable, and proficient system. Easy information sharing among the stakeholders will keep them at a few click distance.
Secure fencing around data with Cloud storage
Save your hardware cost by preferring cloud-based student management software. No traces for servers on the campus as all data is stored in the clouds. Save your capital and resources by not spending them on storing and maintaining servers, IT operations. The ultra-security feature will eliminate all flaws of the manual system and offer you a tightly secured system for storing student data.
Information about complete student cycle
No more color-wise registers for recording different data of students like academic, non-academic, personal. A single platform where you can store all data and retrieve it whenever needed within a few clicks. Data about attendance, behavior can be used to help weak students and bring them in the flow.
Hassle-free account management
No more pinpointing for different accounts management, no more follow-ups. All bills and payments will be taken care of by Vidyalaya's student information management software. Now, parents can pay fees and get receipts without standing in the long queues. Vidyalaya's student management system offers you a complete hassle-free account management platform where schools can check transactions of diverse accounts under one roof.
Structured data can be an asset for any organization. Incorporated analytical tools can help management to make their decisions better and more comprehensive. A single glance at the dashboard can give the desired inputs for decision-making. The filters and sorting can help end-users to view data as per the requirements. Vidyalaya's long experience in this field helps institutes to make a predictive analysis about students' behavior also.
Start dreaming of your office free of papers and files with the help of Vidyalaya's student information management system. The digitalization of schools is the motto of Vidyalaya and they are making it true with their different products.
Now access your student information anywhere, anytime through Vidyalaya's student information management mobile app. Stakeholders are no more restricted to location, time barriers to access the authenticated system.
Successful campus recruitment
Collective information of students that includes the academic progress throughout the years is a large database for companies that may be eager for campus recruitment. The database can be the foundation on which companies can invite students to showcase their skills. Vidyalaya's student information management software offers the ability to interact with alumni so that current and ex-students can get benefits like job offers, career guidance, business exchange, fundraising.
Student data is always important for educators and faculties to make progressive strategies for better education. A tailor-made system for student information management can be a bliss for the institute to simplify the journey from the initial enrolment phase to the finishing the alumni phase. Vidyalaya with its software with out-of-world features can help institutes to track the entire student lifecycle and help to foster better productivity. As the benefits offered by the system are luring, many top-ranking educational institutes are making themselves capable with Vidyalaya's student information management system. Let the advanced system drive your progress journey by efficiently managing entire student data.