Top 5 Things You Need to Know When Choosing an Educational ERP Software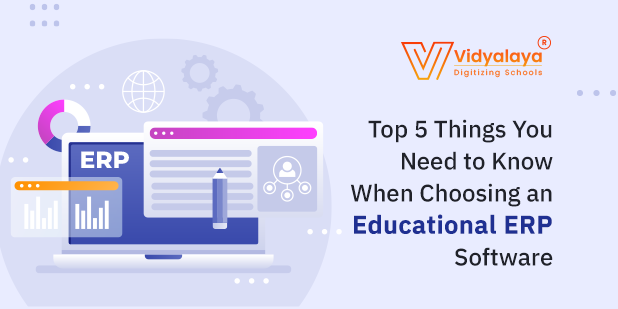 We know how aggressively and positively digital transformation is changing the education field. Until a few decades ago, did anyone imagine students will learn by sitting at home or parents will pay fees without standing in queues? This is possible today just because of education software invented by experts like Vidyalaya! Two-decade-long experience in the education sector comes in handy to spread awareness about the digitalization of education and facilitate 1500+ educational institutes with top-notch products. 
Although we are clapping for our success, several educational institutes still hesitate in their decision about adopting education ERP software in India. And, here is the answer to their all queries:
What is education ERP software?
An education ERP software enables educational institutes of all sizes to manage and streamline educational processes like admissions, fee payment, timetable scheduling, classroom management, exam management, and report card preparation. The software handles academic and non-academic processes like hostel management, and transport management as well. 
With the education ERP software, one can achieve the following aspects:
Enhanced control over all administrative processes from one integral platform.

Better connectivity among all stakeholders through a digital platform.

Smart technology integration to facilitate stakeholders with advanced features like biometric attendance, online fee payment, vehicle tracking, and others.

Empowerment to school management with streamlined reporting through faster and real-time data access.
What things one should consider before selecting the right educational ERP software?
Selecting the right educational ERP software is not a cakewalk. One must check hundreds of products in several aspects.
Here are the top 5 things you must check in the Education ERP to make it sustainable in the current big data world:
One Software, Better Outcomes
One should always look for single software performing diverse functions to rule out the possibility of the need for separate installation. Expand your vision and broaden the canvas for the integration of multiple systems under one roof.
Here is the list of important features one should look for in an education ERP:
Online classroom integration

Biometric attendance

GPS-based tracking

Barcode integration

Online fee payment

Tally integration
Support for Different mediums
You must be asking your teachers to look out for different ways to make the learning process engaging and fun-going, right? Why they should look all into this leaving their core duty of teaching? Instead, provide them with a platform where they can integrate all their creative skills to make learning better. Learn how you can do this:
Teaching from books and preaching in class is an old-school concept. Ditch this and integrate some multimedia resources into the class to make learning more engaging and fun. You can look for software that supports slide shows, videos, audio, or pdfs rather than relying on textbooks only.
Implement different methods
Teachers reciting in class and students listening to it carelessly will not work in today's competitive environment. Improve students' engagement by opting for different ways, like quizzes, debates, or online MCQ exams. Your education ERP should handle all these new-age formats efficiently, then only you can provide a sustainable option to your kids. 
Alleviate IT Admin's Burden
School's IT admin not only deals with the entire school's IT requirements but works restlessly to enhance the learning experience. By adopting our education ERP software, you can improve the IT admin's work efficiency. We provide a platform where your IT admin can handle all resources and manage all hardware even from a remote location. Let's see what should you check in these terms before finalizing an education ERP system.
It is obvious that your software installation should not continue week after week. So, it is better to choose software that allows direct access to install, delete, and update making the installation process easy.
Will you let your IT admin running here and there manage different devices you incorporated with your system on different fronts? No, right? So, choose a system that will provide a single-stop platform for controlling and managing all devices. This should also include scheduling hardware updates also. 
What is the use of choosing software from a renowned vendor and now there is no one to receive your ticket request? So, always select a vendor with a strong customer support team. We @ Vidyalaya, have a dedicated customer support team who is ready on their toe to provide satisfactory solutions for any type of issue. This is how we can assist you:
We provide extensive professional training to all our customers even though our education ERP software is user-friendly and easy to use. Based on customer requirements, we provide training through different modes like in-person, video conferencing, or phone calls. Our full-fledged training program can be operated from onsite or remote access so that our offshore training professionals can handle training needs efficiently. 
We are equipped with 45+ qualified help desk team members that will handle your request through tailor-made helpdesk ticketing software and provide you with a solution within a minimum span of time. 
Ditch the monotonous Class Environment
Bored of the one-way method of learning where teachers are preaching and students are just listening by sitting in the class? That's why you are looking for an alternative, right? Vidyalaya offers you an exceptional choice with its education ERP software in India that will give you an enchanting experience of learning. Let's see how we do this:
Get an alternative to the chalk-and-talk classroom with our in-built virtual classrooms. Bridge the gap between communication by collaborating and making communication live through different modes like chats, voice, and videos. Don't keep your students waiting for missed lectures, share the study material online through an easily accessible portal and let them record the lectures so that they can revise until doubt clearance. Offer the freedom of learning at their own pace as every student is not a topper!
Empower your invigilators to conduct online exams by overcoming the flaws of conventional exams. Our educational ERP provides an integrated suite of online assessment software to make the creation, conduction, and assessment easy. 
Technology orientation has revamped every sector. Apart from automation, we have learned to look at the sector with new dimensions. The Indian education sector is not an exception. Systems like LMS and ERPs help stakeholders of schools to explore a distant horizon but that is not enough. To sustain in the future and make your students fit for global competition, Vidyalaya empowers you with futuristic education ERP software. Get in connection with us and be ready to expand the canvas that remained unexplored in the past. Choose us for the best educational ERP software in India and embark on this enchanting journey of digital education.