7 things India needs to change for better tomorrow….!!!!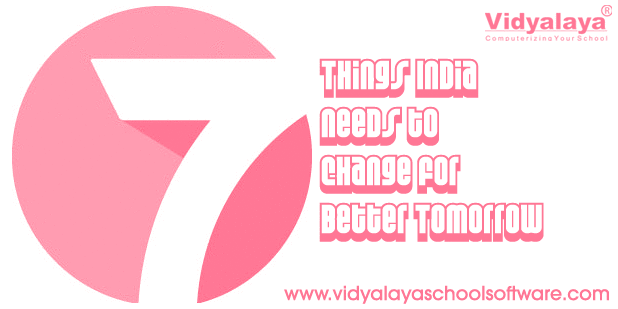 Where India is lagging????
We have seen so many examples of other country having very good progress in short period of time. i.e Malaysia, Japan and many more. We have been completed 68 years as an independent nation. We have very good natural Resource like Rivers, farms, mines. Even we are at first position for having large quantity of youth population, But what about quality of them??? Why we are not counted as developed country????
According to me, the main reason is System of Education in India. In the past we had Brilliant system of education called as "Gurukul". Students passed out from Gurukul were very good in every aspect. Even Rabindranath Tagore wrote about how Indian education system needs to change. We have established IITs, IIMs, law schools and other institutions of excellence. But still we are suffering from same problems, Why????
As per me answer is,
Learning method and exam pattern
May be we are good in marks but in practical world we got fail. We mug up and vomit but do not internalize or understand what we have learnt from study. We are not able to apply basic concepts to day to day tasks, whether at school or at home. The biggest tragedy of all – We do not develop our practical ability. Even our exam pattern is that we have to focus on theory marks. Our boards are giving important to theory marks compare to practical marks.
Courses or syllabus
"Everything keeps changing in the world within very short period of time", but why the course Reviewing period is almost ten years?
When We complete studies and enters into practical life,the things have already outdated. This is one reason, most of us are not getting jobs. Employers complain about skill shortages, poor quality of workers and low productivity due to poor schooling. And probably that is the main reason that they have started Training.
Innovation
As shown in 3- idiots most of us always thinks about marks, not about practical implement. During the academics we don't get appreciated for innovations done by us. So we start focusing on exam result, stop doing innovative things. our parents want to see us as a Doctor or Engineer, or lawyer. When we want to go in different direction or in different stream we have to fight with our family and society. So most of us quit the thought of innovation and decide as per other demands.
Awareness and Involvement of our parents
Neither parents nor we are aware about scopes are available in different streams after 10th, 12th even after Graduation. So, we select stream as per others wishes
Some parents don't have time, some are not that much educated, some are educated but not updated, may be due to these reasons they are afraid of getting involved. Middle class parents are able to manage this by teaching their kids themselves at home, rich & wealthy families are managed by coaching or private tuition but what about the parents of poor, semi-literate background?
Quality Education
For me teachers are heart of education. But now, teaching jobs are until today widely regarded as safe, well-paying, risk-free and low-pressure jobs. Even our parents insist us to have this job. Teachers matter the most. Teacher's quality is not about qualifications, but the ability to connect with student.
But, states are reducing the percentage score to pass in the RTE mandated Teacher Eligibility Test to enable more teachers to pass. In Bihar, in 1990, Laloo Yadav as Chief Minister reduced the criteria to 10th class Fail person can teach form 12th class pass…! So, who had themselves not finished class 10 were recruited to teach! It's much harder to digest.
In other side government assigns polling duties, population count and many other govt. duties to teachers. So Teachers are trying to finish the syllabus as early possible and they force student to rote learning.
Partiality and fair Competition
We have seen management give importance to students whose parents are either at good position of any department or donating some funds for institutions. So we don't get fair competition. One who is hard worker, good at every aspects, more deserving, wont get what they deserve.
Reservation is also most important factor behind not getting equal opportunities.
Lake of Encouragement or Inspiration
We have never got encouraged to be good at other activities then studies. One who is good at study is rarely good at other co-curricular activities and vice-verse. We are always forced to focus on study. Why all of us cant be best at every aspect of life????
India should learn form Poland, It had many of the problems that we have now. But from 1999-2006, they initiated reforms and turned the system around.
They made sure teachers had much more autonomy and freedom in the school. The syllabus was decided by the government in terms of what would be the minimum learning requirements. Students were tested at the end of class 8.
Teachers instead of following orders from above actually had to innovate and figure out how best to teach their children. Each school was actually a practicing laboratory. Poland had a dynamic education minister and a dynamic prime minister at that time. They felt that the single most important wealth that the country had was the people and they had to reform the education system. Only with political will, things get done.
As Country What we should do?
Make education system full of fun & joyful so that every student can enjoy his study.
keep our syllabus up-to date so that every student needn't any kind of training after finishing his study.
Recruit smarter peoples for teaching so that a student can have quality education.
Focus on practical education along with theory.
Strong law against corruption in education.
Encourage every one to have quality study.