Complete Guide to Online Examination Management System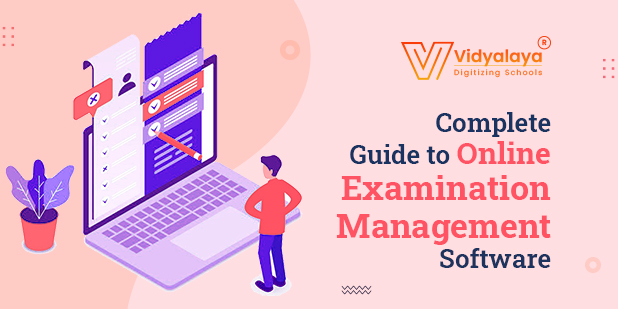 During this pandemic, we have seen a significant shift in our educational system. Students can now access a variety of online learning options thanks to the internet and other cutting-edge technologies. This has also resulted in mock tests being given at home via the internet. They are not required to be physically present in the classrooms to receive a quality education. An online examination management system is the process of an online-based test that covers a range of features and functionalities respectively. The system utilizes online exam software to create, administer, and evaluate tests. This type of examination system has numerous advantages. A few of them are that it eliminates the need for paper for the question and answer sheets, as well as any type of manual workload that would be excessive in the case of an offline test.
How does the online examination system work?
The online examination software is a system that allows schools or colleges to administer exams to multiple students at the same time. The primary goal of online examinations is to assess students' subject knowledge. The faculties can set up the examination paper sets of MCQ or descriptive typed questions and define the basic guidelines, marking levels, and difficulty levels respectively.
Online exams are generally held on web-enabled devices such as laptops and desktop computers. These exams or tests assist in accurately assessing a student's knowledge in a variety of subjects. The main benefit of this examination system is that it can be used to administer paperless tests while also providing instant test results. As a result, in this new era of online education, educational institutes and coaching institutes that administer exams have begun to use exceptional online exam software such as Exam Online to ensure safety and quality in all aspects of the examination procedure.
What characteristics distinguish an online examination system?
1) Making Several Question Papers
Designing question papers for a specific exam is a large task that does not end with the creation of a question paper. Aside from selecting the appropriate questions for multiple question papers, exam administrators must spend time printing that paper and distributing it in multiple exam centers with security. Exam Online comes to your aid and completes all of these tasks online, allowing you to efficiently conduct digital exams.
2)Publish E-exams
The teachers and school management can organize and determine the online exams in advance and on the mentioned date and time only it will appear on the student portals
3)Set the difficulty levels and scores:
The faculties can set up the difficulty levels and scores, according to which the results of a student will be calculated
4) Negative marks configuration:
If negative marks are applied to tests, schools can also configure negative marks for each question, according to their standardized formulas
5)Online test grading, assessments, and results publishing
Students will receive their results as soon as the test is completed, and they will be able to review each question. Once the test is completed, teachers must check and mark the descriptive or subjective answers in the software before publishing the results. They can publish the results with allotted marks and ranks, as well as the entire result sheet. As a result, parents can monitor and evaluate their children's performance.
How can online exams benefit educational institutions?
Every year, educational institutions are faced with the extremely difficult task of administering exams and evaluating thousands of answer sheets. The administrative process of exam delivery is time-consuming, stressful, and frequently raises concerns about security and bias-free evaluation. Online examination platforms include features that assist educators in streamlining the examination process and overcoming many of these obstacles.
What categories of questions are used in online examinations?
Although computer-based testing (CBT) and optical mark recognition (OMR)-based question types are common in online exams, along with online MCQ-based tests, Vidyalaya's online examination software also supports subjective type questions exams, in which students can answer questions in descriptive mode and faculties can mark them within the application.
Every feature and service has advantages and disadvantages, and online exams are no exception. So, let us examine the pros and cons:
Let's Check Out Advantages of an online examination system:
1. Highly Secured:
The increased privacy for students is one of the key advantages of an online assessment system, which verifies the process's utility. There is no room for harmful behaviors such as rigging the system to create inaccurate results, cheating, or other illegal practices. Students embrace the results without questioning the consequences in such a secure environment, which supports positive growth.
2. Cost-effective and time-saving:
Significant amounts of time and energy, as well as natural resources like paper, have been saved. Human resource involvement is kept to a bare minimum, so you won't have to exert much effort when administering online assessments. You must ensure a smooth operation flow by carefully designing the question paper and fairly conducting the exams. As a result, total cost savings in terms of paper, time, and money have been realized.
3. Automated grading:
This system also includes an automatic grading system, which is more convenient than traditional grading. By comparing the respondent's responses, it can match the proper responses. The test result will appear as soon as the exam has been completed.
4. Accurate and hassle-free process:
Digital technology provides unrivaled and unparalleled precision. Online test technology has significantly reduced staffing stress and successfully replaced traditional test management systems. Tests can be performed with the highest level of accuracy possible.
Disadvantages of an Online Examination System:
1. Challenges in Technology Adoption:
Any transition from traditional to online methodology will necessitate some investment on the part of educational institutions to upgrade their systems. However, getting familiar with both students and teachers with the transition is the best course of action. This method of learning would educate students and teachers on the new features and advantages of an online examination system.
2. Making the Switch to Open-Book Exams:
Typically, the format of online exams is compared to open-book exams. Unlike the traditional exams, where external objects are not allowed inside the test hall, no such limit exists in digital format. Indeed, it is difficult to prevent students from contacting their study material during an online exam.
Exams are an unavoidable part of the educational process. It is necessary to keep up with the times, with advancing technology, a competitive global world, and an increasingly competitive educational landscape. Along with constantly evolving teaching and learning methods, processes such as examinations must also be scrutinized. The result of such an analysis is an online examination system, which smoothens the process to make it more accessible and accurate than traditional examinations.