How Online Exam Management System Can Increase Your School Profile?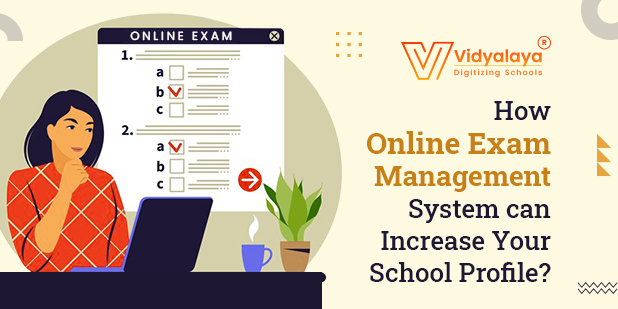 Today's younger generation is dynamic and adaptive in nature. They have great exposure to the latest technologies, thanks to Internet! Before Covid-19 outspread, the existence of online exams was limited to competitive exams or entrance exams and was not implemented at the school or college level. But the wave of Covid-19 changed the equation of everything in this world, and now online exams have become the word of mouth even after resuming the daily routine to some extent. As these exams are conducted without less human intervention, only a well-designed online exam management system can accomplish this task efficiently. This system can work as an advanced tool that will look after the streamlining of the exam system and offer the desired results.
Investing in the procurement of software for exam management may seem a costly affair for an institute initially but if you look for long-term benefits, you will soon realize that it is a highly cost-effective solution and you do not have to worry about your investment. According to market reports, the ed-tech market is going to flourish in upcoming years as digital transitions have done miracles. As exams are an inevitable part of any academic course, the online exam management software will be a hot cake in the ed-tech market at this point in time.
Let us illustrate how an exam management system can prove to be beneficial for your institute:
It reduces workforce requirement
Conducting an exam manually is not an easy task. It requires resources in terms of paper, manpower, cost. Although there is a fixed budget for stationery and other expenditures for exams in every school, the workforce is limited and institutes need to conduct the exams with available workforce only. Conducting exams always include administrative staff for exam management, academic staff for question paper design, moderators for evaluation, and supervising staff during the actual exams. This chain of people imposes a significant burden of operation cost on institutes.
This can be cut down to zero if the institute conducts exams through Vidyalaya's exam management system. As students will appear for the exam from their home and using their own device, there is no need for seating arrangements. Computerized software will design the question paper as per the pattern set by the teacher/ academic staff. And cameras of devices will become the vigilant staff. Assessment is also automated using the software and the result is displayed on the portals without spending any longer duration. This new way is beneficial as there is no or less human intervention so there is no scope for human-led errors. You can offer transparency, reliability during the entire exam process.
It cuts down the cost of stationary
Offline exams mean massive use of stationary like papers, files, pens. This will impose an unnecessary burden on the school's financial budget as, after evaluation and result preparation, the entire bundles of answer sheets and question papers go into scrap. It is not even an eco-friendly option to conduct exams offline with such huge wastage of natural resources.
Cut down the cost to almost zero and adopt an eco-friendly way by conducting exams through an online exam management system. Vidyalaya offers this progressive approach to exams and offers you the product for the same. As exams are conducted online in digital form, answer sheets are in the web/app form, results are displayed on portals online, there is almost zero use of papers, which will save thousands of trees from cutting down. Lift a baby step by opting for online exams over offline and making our planet greener and pollution-free.
It offers enhanced security
As we hear lots of incidences of school fire, theft, tampering, offline exam conduction becomes risky. In order to provide security, the school hires security professionals and needs to bear the cost overhead. Ditch the worries of protecting the question papers before exams and answer sheets after the exams by insisting on online exams.
Vidyalaya's exam management system is incorporated with cloud technology that provides an extra layer of security to the data. The role-based access tightens the access and opens it for authorized users only. The backup and the auto-recovery feature will help you to recover the data even during fatal incidences.
It reduces the logistic cost
As technology has reduced the physical distance between people, this also proved to be beneficial for educational institutes. The offline exam includes heavy logistics of integrating stationaries. Setting an exam center can enforce additional costs. Students living at farther locations also need to waste time, energy, cost in traveling to and from the center.
If you offer an online exam option, you can offer the best feature to your students as they need not leave their place and yet they can appear for the exam. Vidyalaya with its progressive exam management software lets you add a feather in your crown by offering your students a way to break the location barriers and appear for the exam.
Auto-surveillance will improve the supervision
We all know that humans can lead to many distractions during a task. But machines cannot! Camera-based surveillance is far better than a human invigilator. An auto-surveillance mode can be set to on during the exam and the camera will take the snapshot of the student and will play the role of a supervisor without any additional cost and demand.
Vidyalaya incorporates this feature in its exam management system so that schools can ensure the student's validity and keep the track of students during the exam is going on. Here, the scalability feature of the system plays a significant role as the number of students can be reduced or increased and end result will not be compromised in terms of quality.
We at Vidyalaya happily introduce the range of products especially for the education sector that understands the changing nature of it and offers a satisfying experience to all integrating users. Our large client base also ranges from single branch schools to schools having campuses in multiple locations. One of the major concerns about online exams is that the exam is mostly in the form of multiple-choice questions and it will not illustrate students' understanding to the fullest.
As the exam nature is different for different standards, the Online exam management software should match this requirement and should be capable of offering exams in any format. Vidyalaya perfectly matches this requirement with its signature product and lets institutes not bind with just one nature of the exam. Do not hesitate to adopt the popular software as it has plenty of features in its kitty that will definitely clear all of your doubts and improve the end-user experience. Let your staff and students match the pace of new-age and you become the window opener for them!