The Ultimate Guide to Virtual Classroom Benefits for Education Sectors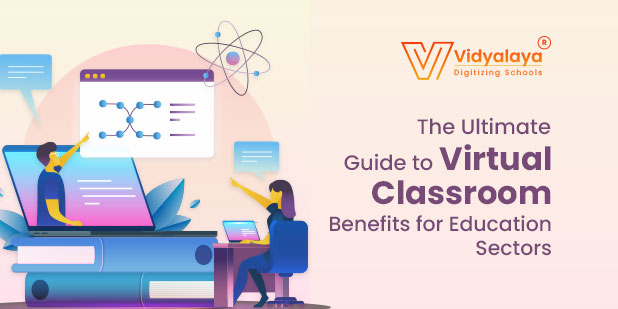 Well, attending the physical campus, the virtual classroom has its advantages and disadvantages. Among the many advantages of online education, you'll observe that virtual classrooms allow you to enjoy a more flexible schedule, reduce the cost of certification, & allow students to build careers by encouraging their education. Check out our classroom management system which can easily help education sectors organize & manage virtual classrooms.
In short, we can say that the virtual classroom is the heart & brain of education sectors – a central & convenient place for students to learn, explore & earn a degree, or certificate. By knowing more about the benefits and drawbacks of virtual classrooms, you can find out a better idea of whether it may be reasonable for your career and educational goals.
Here are a few benefits:
Benefits of Virtual Classroom for students & educational sectors:
Access to coursework from anyplace whenever
Students have the opportunity to study & complete their coursework anytime 24/7 from anywhere & at any time as per their convenient time. If the students are out of town, they can easily do their schoolwork back after reaching their place. It will also help teachers of the education sectors to schedule tests & arrange online classes. All they need is just any digital device like a laptop, pc, etc.
Combination of structure and opportunity
Online degree certificate programs are based on a structure of weekly, monthly assignments and due dates that students or teachers must meet, whether it's posting papers, homework, projects, taking an online test, watching a teacher's presentation, or taking part in a discussion with classmates.
Effective time management
A classroom management system offers a welcome environment for students, and teachers of educational sectors, who need to balance family and work with the new requests of returning to school. Immediately, it saves time as you don't have to drive to classes on campus.
Online classroom management systems attract students from across the world, who bring alternative perspectives from assorted societies. Students may have the opportunities to work on different groups of projects & collaborate with international classmates. Insights into other attitudes, cultures, & problem-solving approaches can illuminate your ways to deal with issues and opportunities.
Instant feedback on tests 
While students are enrolled in many online degree programs, they don't need to stress & wait for the test results. Students can appear in online tests, and they will get their scores after completing the tests. Also, students can rapidly see where they need improvement. Teachers can add instant feedback by checking students' results.
While increasing their skills and knowledge in the desired area of study, students will additionally sharpen their digital skills with the most sophisticated online learning technology. As the students continue to study and learn in the virtual classroom, they'll become highly productive and confident using online classroom management software such as dropboxes for homework, online tests, email communications to fellow classmates and faculty, collaboration tools, and video presentations by faculty.
An online classroom management software's virtual classroom uses multiple communication channels like chat rooms, online virtual meetings, voice calls, messaging, and other conferencing options.
File sharing, digital whiteboards, chats, and virtual meeting applications work with collective learning between students. This mirrors the real-time environment of classrooms without meeting physically.
Students can ask questions, discuss topics in real-time, and clarify concepts.
Virtual classrooms use a scope of media types to present information such that learning styles and student capacities are catered to. These include presentations, videos, digital whiteboards, webinars, and animations.
Comfortable with learning space
Virtual classrooms cause online learning to feel considerably less automated. Also, virtual classrooms ensure that students can chat and communicate with classmates and teachers without compromise.
Cost Benefits of Online Learning
Nowadays, education can be costly, but virtual learning can give various approaches for students to save money. Not driving to campus helps students' transportation costs.
Consistently, year by year each student spends a high amount of money on course materials and textbooks. Students' tuition costs vary between on-campus and online programs. Also, most virtual programs offered by the school are likewise financial aid eligible. Between this large number of saving sources are the advantages of virtual classrooms. So, these are the benefits of the virtual classroom for students & educational sectors.