What is the main importance of student information management system?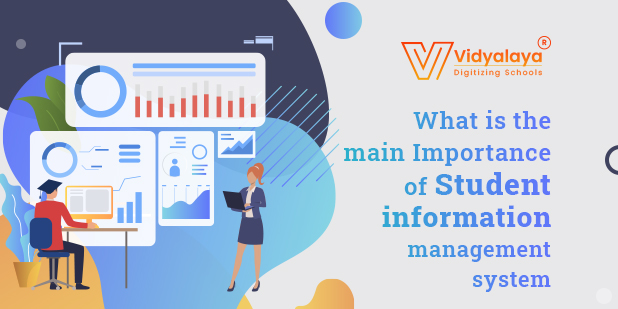 Nowadays, managing a school is an information-intensive task, where school organization staff members need to manage and store student information like financial records, exam reports, admissions, attendance records, guardian details, assignment management, medical records, and numerous different things.
In previous times, this critical student information was physically stored and recorded in documents and folders. It was, nonetheless, very time and effort consuming to get the long documentation, also to ensure the security of the storage. Time-by-time schools, colleges, and educational institutions have tried to adopt the student information management system to manage student data flawlessly.
What is a Student Information Management System?
Student Information Management System is a basic tool, web-based platform that helps the schools, colleges to manage the student data online for better clarity and easier management. It works by making a digital information database of each student within a central cloud location.
Our student management system ensures that the student data can be easily accessed at one location by parents, teachers, and students. Essentially, this system ensures maximum data associated with base documentation. However, many student management software platforms have also added modules, features to assist with administrative tasks.
The Benefits Of Student Information Management System –
Focused student performance
The student management system provides an excellent all-in-one resource center with broad features that today's students most look for. With efficient, smooth, and friendly student self-administration options, this system rules out the difficulties experienced by students while exploring complex administrative cycles. However, the students enjoy the benefit of focusing on their academics without going around for frustrating services connected to their accounts, records, individual information, registration and degree planning, grades, dates, deadlines, scholarships, financial aids, etc.
Newer insights with student information
The institutions, organizations that struggle to gather significant and actionable information to settle on smart decisions, the student management system can be a shelter. This system provides benefits to the schools, colleges by reporting additional features like deep insights into students' data related to attendance, academics, finances, credits, grade book, library, etc.
A time saver with improved and streamlined tasks
With this system's dashboard configuration, students, teachers, faculty, and staff know their needs that should be performed, along with the tasks already done and achieved. The dashboard helps in reminding which activities an individual needs to do and which of them are as of now done. For any undone activities, the system continues to send automatic alerts and reminders so the stakeholders keep focused.
A connecting point between students, faculty, and management
One more benefit of the student information management system lies in its ability to easily connect teachers, administrators, and parents under a single platform. This system sends updates and pushes notifications regularly about students' attendance, grades, marks, and overall performance. On the other hand, faculty, staff, and parents can interact at various levels using the easy-to-use web interface that improves student performance.
Offers limitless flexibility
This software gives institutions, organizations a lift to use tools that work with system arrangement with the way they get things at their institution.
Features of Student management system –
Automate Student Admission –
From document submission to course inquiry, the total student admission process can be managed online by this student management software. This allows students to apply for courses from the school admins and the comfort of their homes. Also, school admins can monitor every single application from a single dashboard. Admins can accept or dismiss the application depending upon their institute, organization criteria, and they can instantly share the admission confirmation details with parents/students via SMS or email notification.
Online Gradebook & Exam Management –
Student management software helps to eliminate paper wastage by conducting assessments online. It automates the total assessment process from exam schedule planning to generate report cards, digitizes every operation. So, schools, colleges can plan examination batch & course-wise.
Easy Assignment Publishing –
Upgrade the work and stop the paper-based assignment, now teachers, faculty can make the assignment online and share it with a group of students. It's very simple. Make media-rich assignments online by adding different media formats like PPT, images, videos, and PDF. Teachers, Faculties can track the assignment status online using this software and connect with students in real-time if case students have any questions in regards to the assignment.
Seamless Communication –
Helps to reduce the communication gap among all stakeholders and improve the usefulness of the entire school, college. Teachers are easily reachable, parents can immediately connect and discuss their kid's academic progress. Schools, colleges can send important notifications about PTA meetings, events, examination result announcements, and pending fees.
Attendance Tracking –
Best software to mark and monitor students' attendance online. Now teachers and faculty don't need to spend their valuable time manually marking the attendance of the students. By integrating biometric devices with the student information system attendance module, schools, colleges & institutes can track attendance in real-time.