What is SIS? Importance of Student Information System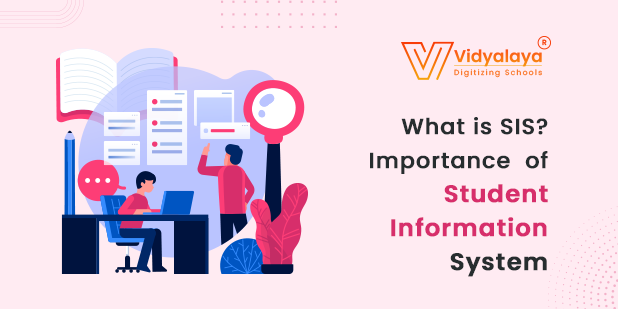 Technology integration has revamped the approach and methodology in much better ways. As the entire world is adopting technology to have an easy shift from manual to automation, the education industry is not an exception. Students, being the core entity in the education system, leading education software players like Vidyalaya recognized the power of data and its implementation in the business. Student information system or SIS is software that is completely student data-centric and manages the data under one platform. Apart from storing student data, the system brings enormous benefits like providing hassle-free admissions, academic advising, fostering efficiency, student and parent portal, effortless communication, a strong alumni network, and others. No wonder, the SIS system is called the future of education in the coming years! 
What is a Student Information System?
A student information system or also referred to as an SIS system is a data management tool that synchronizes student information generated during the entire student's academic lifecycle. All this information is stored in a single centralized operating system from where users can access it in a very intuitive way based on their access privileges. Keeping records manually leads to lots of expenses, inefficiency, and risks to data. Investing in a cloud-based student information system is the best way to get rid of all the flaws of a manual approach and provide a technology-driven option. 
The system stores all relevant information about students in the cloud storage and makes sure that maximum data is organized with a minimum paper trail. Right from the day of enrollment to the day of becoming an alumnus, all data like daily attendance, grades, and demographic information are stored in a structured form. Integration with the latest technology like AI, mobile apps, and self-service capabilities makes the SIS system unique and tailor-made. 
What are the major benefits of the Student Information System?
With the advent of cloud-based SIS systems, method students' information management changes. Although the system stores student information, all stakeholders are among the beneficiaries of the system. Want to know how? Let us explore the benefits of the student information system from each stakeholder perspective:
A. Student Database Management:
When a web-based system pays attention to handling paperwork, tutors can concentrate on the core learning and addressing the educational needs of the students. With the sis system, educational institutes get the best database manager integrated that enables stakeholders to have a keen watch on students' behavior, and attendance records, manage class scheduling and update daily performance in the system. 
B. Enhanced Productivity:
Implementing a student information management system on the premises promises to increase the productivity of the staff and teachers. Almost all core tasks are handled through automation, processes become simpler and more efficient. This will entail the stakeholders spending more time on their core progressive works. Even parents can pay the fees, and complete the admission process by sitting in their comfort zones online. This will reduce the burden and wastage of resources and make the task be accomplished within a few clicks. 
C. Boosted Admission Process:
From pre-admission inquiry to final admission, the entire admission cycle is handled through the SIS system digitally. This approach will ease the admission process as students don't have to stand in long queues for a long time as they are able to complete the admission process from their comfort zone. Also, the updated status of their admission can be acknowledged using the single dashboard and through other integrated mediums like SMS or email. 
D. Easy Payment Processing:
The manual approach of fee payment is full of risks and errors like the risk of handling cash, time-consuming process, and human intervention errors. To get rid of these, educational institutes are approaching for student information systems, through which they get the ability to process any payment online through an integrated payment gateway. The system works as an effective tool for handling all types of financial transactions. Administrators can have detailed reports like admission status, fee management, and payroll easily at their fingertips. 
E. Enhanced Security:
Keeping student data records comes with several own risks data tampering, unauthorized access, data stealing, data loss, and others. But when you opt for a cloud-based student information system, all these risks are handled automatically. Like role-based access will restrict unauthorized access to data, keeping it safe. Cloud-based systems provide safer environments for data storage as compared to traditional IT systems. 
F. Improved Inter-departmental Relations:
Not only are the benefits that are counted in terms of financial or ease of doing business, but the SIS system also offers several indirect benefits like seamless communication, improved inter-departmental relations, easy resource sharing, and others. Easy transport and sharing of data will rule out the possibility of misunderstanding, bring efficiency to the processes and manage smart access. Eventually, one can say all departments transformed into a centralized institution with improved relations. 
G. Reduced workload on teachers and Administrators:
One of the main purposes of inventing a student information management system is to reduce the workload of stakeholders and make education easier on a daily basis. Students can easily apply for courses and pay fees online whereas teachers can easily have access to student demographic data under one roof. Administrators can have a hold on entire processes and can get reports in standard or customized form within a few clicks. 
What is the purpose of investing in a Student Information management system?
Any education system involves stakeholders – parents, teachers, students, and school administration. Before enforcing any new approach, the effects, and benefits of all of them are always considered. Investing in the student information management system proves to be beneficial for all these stakeholders. Have a glance at the below write-up to understand how:
For Parents:
Easy monitoring of the ward's progress, grades, assignment status, and attendance through an intuitive platform.

Establish healthy and interactive communication between parents and school or teachers through this authentic medium.

Get rid of errors and inefficiency because of the manual approach in admissions, fee payment, and other financial transactions by opting for digital payment options. 
For Teachers:
Teachers can have access to student data in a centralized location so finding records, updating them, and other tasks will take a few clicks using the SIS

system

. 

Various analytical tools and dashboards will help to manage and access data within less time. Gauging students' progress is easy by looking at the different trends of data.

Interact with parents directly through in-built messaging, notification tools, emails, and other mediums so that combinedly can achieve student success. 
For Students:
Get all study material at one centralized location, and access it anytime, anywhere.

Access to their records of daily attendance, assignments, exam timetables, and upcoming events at one central location from the authorized source.

Connect to your peers or tutors using the integrated communication mediums and be updated with the help of the

student information system

. 
For School Administrators:
Maintain a repository of student data at a centralized location so that data management tasks are easy and efficient.

Make fruitful use of this well-stored data for the improvement of processes like admission, curriculum design, exam management, and others.

Reduce the wastage of resources such as paper, energy, manpower, and money using the automation of processes. 
The success of any information system lies in its ability to connect, unify, and consolidate the stakeholder's workload. In any educational institute, more efforts are taken to reduce the workload and improve efficiency and productivity. Investing in a well-crafted student information management system is all worth it, as it will eventually land you a well-built faculty reputation and an improved impression of the institute. Vidyalaya is all set to gear up your efforts and bind you to aid you in taking the success legacy ahead with its prominent SIS system! Enhance your school operations and empower yourself to list out your student's success on your noticeboards, websites, and school portal. Enquire at our contact us page for more details!