Complete Guide to School Account Management System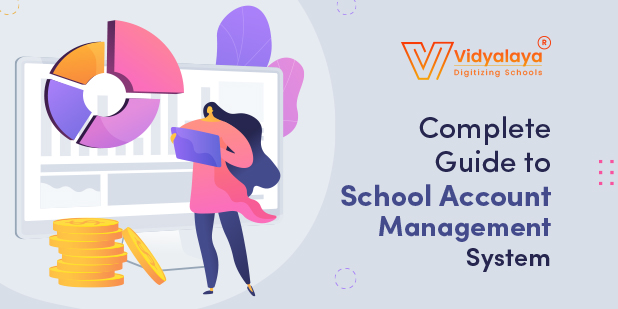 Account management in any firm plays a significant role as it keeps track of all financial transactions. Before the invention of dedicated software, accounting staff used to make entries in several ledgers. This method of accounting lacks in several places, which leads to a tailor-made school accounting management system. Vidyalaya releases an outstanding product that will reduce the burden on the clerical staff and will offer desired results. The automation of the accounting process will help you to reduce workload significantly.
What is a school accounting management system?
A school accounting management system can be defined as an integrated platform where educational institutes can use the software to perform the accounting functionalities. The system will automate the fee collection, receipt generation, report generation process so that the institute's decision-makers can make efficient financial decisions.
School accounting mainly deals with:
School fees
Other fees like transport, hostel, library, computer.
School donations
Payroll processing
Vidyalaya's school account management system combinedly performs financial transactions related to all these factors and offers desired results.
How does the school account management system work?
The school account management system collects comprehensive data from students and stores it in the central database.
The accounting software gathers data from relevant factors like:
Fee payment plans
Installment
Due dates
Scholarships
This information is used for accurate fee management and account management of each student. As these processes are automatically accomplished, there are no or fewer chances of errors.
Vidyalaya embeds new-age ways for enumeration and offers different modes of payment processing. Along with the traditional cash method, the software facilitates a multitude of modes of payment like:
Cheque
Bank transfer
Demand Draft (DD)
Debit card
UPI
Phone Wallet
These multiple options facilitate parents to process the fee payment using the best available payment mode within a short span of time. Parents using the manual mode of payment may suffer stress and flaws so it is advised to use these methods for different payments.
These payments are not only beneficial for parents but also for school administration. They can make easy payments whenever needed. So, the tasks of rushing to banks at the end of the day or in needy situations can be easily avoided.
What are the benefits offered by Vidyalaya's account management software?
There are numerous benefits offered by Vidyalaya's account management software. Some of the major benefits are listed below:
Online account management system makes it possible to access the data remotely breaking the location and time barriers.
Users can access the data even on smartphones as the software is available in the mobile app form.
Cloud deployments make the deployment task easy and cost-effective.
Data migration feature enables import data from other platforms without any hassles.
Quick payment facility for hostel, library, transport fees.
Auto-reminders using email, messaging, and push notifications.
Easy reporting and multi-dimensional analysis
How one should choose an apt account management system?
There are different factors that affect the decision of zeroing down one account management system amongst the several software available in the market.
Here is the guide for selecting the best software for your school accounting section:
Accessibility
Vidyalaya offers you cloud-based software that enables you to access school accounting from any corner of the world. It is more feature-rich as compared to conventional desktop-based software. Availability of the internet is also an impacting factor while choosing the best suitable software. You can choose between desktop or web-based software depending upon the availability of the internet. There are factors like recovery and maintenance that may decide the suitability of the software.
Must-have Features
There are many specific regulations that may differ for each school. To automate these regulations, you may need customized software. So, you need to ask the vendor company to make add-ons facilities so that these features are covered.
When choosing the software, you just need to pay specialized attention to whether these features are added or not.
Keep an eye on your budget
Vidyalaya offers account management software for all-scale schools and accommodates all budgets. Our organization aims at a larger audience and offers low-cost and free tools along with general-purpose modules. Customization is achieved at an investment of a little higher cost as customization requires extensive research and development. The tailor-made software offers desired and best-fitted features at a little higher cost.
The software can be integrated or not with other platforms and other software
Integration with other or existing systems is a crucial factor in deciding apt software for any educational institute. Hassle-free integration leads to better productivity because of maximum automation. Vidyalaya get connected to existing or other software platforms without any friction, which yields saving in cost and time in the long run. The account management system connects with the SMS system, payment gateway so that financial transactions are updated in real-time.
Simplicity and scalability
Any system that is full of features but difficult to use is not approached by users so well as the simple system with fewer features. Vidyalaya keeps all its products simple and easy to use. The account management software is developed by using intuitive designs that keep the inter-screen move and data retrieval fast. This can lead to employee job satisfaction and saving resources.
You may initially have school at one place, but with your progressive vision, your canvas may get expanding. Schools may have branches at different locations. School administrative staff can access the account data while using a single account management software.
Along with the factors mentioned above, the factors like invisible costs, key features decide the best-fit software for your educational institute.
When industries adopted the way of automated accounting and realized the aftereffect is beneficial. The revolutionary change invites other industries to join the wave. The education sector lately joined the queue but soon realized that school management software is really bliss for them. As the education sector needs to jot down the transactions of every single penny spent because of a shortage of budget, the school account management system comes to the rescue. Many accounting software is available in the market, but Vidyalaya can provide you a tailor-made software that will track the institute's finance. Let the account management system offers you financial insights so that you will be always ready for your critical financial transactions.