How Assignment Management System is a backbone of Schools in 2021?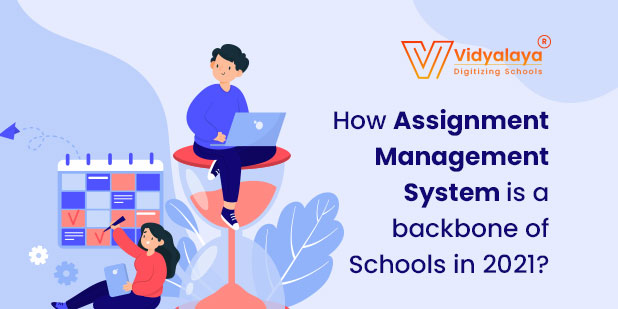 With the increasing popularity of online classrooms, students and teachers alike must access e-learning systems from any location, at any time. It will enable you to manage their tasks and projects in a very convenient manner. A well-functioning assignment management system creates a positive educational impression on both students and instructors. It enables people to receive fast replies, share, and use a wealth of internet resources.
Assignments and projects may be easily generated and handled in an organized manner.
What exactly is an Assignment Management System (AMS)?
Assignment and project management assist teachers in assigning assignments and deadlines to pupils and monitoring their progress in completing these activities. All assignments and projects have a start and finish date, and students must update the task when it is completed. Teachers may examine the task's status, and reports are created following evaluation.
This approach simplifies things for both teachers and students.
The Advantages of an Assignment Management System:
1) Create Assignments with Ease:
Teachers may design assignments with little effort. Additional resources, such as PDFs, documents, photos, and so on, can be connected to the same. It enables instructors to devote more time to teaching and less time to these responsibilities.
2) Saves time:
Technology saves time since it involves fewer manual efforts. Students can be issued assignments and projects online. It should put in no extra effort for paperwork.
3) Examine Assignments Using Interactive Reports:
Once students have finished their assignments and projects, they can be evaluated online by professors. Grades can be appropriately awarded inside the system.
Feedback from educators is useful for students who want to develop themselves.
4) Obtain Immediate Access to Relevant Data:
Students have easy access to any topic information. Students may access the resources as soon as professors submit videos, PDFs, Docs, etc. So, these are the main advantages of this method.
Assignment Management System's Key Features:
1. Student Work-Load Control
Students can manage their demanding workload of projects and homework in an organized manner.
2. Grade Scaling Flexibility
Teachers are in charge of assigning grades. It will record remarks and directions for tasks and projects as well.
3. Grade Representation Graphically
The feedback from the teachers is also provided in graphical form. It allows pupils to have a look at their performance and motivates them to do better.
4. Types of Subject-Specific Assignments
It may examine each subject's assignments and projects in detail. It is also simple for professors to assign subjects to pupils from the system's pre-defined themes.
5. Complete and Edit Assignments Using a Spreadsheet-like Interface
Students can complete and revise assignments as needed before submitting them. Once submitted, It cannot change
the work.
What are the major characteristics of the Assignment Management Software as a result?
• Assign projects and assignments to students or groups of students
• Track the status of completed activities (pending/finished)
• Monitor individual student status
• Track student performance
• Generate student reports
Let's go over the various sorts of assignments.
1) Assignment to Read
Teachers might ask students to answer questions verbally in Reading Assignments. Teachers might be given the recorded audio files for evaluation.
Benefits of Reading Assignments
• Students can answer questions orally.
• Teachers can assess how well a kid grasped the subject.
• Teachers may listen to individual audio and provide appropriate comments.
• It helps to enhance speaking abilities.
2) Writing Project
Students create and submit their answers to given subjects to professors in this familiar Assignment mode.
The Advantages of Writing Assignments
• Allows students to do research and write accordingly.
• Aids in the development of writing skills
3) Visual Project
Teachers can assign activities relating to sketching, pictures, movies, and visual assignments.
Benefits of Visual Assignments
• Students gain exposure to display their creative talents
• A proper method to express themselves artistically
4) Project Management
This assignment combines all of the previous tasks. Teachers can assign any of the audio, visual, writing, or reading activities.
Benefits of Project Projects
• An efficient approach for students to complete assignments
• Students may select and complete any of them at their leisure
How can Assignment Management Software help teachers?
1) Easily Post Homework
With an assignment management system in hand, teachers' task of assigning projects to students is simplified. Teachers can choose from the pre-defined subjects offered and assign them to students or create new topics based on convenience and relevancy. It might be difficult for teachers to search for and assign subjects manually between the tedious tasks.
2) Include any references
It is typically advantageous for students to have access to documents. Teachers can provide any reference (documents, pdf, videos, etc.) for the job. Students can save videos and notes on their computers and use them later.
3) Track Complete Status
Manually tracking each child's work status is difficult and frequently results in mistakes. This automated system allows teachers to see each student's assignment and project submission status in detail. It may inform students of the deadline through alerts, and professors can warn them about late submissions.
4) Maintaining a Systematic Record of Completed Work
Keeping a systematic record of things is generally a good idea. Teachers, students, and even parents may examine the record of completed work using this method. Teachers may examine the finished records of their pupils, and parents can view the completed records of their children.
5) Simple to use
Despite its sophistication, the system offers a user-friendly interface. The system is easily accessible to students, instructors, and parents. It is designed to satisfy the needs of its users in a courteous manner.
Have You Considered the Importance of an Assignment System?
This method benefits parents, instructors, and kids. Let's see what each of us can achieve with this system:
1) Teachers' Role in the Assignment Management System
Teachers may use this system to generate various sorts of assignments, projects, homework, and so on, which they can readily share. Along with the activities, they may also give students directions, explanations, and information.
Teachers can give assignments to the class that has been allocated to them, or they can assign them class-wide, section-wide, or even to a specific group of pupils. In addition, users may attach any document for reference.
They may also add tasks to an assignment or create new ones. These assignments might be developed by the same teacher or by teachers who specialize in the same subject.
2) Parental Role in Assignment Management System
Timekeeping plays an important part in an individual's life and must be fostered from an early age. Parents can access this system to examine assignments and projects assigned to their children. They are informed of the grades and responsibilities that have been given to them. They might check to see if their ward performed the duties on schedule. Parents may coach and assist their kids in completing the activities and track their child's progress.
3) Students' Role in the Assignment Management System
The assignment management system allows students to access the assignments that have been assigned to them online. As a result, individuals can complete and submit their assignments and projects with ease.
Vidyalaya assignment management software is a great addition to the school. Contact us now to know more about our software features.