Know how School Fees Management Software is the Essential Part of Fee Management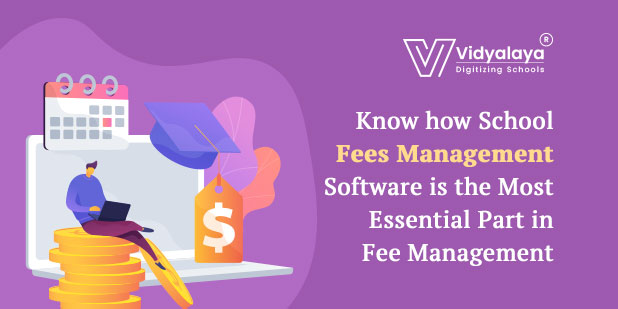 Gone are the days when schools and universities had to spend endless hours producing reports despite having the finest software. Today, cloud-based software School Fees Management system aid in the simplification of day-to-day accounting activities across various educational institutions.
What exactly is school accounting?
School accounting includes inventory, budgeting, taxes, receivables, wages, and bill payments. Additionally, fee management software comes with many tools for making better-informed decisions. Payables and receivables monitoring becomes a straightforward management function for top management because they can efficiently control cash flow.
An invoice can be generated in a matter of seconds, together with various reports, to fulfill your tax requirements. The accounting process as a whole has become quicker, more secure, automated, accurate, and cost-effective. It may significantly reduce the school's yearly operating costs. Because of the program, tracking admission patterns for different courses, revenues and losses, and identifying new course marketing possibilities takes just a few seconds. Most significantly, when government agencies audit, the claims produced by software programs are regarded as very trustworthy.
Access data from anywhere
Maintaining correctness and transparency in financial and general accounting records improves the institution's productivity and income automatically. Manual computations that waste time are a thing of the past. Files can be accessible from any location. It is particularly advantageous for businesses that have outsourced their financial auditing duties to other parties.
Whether it's budgeting, procurement information, accounting, or financial data, your accounts and finance staff will be able to access the organization's records even from mobile devices. Because the solutions operate on current PCs, laptops, and smartphones, cloud-based systems remove the need to spend significantly on new hardware or important software. System integration allows several departments to transmit and import student data from computers situated in different locations.
Continuous access to data for all departments promotes greater cooperation, faster approvals, and a higher level of confidence among staff, students, and parents. Higher-level management gains real-time expenditure monitoring, collecting correct data, monitoring spending, and concentrating on cost reduction.
Most significantly, as previously said, it can simply connect with the educational institution's existing education system, applications, and websites. Thus, the same software can handle fast fee payment, admission and enrolment, library, transportation, and hostel fee transactions performed by students through websites and school applications on its own. Parents get push notifications, emails, and SMS alerts for fee payment within seconds.
CBSE and other school boards now require fee e-payment
Parents favor institutions that take fees in various forms of payment, regardless of whether the institute is independent, non-profit, or public. It is found in the countryside, in the suburbs, or in an inner-city
setting.
Schools must collect exam fees and other costs via e-payment methods. Several public boards, including the CBSE, have made this requirement before. They have also been advised to utilize online transaction techniques when paying for educational institution purchases and, of course, when disbursing wages to instructors, contractual employees, and consultants. Fortunately, a sophisticated school fee system aids in the smooth management of all these transactions.
Saving money on processing costs
To avoid paying card payment processing costs of 2 to 4 percent imposed by banks, educational institutions often skip providing online transaction options while collecting library charges, meal fees, and other small expenses. Currently, some schools impose a convenience fee in addition to the transaction cost, while others choose to absorb bank charges themselves.
What is the answer? Some banks provide corporate banking solutions for educational organizations, which may assist schools in avoiding processing fees and other costs. Schools that are part of a non-profit organization have even more possibilities for saving money on banking fees.
India's most popular payment methods
ACH (Automated Clearing House), Direct Debit, card payment, NEFT funds transfer, online banking, PayTM, and pay-by-check are some of the most popular payment options.
In addition to the partner bank, schools must choose the finest online payment gateway for processing payments. Bill Desk, Citrus, CC Avenue, PayUMoney, and more reputable alternatives are available in India. Choose one that works with your bank and processes payments promptly to get money into your school's account.
Can aid in maintaining the highest accounting standards.
Accounting and fee management is unquestionably not among a school's main responsibilities. However, for decades, businesses have had no choice but to devote human resources and money to manually handling these transactions. Computers are used in teaching financial management in high schools, relieving students from substantial work.
It simplifies the whole payment process for parents, students, and contributors. Paperwork has been reduced to nothing since e-receipts are given in real-time through email, text messaging, and other means.
The fee management software models, structures, and regulations may be readily reprogrammed to meet the changing requirements of the school. It also handles duties such as keeping track of the daily number of working hours and calculating overtime compensation for instructors, professors, and consultants.
Accounting solutions are included with the majority of school administration software/ERP systems. If a school or educational institution also provides a training program, it must register for and pay GST on specified activities. Providing uniforms, laptop computers, and other sporting equipment is also a taxable activity. Fortunately, school accounting software may be designed to help generate GST paperwork, invoices, and so forth.
Aside from saving time and paperwork, the school software features to aid in the reduction of mistakes and losses caused by incorrect documentation processing. The program tracks all financial operations, such as school expenditures, staff expenses, and student billing information. It allows the institution to concentrate more on its main objectives.
Our Vidyalaya School Software is designed as per your school fees management needs and requirements. Because most systems are user-friendly, training workers to utilize such software is simple. If you want custom-made School Fees management software for your school or educational institution, please contact us to discuss your needs.