Top 5 School Management ERP in India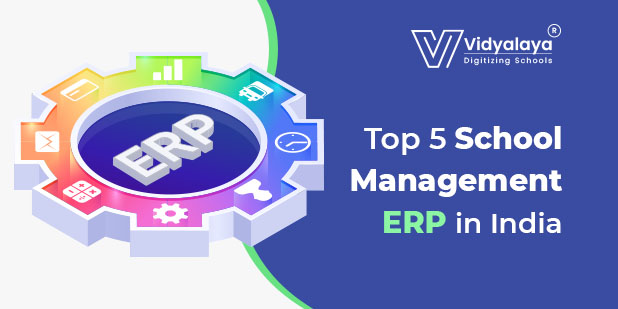 A software solution that is efficient for academic institutions should be developed to serve all the matters of concern of the academic institutes, like efficient ways to handle the fee management, student/staff record management, attendance management, timetable scheduling, homework management, exam data management in an easy manner. Along with this, it should enable easy and smooth communication between parents, administrative staff, teachers, and students. All the Important notifications that should be delivered to the emails and portal accounts of the SMS users should be the first and foremost feature.
The school management software should be designed in a manner that along with being user-friendly it also adds to the productivity of the institution. The reason behind better productivity is a lesser amount of time required to update the track records and which also increases accuracy in the data organization of the institution.
As per the blog written by Technology counter:-
There is a certain amount of research and study made; derived statistics from the same first reveal that school software has become a growing phenomenon in India where providing world-class education is a primary focus
Those school software solutions are required more and are demanded heavily that offers multiple functionalities like bus facility management, billing management, student records management, and management of labs, classroom needs, fees, examinations, alumni, etc.
When you talk about schools having a student strength of more than 1000, they require top school management software because they have multi-functionalities to perform. Executing them with the help of a Top school ERP can make things much easier for them.
Various types of research have also revealed the fact that Schools have a resource of budget ranging from Rs.50,000 to Rs.80,000 for spending it on a good cause including a school ERP software that would provide quality of product usage to each and everyone related to the school.
Earlier by about 2017, there were hardly 20% of schools were using school ERP software. But in the current era, with the rise of technology and automation, the ratio of schools using school management systems has almost doubled than the ones who were using school ERP software a few years ago.
Earlier, almost 59% of the schools were not properly aware of selecting a proper school management system as it was not in the trend. But with the changing world and along with gaining years of experience, schools have now started moving towards the top school ERP systems. According to stats, schools prefer their school management system which is web-based: 11-30%, installation-based: 20-40%, and installation-web-based: 10-30%. As you can see, cloud-based Top school management software has always been the search preference of schools.
On the basis of flexibility, demand, and the highly scaled potential, here is the list of some of the Top school management software solutions for 2021 which might prove to be a masterstroke for running businesses but will produce more results in educational institutions:-
1. Vidyalaya School Management ERP
Vidyalaya is Integrated school management software that presupposes all-important features crucial to the seamless management of schools' daily affairs. Also, Vidyalaya is one of the highly-rated School Management ERP by its use on various review platforms like Software Suggest, Capterra, G2, Good firms, Technology counter, Techjockey, etc. Also, it's India's only school management software with more than 1000+ verified reviews on google. Vidyalaya offered 35+ features rich modules and 9+ integration, making it a one-stop school for schools for their administrative needs.
Here is the list of features offered by Vidyalaya.
Student Management
Academic Management
HR & Payroll Management
Resource Management
Communication Management
School Mobile App
Online Payment Gateway
Online Exam Management
Virtual Classroom Management
2. ConnectingCampus
ConnectingCampus offers a complete package of digitization support to schools, colleges, and other institutes of education like private coaching institutes and many more. This software also offers online teaching support, digital data management, and communications enabled by the working resource which works the best on both iOS and Android. Some of its best features are:
Document management
Examination management
Courses and batches management
Hostel and fee management
Admissions
Event calendar
HR and payroll management
3. DivineCampus
DivineCampus is a fully customizable school management system meant for maintaining all affairs of schools and educational institutes. DivineCampus is designed in such a way that it has taken out the learning hurdles even for people who are not well versed with technology. Its main benefits are:
Cloud server hosting
Easy and affordable customization
User-friendliness
Multi-language support
4. MSCHOOLERP
MSCHOOLERP is exceptionally comprehensive school management software that seamlessly integrates all departments of the school to provide a well-coordinated working environment at the schools.
Customer management
Email integration
Activities, courses, and batches management
Employee self-service management
Attendance and examination management and so on
The schools using this school ERP software have various benefits including:
SMS System– It becomes quite easy for schools and students/parents to stay connected and share important updates or messages using this school ERP software.
Online Virtual Classrooms in this school ERP software give a platform to the teachers to conduct disturbance-free lectures in this pandemic period.
The bond between parents and teachers increases as parents can focus more on the student's educational performance through this school management system.
5. JischoolERP
JischoolERP management software is your one-stop solution as a school management system because it includes various features that prove beneficial to the school management, students/parents as well as teachers. If a school onboards this school ERP software, it will definitely create a bridge between the school and parents, thus helping them get a better picture of their child.
Following are the main features of JischoolERP management software:
Exam management
Payroll management
Fee management
Attendance and timetable management
Library management
Inventory management