How Parents Can Help Students During Board-Exams?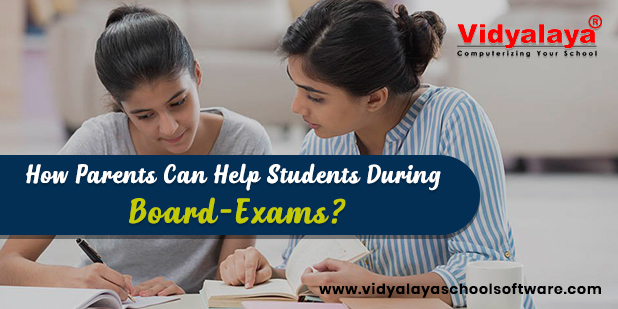 How Parents Can Help Students During Board-Exams? The board exams are an integral part of student's career as it shapes their future and help them to take the best foot forward. The students are already under immense pressure with loads of school's assignment, journal filling and also nowadays tuition classes have also become necessary. So parents should make sure that the students don't take too much pressure and focus on their studies.
Let's see some of the points which are pro vital for parents for assisting the students during their board exams:
1) Stop comparing your child with others :
Nowadays there is plenty of competition in every field. So parents start comparing their student's academic record with others but, that only takes a toll and student's also start thinking negative with it. Kindly encourage the students to pursue the field they are interested in & don't compare them with their peers.
2) Group Studies :
Anything that is arranged within a group is always fun. During the board exams, parents can recommend their child to study with their friends as every child is different and they can explain their valuable input and share their knowledge respectively.
3) Sit with them when they are studying :
When board exams are closer then students are already under a lot of stress. So parents should sit with them and talk to them about how board exams are not the only thing that will decide their future. Ask them to take a break every 2 hours as it is scientifically proved that no one can continuously work everyone needs a break to freshen up.
4) Nutritious Food & Proper Sleep :
During exam time the child has to study the entire time & this may lead to different cravings of eating junk foods and soft drinks. But parents should give them homemade fresh foods, fruits, and juice to keep them fresh and healthy throughout the exam time. Along with it also make sure they are taking a sleep of at least 7 hours as not taking proper sleep can affect their health.
5) Be a Support System :
Being supportive to your kid is essential as they are a lot of things going in their mind during the board exam time which might affect your child. So parents should motivate them and make sure that they don't think negatively and get depressed. Always tell the child that you stand by their side no matter what the result comes.
6) Keep them away from the digitized world :
A parent cannot keep away from social media as from kids to older ones every people are engaged in it. So the child can use it during the break time to get refreshed and even some of the important worksheets or documents or video clips are available in it. So parents should make sure that the child doesn't misuse it and don't get distracted by using social media
7) Set Realistic Expectations :
Every child is unique and has their qualities & every parent knows their kid's level and limitations. Some students have more interest in extracurricular activities while some are brilliant in studies. So parents should keep realistic expectations from their child as per their previous academic results.
8) Take a mock test :
As parents are experienced and have gone through all these exams during their age. Parents should arrange a mock test which should be having rules and regulations similar to board exams. It does help students because the student gets the taste of the actual board exam by doing this.
9) Have Dinner Together :
Parents along with children and family should sit together while doing dinner and discuss the normal stuff like relatives, neighbours, general news, etc. & have some fun family time together
10) Don't discuss the exam paper :
Generally, when the student appears on a board exam and if the paper doesn't go well. Then parents should not discuss that particular exam as the student gets more tensed. So a parent should assure that student prepares for the next exam rather than thinking about the exam which has not gone according to their expectations.
11) Plan Ahead with your Child :
As the exam schedule is available some days before the exams, parents should properly plan with the students according to the schedule. So with children, parents should sit and analyse and make the exact time table of the subjects. This could help students feel better and as per their convenience, they can give the time to their weak and strong subjects respectively.
ALL THE BEST TO ALL THE PARENTS & CHILDREN OUT THERE FROM VIDYALAYA SCHOOL ERP!!!!
"Tomorrow is my Exam, but I don't' care because a single sheet of paper can't decide my future." – Thomas Alva Edison