Vidyalaya School Software Now in Ranchi, Jamshedpur, Dhanbad | Jharkhand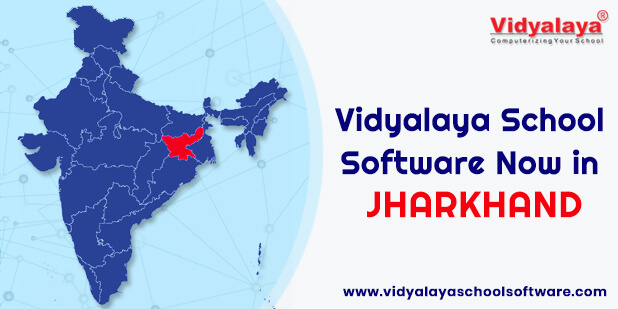 About Jharkhand
Jharkhand, the State of India which is known as the land of forest, on 15 November 2000 Jharkhand was carved out from the southern part of Bihar. The state is connected with the border of UP to the northwest, Bihar to the north, Chhattisgarh to west Odisha to the south and West Bengal to the east; with an area of 79,710 km.
Ranchi is the capital and Dhumka is the sub-capital of Jharkhand. Ranchi, Jamshedpur, and Dhanbad are some of the major cities of Jharkhand.
Education in Jharkhand
Jharkhand Education has numbers of State Boards, Universities and Colleges.
There are many Examination boards in Jharkhand mainly, – Jharkhand Madarsa Examination Board, Jharkhand Intermediate Exams Board, Jharkhand Secondary Examination Board, the Universities
As per record of the year 2011, population Literacy rate in Jharkhand has seen an upward trend and is 66.41 percent, where male literacy stands at 76.84% and female literacy at 52.04%. In 2001 the ratio was 53.56% male and 63.83% female and 38.87% literate respectively.
There are multiple education boards at Jharkhand, such as state board, CBSE, and ICSE.
Government schools in Jharkhand are of the vernacular medium school and Hindi medium of instruction. Besides, the government schools, Education department of Jharkhand also consists of English medium schools.
The Popular & Leading Educational Institutions in Jharkhand are mainly:
Birsa Agricultural University, Kanke, Ranchi
Central University of Jharkhand, Brambe, Ranchi
Jharkhand Rai University, Ranchi
Kolhan University, Chaibasa
National University of Study and Research in Law, Ranchi
Nilamber Pitamber University, Medininagar
Ranchi University, Ranchi
Sido Kanhu Murmu University, Dumka
Vinoba Bhave University, Hazaribagh
Birla Institute of Technology, Mesra, Ranchi
Birsa Institute of Technology Sindri, Dhanbad
Cambridge Institute of Technology, Ranchi
DAV Institute of Engineering & Technology, Daltonganj
R.V.S College of Engineering and Technology, Jamshedpur
M.G.M. Medical College, Jamshedpur
Patliputra Medical College and Hospital (PMCH), Dhanbad
Rajendra Institute of Medical Sciences (RIMS), Ranchi
Indian Institute of Information Technology, Ranchi
Indian Institute of Management Ranchi
Indian Institute of Technology (Indian School of Mines), Dhanbad
National Institute of Foundry and Forge Technology (NIFFT), Ranchi
National University of Study and Research in Law
National Institute of Technology, Jamshedpur
St. Xavier's College, Ranchi
Xavier Institute of Social Service (XISS), Ranchi
Xavier Labour Relations Institute (XLRI), Jamshedpur
All these institutions are considered to be the topmost educational institutions in Jharkhand.
Vidyalaya School Software has made a remarkable entry in Ranchi with the successful school automation of Sapphire International School
About Sapphire International School
Sapphire International School is a co-educational day and residential English medium school in Ranchi, Sapphire International School promotes the development of the children by an educational philosophy that promotes the development of the children's blending athletics, academics, and creative achievements.
The school aims at providing opportunities for leadership and moulds so students turn into confident individuals and ready to take challenges in every phase of their life.
Having a big campus Sapphire International School faced many issues to manage their system.
After using multiple software all their requirements are fulfilled under one roof with Vidyalaya school software.
After implementing Vidyalaya school software now they can manage all their administrative activities like their academics, admission, student management, timetable, HR & their payroll easily. Even they always keep their parents updated with Vidyalaya Mobile Application. By integrating the Vehicle Tracking System with their transportation service they can manage the tracking of their school vehicles and parents can also track their child vehicle by their route.
Using the entire modules, they are now managing all the administrative tasks with the Vidyalaya School Software.