What Is NAAC Accreditation? Importance Of NAAC Accreditation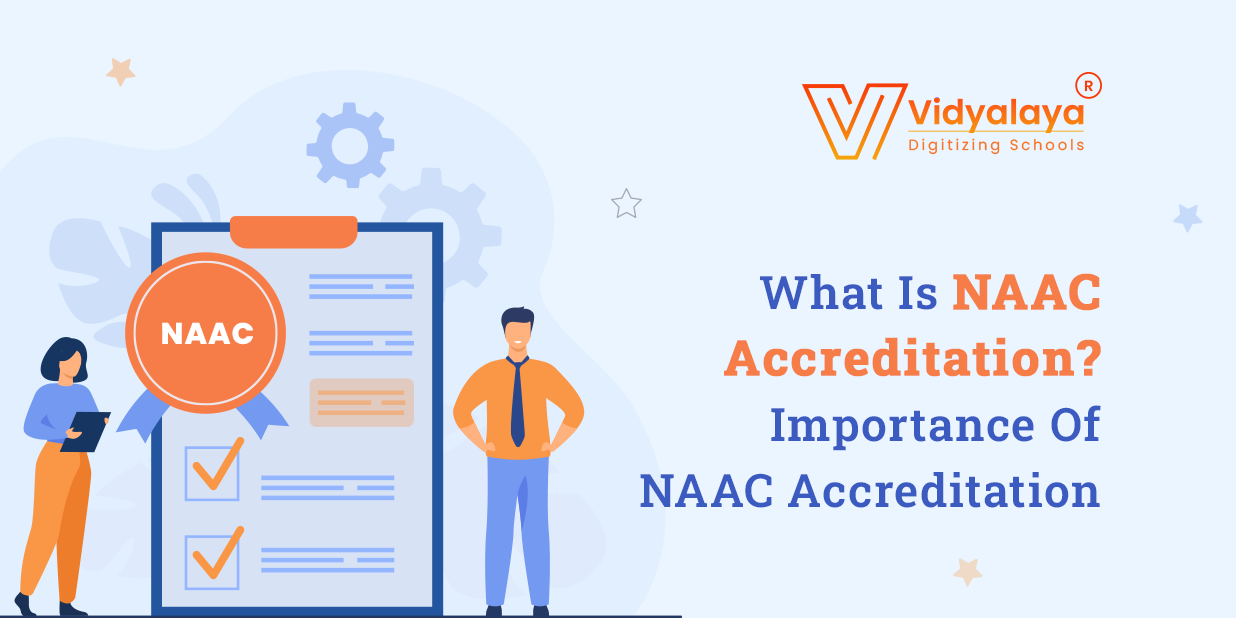 In the education sector, assessments and accreditation have immense importance. Not only in academics but in administration, both these terms play an important role. Additionally, higher education is setting new benchmarks every day to promote the holistic progress of the current generation. But this is also of no use if there is no evaluation. To serve this purpose, a council is established which is nothing but the National Assessment and Accreditation Council. While reading news from the education sector, you must come across news like this college got an A+ in NAAC Accreditation, that college was surveyed by the NAAC committee. Only a few people know about the details of the NAAC and its significance in the education sector. Here, we try to elaborate more on it in this write-up.
What is NAAC Accreditation?
The National Assessment and Accreditation Council was founded in Sept 1994 under the aim of the performance evaluation of higher education institutes and ensuring that they follow predetermined norms. It has become mandatory for the institute who seeks funding from UGC to be near-certified by the NAAC.
The comprehensive NAAC accreditation derives all the tasks associated with the evaluation and regulation of the performance of higher education institutes across India. Thus, educational institutes can encourage the best of available resources, capabilities, and chances for continuous improvement. The council provides a culture to the students, where they can hone their skills and gain knowledge through education. Apparently, it proves that institutes getting NAAC Accreditation bind to offer quality education.
Here is the weightage chart of each criterion for different educational institutes:
| | | | | |
| --- | --- | --- | --- | --- |
| Criteria | Universities | Autonomous Institutes | UG colleges  | PG colleges |
| Curricular aspects | 150 | 150 | 100 | 100 |
| Teaching and learning evaluation | 200 | 300 | 350 | 350 |
| Infrastructure and learning resources | 100 | 100 | 100 | 100 |
| Institutional values and practices  | 100 | 100 | 100 | 100 |
| Administration, governance, and management | 100 | 100 | 100 | 100 |
| Student participation and progression | 100 | 100 | 140 | 130 |
| Research and innovation | 250 | 150 | 110 | 120 |
Depending on these measures, NAAC has set some grades to be nominated for the institutes and they are:
| | | |
| --- | --- | --- |
| CGPA Range | Grade | Status |
| 3.51-4.00 | A++ | Accredited |
| 3.26-3.50 | A+ | Accredited |
| 3.01-3.25 | A | Accredited |
| 2.76-3.00 | B++ | Accredited |
| 2.51-2.75 | B+ | Accredited |
| 2.01-2.50 | B | Accredited |
| 1.51-2.00 | C | Accredited |
| <=1.50 | D | Not Accredited |
What is the purpose of NAAC Accreditation?
The importance of NAAC Accreditation helps to improve the institute's performance on academic, amenities, and administration fronts. The institute can focus on new areas for progress, resource allocation, and planning. 
Here is the list of missions of the National Assessment and Accreditation Council that underlines the purpose of it:
NAAC accreditation encourages self-assessment, autonomy, the need for innovation, and accountability in education.

It conducts enriched quality research, training, and consultancy.

It promotes collaboration with other higher education to maintain and improve the evaluation and sustainability of education.

National Assessment and Accreditation Council

stimulates the academic environment for the promotion of quality teaching and learning in higher education institutes.

When a predetermined set of measures is followed, education quality is definitely going to improve and becomes apt to meet the additional requirements set by international standards. 
What is importance of the National Assessment and Accreditation Council?
Apart from setting standards for higher education, the National Assessment and Accreditation Council highlights the importance of it.
1. Streamline internal processes and communication:
National Assessment and Accreditation Council has already set a benchmark in deciding the measures for the accreditation process. To fulfill those measures, institutes need to focus on seamless inter-departmental communication as well as communication with external agencies. This will bridge any gaps in communication and will help to foster student-teacher relationships. 
2. Ensures Innovative Teaching:
NAAC accreditation always encourages modern and innovative educational strategies. Teachers are always encouraged to implement holistic approaches to improve the performance of students, and apparently, the institute. 
3. Continuous Assessment and SWOT Analysis:
NAAC Accreditation SWOT analysis is a detailed assessment process of educational institutes that helps them to realize their strengths, areas of improvement, threats, and opportunities. The improvement process is continuous and helps to enhance the NAAC grades, and advantages of higher education institutes, and students to select the top institutes. 
4. Maximize Recruitment Rate:
NAAC accreditation influences recruitment and adds credibility to the courses offered by the institute. It ensures the standard quality and adherence to the measures. Employers also give preference to the candidates who graduated from the institute having NAAC accreditation. This ensures better skills, expertise, and knowledge in students. 
5. Improves Quality of Education:
Higher education institutes can get a clear picture of areas where they have scope for improvement after a SWOT analysis. Through this, they can realize the importance of planning to improve the quality of education and resource allocation. 
What is the procedure of getting NAAC Accreditation for the educational institutes?
1. There are certain criteria to obtain the NAAC Accreditation and the institute needs to submit a list of documents for the process completion. 
Here are they:
Institute data and report

Various documents supporting the reports

Verified data

Feedbacks from students

ICT based education
2. Institute can hit the NAAC official website to register itself.
3. Institute needs to compile and upload the data for the initial quality assessment (IQA).
4. Further, the institute needs to upload self-study reports after the success of IQA.
5. Every institute gets two chances per year for re-application if the IQA is rejected.
6. NAAC verifies the submitted data and a pre-qualifier score is assigned to the institute.
7. After the data verification stage, a student satisfaction survey is conducted by the NAAC committee.
8. This committee visits the institute for further evaluation and assigns the final score. 
Every institute needs a robust system of accreditation to avail numerous benefits like transparency, scope of improvement, and various mentorship programs. National Assessment and Accreditation Council gives the reassurance that quality of education is maintained in the higher education institutes. Right from qualifying the academic programs to making the facilities for students better, NAAC guarantees quality in every aspect. Vidyalaya is greatly associated with this accreditation program and aids the institute for providing necessary inputs. A reliable education ERP software provides accuracy in maintaining data that will prepare a base for the NAAC Accreditation procedure. So, what are you waiting for? Just connect with us to get worldwide acceptance and accreditation for your educational institute!