Why Colleges Should Automate Examination Process?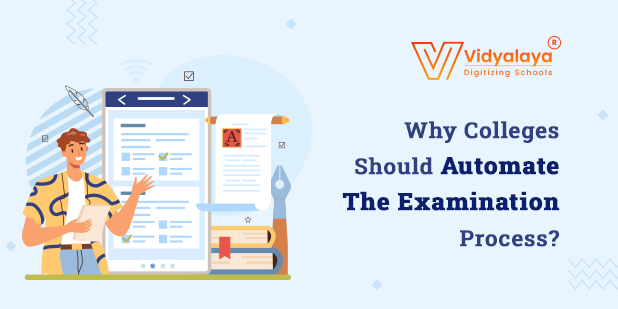 Do you know not only students but college administration also become panicked when it comes to exams? Why? A lot of arrangements involving seating, exam papers, teachers' allocation, answer sheet checking, and others make this process daunting. But with the invention of examination management software, this has become less painful. Now, administration staff need to set the syllabus, dates, and classes and can take a back seat to have a full-fledged and seamless examination. There is a tremendous increase in demand for this software, especially after the pandemic. Many institutes that implemented the software during the trial period have now recognized the benefits and ease of conduct. They are now looking for a customized version of the product so that they can avail of complete premium benefits. Let us illustrate why college management software will become the new face of the examination system and why we should all go for it!
What is the College Examination Management System?
A college examination management system is standalone software or a part of management software that makes the conduction of exams a seamless process and converts the entire process into an automated manner, promoting digitized education. This easy-to-use approach overcomes the flaws of the manual counterpart and computerized the entire system flow. It creates, administers, and evaluates exams and assessments, enables the evaluation in different modes and in the easiest ways. It reduces the pressure on admin staff by automating major or entire parts of the process. Not only students but teachers can also get a relaxed breath with this new approach. 
Why the Colleges Should Automate Examination Process?
Automation of the examination process comes with its own benefits and makes the system hassle-free. Here are the benefits of opting for automation of the examination process:
1. Reduced Load on Staff:
Entire administrative staff gets engaged during the exam conduction. They have to make arrangements for classrooms, exam papers, moderation, evaluation, and many other underlying operations. But College Management Software eliminates this unnecessary burden on the staff and makes all arrangements digitally. Educational institutes only need to invest in devices and application software. But this primary investment can bring long-term benefits and can keep your staff free from unnecessary burdens. 
2. Hassle-Free Process:
Manual approach to exam conduction exchanges a lot of stress and cumbersome practices. Also, setting different types of question papers can increase the workload on staff. Automation of exam systems can help to create question papers of different types- MCQs, descriptive, debates, and any other format. It will also take care of identity fraud and will make invigilation easy. The College Examination Management System will reduce the laborious work and will make the process hassle-free.
3. No More Waiting for Results:
Students need to wait for months for results when exams are conducted in manual mode. Teachers spend several sleepless nights evaluating the papers and preparing report cards. This waiting period can be crucial for higher education students as they need to be ready for the next preparation. But now one can cut this waiting period with Examination Management Software. As the exam is conducted and evaluated online, students can get immediate results, and that too with higher accuracy. 
4. Secured Process:
We all are familiar with exam scams like paper leaks, wrong evaluations, or misprint of reports. The only solution for this is to reduce human intervention in the exam process. Opting for an automated examination management system will give you an alternative to a manual exam system. As the entire process is digitalized, setting question papers to evaluate them, is handled and controlled by the system. With less or zero human intervention, one can expect the utmost accuracy in the results. Also, the login-based process prohibits unauthorized access and makes the process transparent as compared to the manual approach. 
5. Eco-Friendly and Cost-Effective:
Heaps of paper get consumed when an exam is conducted in an educational institute. Also, it engages lots of manpower and other resources, making the entire system pressurized on the environment. On the contrary, the College Examination Management System adopts the eco-friendly approach and converts the exam system into an online mode. So, there is less or zero usage of paper and other stationary material and there is a significant cost reduction in the process. Also, it eliminates the pressure of the exam setup as the exam will be conducted online and is proctored by the machine itself. 
6. Powerful Analytics:
Manual approach may have limited exposure when it comes to analytics, and that may also give insufficient perspectives about growth and improvement. But the examination management software, with its technology-oriented approach, can give you a wide picture of analytics with detailed assessment records, and real-time data for admins. This can be accessed through customized and easy-to-use summarized and graphical dashboards. It generates various reports and analyses the performance of each candidate. This will help to understand the room for improvement and relevant actions to be taken.
Spending weeks setting up exam papers, roaming between benches for proctoring, bearing back pain for evaluating piles of answer sheets, and coming up with report cards, all these may look daunting in the world of digitized education. But still, many are trapped in this traumatic situation. To rescue them, technology warriors like Vidyalaya implemented its expertise and released a top-notch College Examination Management System. The high-end product handles all types of requirements about various modes of exams and offers solutions under one roof.
Further, if you want us to handle all operations of your college, then we have an award-winning college management software that integrates the exam module in it.  So, when it comes to exams or college management, always believe in rankings. And, we are the flag bearers across the global education sector. Avail of our long-term experience and expertise and let your education institute set a new benchmark!