The Role of Learning Management System in Modern Education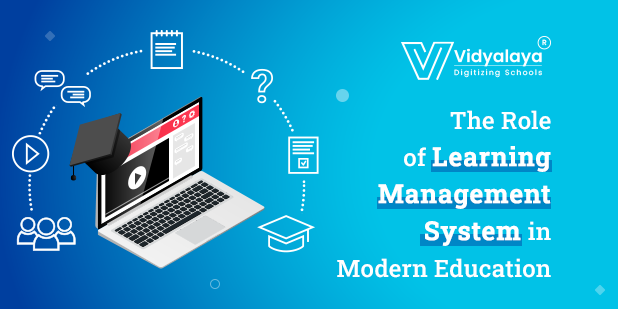 The recent pandemic turned our lives almost 360° in many ways. Before the pandemic, people were familiar with online learning. Furthermore, some universities practiced it during their academics but still, it was not a norm. Covid-19 boosted online learning platforms, which led to feeling the need for learning management software. But, players like Vidyalaya identified the futuristic transformation quite early and designed tailor-made software that will fulfill the requirements of changing the education system. This is high time for making a paradigm shift for those who are still lagging on the past pages. Still, if you have any doubts about this new change, find answers to your questions right here on this page!
What is a Learning management system?
A learning management system is software that offers aid in the administration, automation, and management of educational courses, maintaining track records of classroom activities, and has the potential to become a helping hand to teachers with its features. Combining all these contribute to maximizing the outcomes of student learning.
Relying on classroom-led teaching and education is not so relevant in today's virtual learning era. The current age of education insists on refined teaching and education methodologies, where everything is accessible within a few clicks and easily in the digital format. The learning management software satisfies the need with its outstanding features. Although the change is inviting, the transition from conventional to contemporary is not that much smooth.
Here are the challenges:
Systematic record creation of students' activities and record maintenance
Forming apt syllabus and preparation of teaching plans
Create intuitive e-content for learning
Developing and implementing online assessment
Tracking progress chart of students
Improving the student-teacher relationship
To embrace these challenges, Vidyalaya presents a leading learning management system in India with a clear understanding of the Indian education system. Our comprehensive teaching and learning system provides a complete user experience where all stakeholders will be taken to a new world of learning.
Checkout – Top Unique Features to Look in Learning Management System
Why having sophisticated learning management software is the need for the hour in today's world?
Even after the pandemic, many educational institutes are insisting on this new way of learning management system. If you wonder how they are so fascinated, learn the reasons:
No Barrier to Education:
One of the major reasons for the increased popularity of the learning management system during the pandemic is its ability to keep no barriers in education. As we were socially detached from each other's and following the government rules, Vidyalaya made sure that education must continue without any hassle. In-built virtual classroom facilities facilitated students to attend the classrooms from their homes without harming their health. This flexibility and accessibility are much needed for the next generation. With a reliable internet connection, they can learn and enjoy the learning process with a better experience.
Improved Effectiveness:
Learning from home is completely different from learning in the classroom. Lots of distractions can divert their attention while being the home. To address this issue, Vidyalaya simulates the same learning experience and activities as regular classrooms. To bring excitement, we have implemented several unique features in our learning management software. As in the traditional method of learning, teachers teach from textbooks, we facilitate learning from slides which are more effective with different in-built mediums like videos, audio, and pictures. With a single click, they can share study material with all students without wasting several resources like paper, electricity, manpower, and money. For teachers, the learning management system is a complete bliss as it can add great value to every task like posting study material, reminders, assignment posts, test settings, and evaluation.
Easy Monitoring of Progress and Performance:
Providing a facility for easy monitoring of progress and performance is one area where a traditional learning management system fails. In the traditional talk-and-chalk method, teachers always get tangled in evaluating the progress and maintaining the records over time. On the contrary, learning management software helps in analyzing and bringing effectiveness to the evaluation process. The built-in features keep automated track of students' records, grades, submissions, and engagement with the assigned course. It also provides the facility of collation of documents and files in the system to measure the course progress.
Improved Engagement:
In the traditional way of learning, the distance between students and teachers became a great obstacle to learning. But, the learning management system eliminates this obstacle smoothly by bringing the integrating parties to the same platform. To facilitate this, Vidyalaya integrates various tools like chat groups, blogs, forums, and discussion rooms so that there is always a healthy discussion and interaction between teacher and student. This move encourages students, get improve over time by participating in various discussions and getting several perspectives.
Personalization is the Key:
In the traditional method of learning, one will miss this factor badly! This drawback is overruled in the #1 learning management system in India. With great flexibility and easy accessibility, one can continue learning from anywhere, anytime. With the right access privileges, students can access the study material during and outside school hours. Students can understand the concepts to their best with recorded or live videos. As our learning management software is available in mobile form, we eliminate the device dependency so that learners can enjoy the joy of learning from the device they want!
As we all know, change is the only constant thing in our lives, and change in the conventional education system is expected.  So, a shift from books and blackboards to a sophisticated learning management system is the need for the hour. Leading educational provider, Vidyalaya identifies the same and facilitates educational institutes across the world with the finest product of learning management software, irrespective of curriculum board, student size, and language. Let our product contribute to your mission of digitalizing education and always keep you ahead of time!
Checkout – Complete Guide to Choosing the Best Learning Management Systems for Your Organizations