Complete Guide to Choosing the Best Learning Management Systems for Your Organizations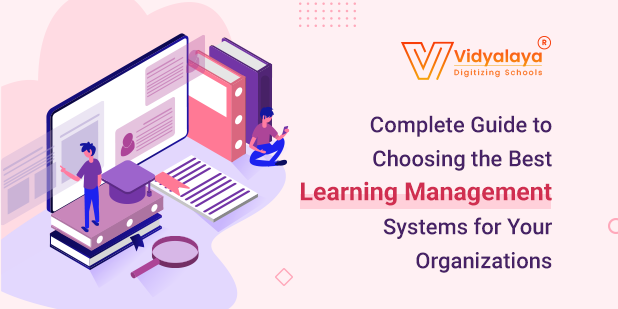 When we talk about the current era and the usage of technology as involved in it, you will find that all the sectors in the world including pharmacy, textile, automobile, medicine as well as the field of education have started moving towards online technology and all the different concepts related to it. People use online technological methods even in the present generation across fields and the preference for its usage has also become clearer.
Earlier, we ourselves used to prefer physical meetings even in the corporate sector but nowadays even such meetings have started turning more and more towards online platforms. Now as we start moving towards the field of education, we also realize the same that the field of education also requires more upgradation towards online learning and systems that can provide upgraded content through Learning management systems.
Earlier, the complete educational system used to function in an offline manner including examinations and other day-to-day activities. Then occurred the era of a global pandemic and everything got completely shattered in terms of educational processes, systems as well as learning methods. There was no other option left for educational institutions except for adapting to smart online methods of providing education.
Learning management Software and such solutions then came into play where schools were able to provide online content of all the relatable chapters to multiple children and multiple grades. Students were thus able to access all their relatable and important topics through smart LMS software for each of their individual courses. 
A Learning Management System functions as the savior of online educators. It helps you to create, sell, and market your own online courses with ease. A Learning Management Software centralizes course content, data, and learning materials. As a result, tutors can teach learners, and businesses can train employees with ease. It is a SAAS Product that helps to easily provide overall content, descriptive information as well as all the other essential learning materials and tools.
It has also helped many institutes during this difficult pandemic time in not only providing quality learning content to their children but also creating essential video tutorials and selling them across the globe with basic financial proposals. Thus, a smart Learning management content-based system is a true asset for any educational campus and its appropriate students and parents.
A Learning Management Software has two sides – the admin interface and the learner interface. The admin side is where the tutor performs tasks such as creating, managing, and selling content, enrolling learners, evaluating reports, and tracking performance. The entire system is controlled by an admin user and he/she can decide the complete flow of the system and also how a particular set of students/grades can access specific content.
The Learner is generally the one who is more often on the viewing part and can view multiple contents and take advantage of them as per the assigned rights and permissions. The role of Learner can be accessed by any of the employees, students, trainees as well as all the other members who are on the receiving end.
As we get into more and more details about Learning Management Software, it is very important to understand the complete functioning of such a system. LMS Software works on the process of gathering different study materials from various different sources and gathers them all at a single place so that they become available to the respective user with a single click. A different set of users get to see their particular set of chapters and all other necessary content that they will see. Thus, it works as an all-in-one solution for all the users as well as the providers.
Let us also have a look at some of the basic steps that are necessary to launch a Learning Management software:
Designing and building strong content that has its own identity and which can also create a demand to be sold and purchased by multiple people.

Proper organization of the content is very necessary in order to display it in a professional manner for the user.

All learning objectives should be very clear and the goals of each and every course that is mentioned should also be very clear.

The proper definition of the costing is also very necessary for a learning management course to be successful in the market.

Proper selection of Lms Software providers to onboard the course is also an important thing that should be looked forward to.
Such steps are very mandatory to be taken care of and all the institutions which are planning to market their course materials and all the other similar contents as well should look forward to such points before implementing the plans. Now as we already saw how the process of a Learning management system works, we also need to get an idea about who can be the best and primary users of such a system.
Let us have a look at some of such users who use a Learning Management System for online training purposes. 
Schools, Colleges as well as other universities

Teachers, Parents, Students, and administrative staff as well

All the small-scale, medium scaled as well as large-scale educational and content-providing organizations.

Non-Profitable as well as Governmental organizations.

Private educational coaching classes as well as schools.
These were some of the different types of users that can be noticed in association with smart learning management providers. Hence, as we have a look at all of the mentioned factors as well as points, we can completely realize that it is not at all an easy task to get onboarded or create a professional Learning management system. Hence, one should always look forward to learning and adapting to more and more essentials and try to onboard the best possible Learning Management software so that the flow of imparting quality education to multiple children around the globe continues.