Top 5 Advantages for Campus ERP for Colleges and Universities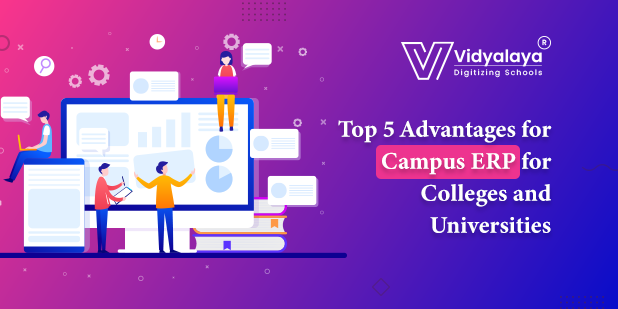 The influence of technology and science can be seen everywhere in the modern world. All the sectors of life including education, industrial as well as all the other corporate sectors have been very highly affected by the influence of technology.
When we talk about the field of education specifically, a lot of growth has been seen especially, due to the huge influence that has been created due to the growing technology. Various schools, colleges as well as other educational campuses have started shifting towards highly advanced software solutions and are gradually getting used to it.
When we talk about the importance of technology in the educational sector, it is very important to keep constant track of all administration-related activities. Nowadays, you will see multiple school campuses using smart campus management ERP solutions and the same can also be seen across multiple university campuses. These Campus ERP software solutions not only help across multiple administration-related facilities but also help to establish a smart communication method with parents as well as all the internal team members. The importance of School ERP in India has seen a major rise in the modern era as we all can see.
As we speak more and more about the importance of Campus ERP in India, let us focus on some of the primary reasons which play a massive role in explaining to us all the importance that Campus ERP software possesses:
Any educational institute including colleges faces its biggest challenge in the collection of regular fee payments and they have to take and manage multiple follow-ups to handle the same. This is when the role of a Campus ERP Software increases and all the college campuses which have such a product is in favorable situations. It helps to manage all pending fee data as well as all the regular fee collection data. Not only the database management but the alert management and regular alert sending to pending payments are also taken care of. Thus, regular fee management is managed.
Student Attendance Management:
When we talk about a college perspective, the role, and importance of attendance management and accuracy increase even more as it is a very important aspect of a college management schema. A smart Campus management ERP has multiple options for managing regular attendance and also all the auto alerts can be sent to the parental contact numbers in the absence of the student which thus plays a huge role in maintaining the disciplinary system of the entire campus.
Resource Management and Maintenance:
All the important resources including stocks, inventories, the library, the canteen as well as the college campus hostels can also be managed in smart campus ERP software in India. It becomes very important to manage the complete database of multiple inventories and stocks so that you can get appropriate reports at the end of the day. Also, hostel management becomes a necessity for college campuses in order to maintain their disciplinary attributes. Huge college campuses also have libraries and canteens and all the transactions of books as well as multiple food items can also be traced in a smart Campus ERP software. 
Detailed Analytical Reports:
Any smart Campus ERP in India has the facility to generate highly detailed reports and all the basic analysis options get fulfilled by the complete usage of all basic modules. It is very important to have a daily basis analysis at the end of the day and all these activities boost the overall value and accuracy of the campus. The variety of analytical reports available would depend upon ERP to ERP though.
Detailed Employee Management:
The specialty of advanced Campus management software is that it maintains an equal focus on both its students as well as employees. A university that has a huge quantity of students needs an appropriate huge employee strength as well in order to maintain an equal balance for handling them all. All important processes for employee management including their attendance along with biometric syncing, payroll process from month to month, their yearly appraisals, income tax related stuff, and all the other accounts-related management as well as the recruitment of new employees can also be properly taken care of through a smart and advanced campus management ERP solution.
Thus, as we noticed, all of these points can easily prove to us the importance of smart Campus Management ERP solutions that can be applied across the majority of college campuses in India. Also, along with all of this growing technology, it becomes very important for all the educational campuses including schools, and colleges as well as coaching classes to get onboarded with the smartest ERP Solution in India. Also, all the cloud security measures should also be taken into consideration while talking about such an ERP-related implementation.
Vidyalaya Campus ERP Software is currently the leading campus ERP in India as it has all the necessary features and modules that a college management software should have. It includes all the necessary features right from Student management, attendance, assignments, examinations, alumni, canteen, and other resources, as well as all the finance and accounting details, which can also be managed. The overall ratings of Vidyalaya campus management software have always been high and the same applies to service and support ratings as well. All of the efforts and ratings combine to prove the fact that it is currently the best campus ERP in India.
While purchasing college management software, colleges should always take care of cloud security and strength considering all the applicable factors into play. When an institute tries to involve multiple student and employee databases into play, it becomes even more important to keep a detailed eye on the security aspect of the portal. At the end of the day, the true purpose of onboarding a School ERP software in India is worth it when we can use it with utmost trust and to the full of its potential as well.