Importance of Alumni Management System in Educational System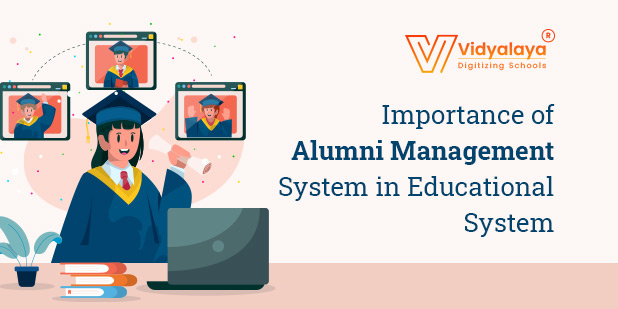 Any educational institute is a brand on its own and alumni are the brand ambassadors. When students pass out of an educational institute, they leave an impression about their studies and values that are crafted during their academic life. For teachers and educational institutes, it is really helpful if there is a well-maintained record of all students after completing their education. Vidyalaya identifies the importance of your alumni network and introduces a school alumni management system to streamline the entire record management.
Why alumni involvement is important for educational institute management?
Educational institutes provide a good and healthy education to students in shaping their careers. It converts the raw kids into disciplined, adaptable people. Alumni involvement is important for schools as they are great resources and they can make the schools better.
The five aspects where school alumni play an important role are mentioned below:
Alumni know the school culture better.
Alumni sustain the school's development.
Alumni build the school's reputation.
Alumni widen the school network.
Alumni provide educational opportunities to students.
Understanding the significant role of the alumni, Vidyalaya enriches the school management with out-of-world school alumni management software. Record maintaining of the alumni network is a monotonous task. But Vidyalaya with its in-built features makes it work at your fingertips. The customized platform offered by the leading software provider helps the alumni to share their ideas, experiences, and contacts and keep them interactive.
Why an educational institute needs a dedicated alumni management system?
Alumni plays important role in the educational sector as they are the legacy runners of the institute they used to belong to. Here are the reasons why an educational institute needs a dedicated alumni management system:
A platform for alumni experience
Alumni can share their journey, explaining the struggle they made to reach the rewarding position in their career. These talks can be beneficial and inspirational for the students still studying. Also, the alumni can have great exposure to the latest trends in the professional world. Sharing these will help the students to decide their career paths and explore new things.
Vidyalaya, being a partner in this, can offer an interactive platform where alumni can share their thoughts and ideas. With the dedicated school alumni management software, school management can have updated records of its alumni and they can invite them when the relevant functions are arranged.
Link to better career exposure 
Alumni after passing out from the educational institute achieve better career options and reach higher positions. They have an extended professional network. This experience and relationship building can help the students to make better professional debuts. Vidyalaya's school alumni management system can help the educational institute to build and maintain a healthy relationship with its alumni and through this platform, alumni can inform the management about the wide professional canvas they can access.
Platform to raise funds for the educational institutes
It is a courtesy act that after graduating from an educational institute, students wish to improve their schools by raising funds or paying donations. Funds raised by alumni are one of the main sources of income for many educational institutes.
Vidyalaya helps in this noble work by facilitating the alumni to lift the standards of their alma mater and redefine them. The school management system will accomplish this work with ease by keeping updated information of all donations, creating fundraising campaigns, streamlined mentorship, and effective social networking features.
Software for making social media presence
It is an inevitable thing that every educational institute needs to have a social media presence as we are driving in this internet era. This will help to connect more alumni that have not been recorded yet in the school database but they can get connected via social media presence.
Vidyalaya makes this interesting by facilitating the institute to arrange the channels in a more interesting and fun way. Allowing webinars, chat sessions, few fun games can help the interaction be healthy and joyful. The cleverly designed school alumni management software will keep everyone updated and they can pitch the social media links to get the technology leverages.
Effective mailing list management 
It is an annoying task that keeps a record of every student and updates it when there are changes. Many times, recruiting agencies can ask for alumni's contact list to hire them. Fetching the details from the massive data is a total waste of time, energy, and resources. To overcome this, Vidyalaya's school alumni management system will have the advanced facility of the integrated mailing list. This will help the faculties to retrieve the student's data based on the passing year, course of study, and batch. This will help to make the transactions faster and more accurate.
A real-time engagement platform for regular school activities
The bond between yesteryear students can be nurtured when they are invited to various functions happening at school. The virtual or in-presence participation will give them a special feeling of being a part of the academic journey even after passing out of the institute.
Vidyalaya nourishes the bond through its extraordinary features of offering a real-time engagement platform. This platform will help alumni to boost their involvement and participation in school activities.  The software will help the alumni to subscribe to the school newsletters and ask for the contact information of their batchmates to connect them even after being pass-outs. Thus, the school alumni management software will act as a bridge between your alumni and their alma mater and also among the alumni.
Still, thinking about how and where your ex-students are shining? Let them also feel proud still to be an integral part of the institute by providing their share in the educational institute's progress journey. Vidyalaya will help them to give the best experience with the school alumni management software and help the management to streamline the entire record management system. It will cherish the relationship with ex-students and get to know the current market conditions. Let Vidyalaya be your partner in building a healthy relationship with your alumni and carry the legacy of your educational institute.