What are the Advantages of Integrating the Student Information Management System into education?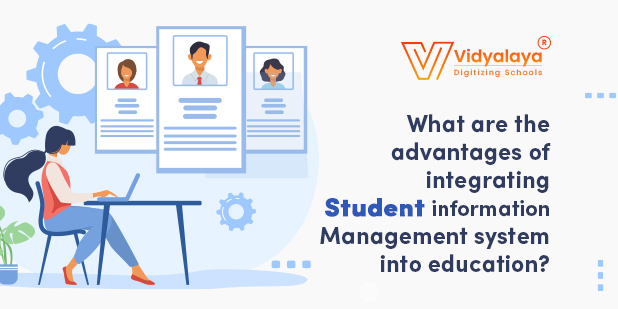 Organizing students' data and using it for better futuristic purposes is the need of the hour. Schools and colleges have recognised the significant importance of efficient management of student data and they are now preferring the most advanced way of data management i.e., student information management system. These systems are boon for the institutions as they help them to work and operate smoothly. In this data-driven era, everyone has become conscious about the usage and management of data they possess. Just like every business has its own data management system, Vidyalaya facilitates every educational institute with a student information management system.
What is a student information management system?
It is a web-based software that helps the education sector to manage student data and use it for better purposes. The education establishments can able to perform their daily routine activities with the help of this advanced system. It brings all the stakeholders of the education system under one platform. The system enables educational institutes to focus on their digitalization mission and manage student data.
Why one should integrate Vidyalaya's student information management system into education?
Here are top advantages offered when one integrates Vidyalaya's student information management system to education:
Make the efficient use of time and resources
Vidyalaya always focuses on optimum use of resources. It transforms each possible functionality into automated features and thus contributes to saving of time and apparently all resources. Forget the offices that are full of piles of papers, and imagine the office with smart devices and almost zero paper. As Vidyalaya's student management software will store all the information on the clouds or in the server, the need for papers and folders will be automatically eliminated.
It is a common complaint that the user interface is complex and users take a lot of time to complete a single form when the UI is not responsive. Vidyalaya makes this task easy and offers a user-friendly and comprehensive UI that will guide the user throughout the process. Features like tooltips, help manual shortcuts, keyboard shortcut keys, dashboards will make the software easy for the users so that users can find it an engaging experience.
Centralized location access
In absence of dedicated software for student information management, if there is a requirement for specific information, for example, information of a student of a particular year batch. There is a guaranteed minimum one-hour task for finding the specific batch file, then the student details. If the detail requirement is too backdated, then this period may extend. Also, this task may become more complex, when the institute has more than one branch.
Vidyalaya identifies the value of time, and so brings all the data under one location. Vidyalaya's student management system will store all data in centralized storage. The client may ask for cloud storage depending upon the requirements and budget. This will reduce the manual workload and make the search efficient and rapid.
Tighten security
We frequently hear the news of the loss of school records due to many reasons like natural calamities or human-led incidences. But, loss of records may impact the reputation of the institute badly as well as a lot of time may require to incur the loss. So, data must be in secure hands.
Vidyalaya weaves tight security around data and the application by integrating cloud technology with the application. The student management software securely stores all the information at centralized location and grants access based on role-based security. This will highly eliminate the chances of unauthorized access to data.
A strong alumnus building medium
When a student exits from the gates of the school after completing the education, it doesn't mean that all relations end with the final report card. Alumni students are always assets of any institute and remain forever. Vidyalaya helps to cherish the memories and helps institutes to build a strong connection bridge with your ex-students with the same student information management system. There are tremendous benefits of having a well-connected alumni network like high campus placement rate, fund raising, mentorship to current students, job fares. Institutes can avail of them while keeping all information regarding students updated and ready to use with this type of software.
Keep a track of all students
Students undergo different academic and non-academic activities. Activities like sports, debates, group discussions help students to shine with extracurricular skills. Vidyalaya's student management software is designed with thorough rounds of research and analysis and makes it comprehensive software. The software is a one-stop solution for all types of information of students. The software is capable of storing updated information about scholarships, awards grabbed by students at different stages. This will help institutes to offer the necessary honour and scholarships to deserving students.
Automatic updates and multiple backups
It is one of the biggest advantages of installing dedicated software for student information management. There is no need for human actions for updating the system on regular basis. Vidyalaya offers automatic updates that keep the system intact, secure, and updated with timely updates. Also, the student management system has the capability of multiple backups of data stored on the clouds that will ensure that your information is safe and will never be lost.
Improved relationships between different departments
Large-scale educational institutes work across different departments. A manual way of accomplishing work creates confusion, the poor relationship among these departments. There are lots of incidences where resources are shared and information is exchanged. Vidyalaya helps in this task with its student management software and enables them to improve the relationship among them and ensure the smooth functioning of the institute.
Every educational institute collects a massive amount of data from students. This data should be managed well. Irrespective of your role of you in the educational system, it is important that every responsibility should be accomplished with a proper code of conduct. The information collected is processed through different sections like admissions, fees management, academics, alumni, transport, and others. Vidyalaya enables institutes to make efficient use of and reduce redundant storage while providing cloud-based access through its student management system. Let Vidyalaya's product be the heart of your school's system and efficient management shine your brand name across the globe!