Vidyalaya Campus Automation Software – Year End Release!!!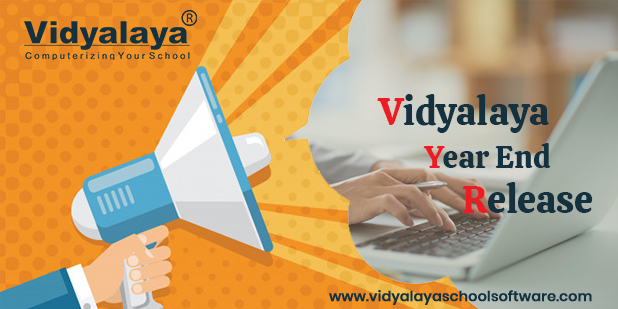 "Every once in a while, a new technology, an old problem and a big idea turn into an innovation" with that note we are delighted to launch our latest version of Vidyalaya Campus Automation Software which helps management to make most desirable decision and use the most of Vidyalaya.
Let's find out what's new for the management in our latest version:
1) Dashboard in the portal :
In our latest version, we have a provision that the school's top-level management can go through consolidating reports of multiple organization's through the portal link in the desktop such as Admissions and inquiry according to date, Gender wise summary, Class capacity vs strength details. In the home screen of the desktop through dashboard one can see various features like students' and employees' birthdays list, news, events list, polls list, blogs, book return due, absent student and employee list, visitor log, courier dispatch, safety stock alert, and many more features in one single screen.
2) Dashboard in mobile app :
In latest version of Vidyalaya Campus Automation Software, school's management team can go through reports in these reports according to school's requirement they can select and open the reports such as:
1. Fees :
In fees module in the dashboard the total fees collection date wise-in that also they can see the overall amount of the fees as well as the collection of the fees along with receipt number and student name.
2. Admission :
In the admission module, they can see overall number of counts of the students who are selected and the one's whose process is still pending inside that also they can select and filter it class-wise and see the data accordingly.
3. Staff :
In the staff module, they can go through employee's attendance and check whether attendance is taken or they can go through employees who had already applied leaves.
4. Student Attendance :
In student module in the dashboard also top management level person can check whether attendance is being taken or not and check the particular student attendance also.
5. Student Search and Employee Search :
In this screen while searching the particular student or employee one can see all the data's related to them such as for student profile one can see basic details, assessment data's, attendance, fees ,behaviour, library and alert and for the employees one can go through general details, job information, previous employment data and current address.
3) Multiple Organization Access :
This feature is one of the best when it comes to innovation, earlier what happened was whenever any top-level management person wanted to go through their other schools link, after logging out and closing it and doing the login of another link only they were able to do the login, but now only while clicking on one button which is of three horizontal line on the right corner of the screen and selecting organization one can redirect to that particular link respectively.
4) Classwork/Homework based on Approval :
Classwork and homework are an important note which are given to the student's by the teachers. Now we have that provision that on the approval of Principal/Subject Co-ordinator/HOD classwork or homework can be sent.
5) New features in Admission form and Inquiry form :
Admission forms and inquiry forms are first and foremost when it comes to the admission process in the schools. We had added different features like age cut off validation in the admission form, document uploading and downloading facility in the admission form, In inquiry form, we have kept some custom fields and according to schools requirement, they can customize it and keep the fields mandatory.
6) Auto Syncing in the App :
In the mobile app previously we doing like every time schools were updating in the portal to get the data's updated they must sync the data first. But, now we have added an auto-syncing functionality once we update the data we just need to update the date in the configuration in the portal after doing that data will be significantly synced in the app.