Resolution of Digital Revolution with Vidyalaya School Information Management System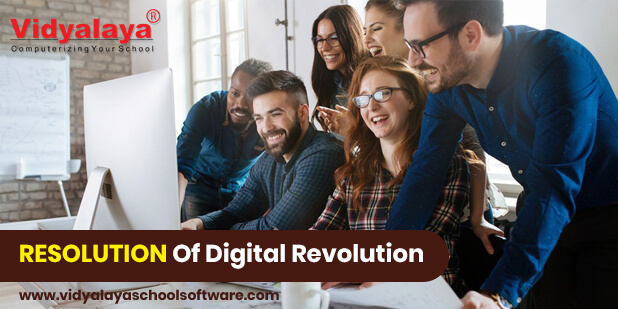 Schools play a very important role in the process of shaping tomorrow's future. It's very much necessary that the school's management & staff are stress-free & their workflow is completely hassle-free.
And of all the processes taking place in the school, proper administration management is a must. With all this increasing competition in the education field, the school's digitization is a must for effective & efficient management. You cannot manage the entire school's administration on paper always, you need a more advanced, efficient & technical tool when it comes to administration digitization. And moreover, managing all the things manually is not a smart approach anymore.
And here is where Vidyalaya school information management system helps you out with all the administration digitization processes starting from your admission to accounting. Moreover, it is a completely integrated school information management system with all possible integrations such as SMS, Biometric, Mobile Application (Android + iOS), Online Payment Gateway, Tally Integration & vehicle tracking system & much more for the smooth functioning of the school. With Vidyalaya school information management system, your school will become more focused on the academic & a more productive place.
https://www.vidyalayaschoolsoftware.com/blog/2018/02/school-erp-software-single-solutions-for-multifaceted-problems
Vidyalaya school information management system interlinks all the stakeholders & users of your school at one place & directs the school in a proper managerial way. You can easily generate the mark sheets, calculate various analytical & graphical reports, fees receipts, admission management, complete 360 view, communication with the parent, keep a track of your entire school at your fingertips.
With proper digitization adoption, your school management & staff members can completely be stress-free & focus more on the school academics & enhance the students' future. Moreover, any information required is a click away improving the overall Data accessibility, storage & management. With all the school data becoming digitized, the analysis process becomes a lot easier.
So, what are you waiting for??? Take a resolution of digital revolution this year. New Year brings new things & hope of new beginnings, so why not give a call and arrange for a free demonstration today.