Technology and Education – Shaping Tomorrows Future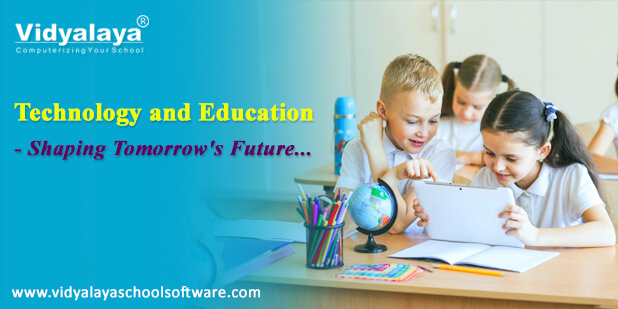 Technology is the collection of techniques, skills, methods, and processes used in the production of goods or services or in the accomplishment of objectives, such as scientific investigation and the simplest form of technology is the development and use of basic tools. Technology is developing day by day and our life becomes simple and easier. We are also developing ourselves with growing technologies. Each and every work can be done with the help of technology and will take lesser time to do same work.
School Technologies:
If we see old school's technology then every work like student Gr management, attendance, exam result its analysis, fee collection, etc. was done manually on heaps of paper. Nowadays, technology and education are so together used, almost everything in schools be it academics or administration all are automated with technology & education jointly. Now all the manual work has been reduced & almost everything is on technology.
Faster Work:
While using technology and education jointly, student can work faster and grasp more information as they need to. Teachers also frequently cite technology's advantages in providing a venue in which a wider range of students can excel. As one teacher expressed it, "Students gain a sense of empowerment from learning to control the computer and to use it in ways they associate with the real world." Technology is valued within our culture. Teacher has multiple tasks to do, it cannot always be possible that the teacher is available to clear student's doubt. So, with the help of technology student can clear their individual doubt very fast and also, have multiple options to clear doubt in any field.
Active participation:
The student can read their subject in a very easy way and before time also. So, student feels motivated and confident in their subject at presentation and exam duration. There are many different ways to enhance our skills such as online tutorials, videos & experts across the globe can guide us etc. We can find all topics of tutorials globally and expand our knowledge. This helps them to be optimistic regarding any and every work that they are doing. Some school/colleges keep classes or lectures for video lectures for student so they can understand things in a better manner. This, in turn, increases their self-confidence to actively participate in the various self-growth programs.
Conclusion:
We can say that technology and education together correctly used is helpful to students as student can increase their knowledge complete their task, assignment, project in an easier and faster way. With many advantages, comes some disadvantages also to use technology.
It depends on students whether they want to use technology in positive or negative way. Although the specific software tools in use will likely change before these students enter the world of work, the students acquire a basic understanding of how various computer tools behave and a confidence about being able to learn to use new tools that will support their learning of new software applications.