A SOLID plan to get it SURELY done-Vidyalaya Assures you 100% ROI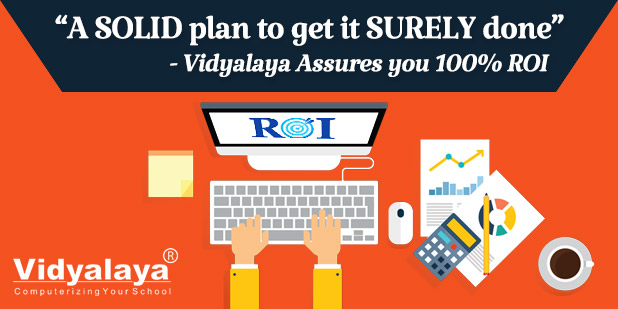 Student management system software has now become an integral part in the management of School's daily activities. Starting from admission to accounting inclusive of fees, academics, assessment, timetable & all other administrative activities are managed from the Student management system software. The Complete Education System is Digitizing & so is the administration department, so investing in good school management software is so important.
As important it is to invest in a good Student management system software, its successful implementation is also equally important. As only the successful implementation of the software will bring the extraordinary results & complete automation the school is expecting.
Let's look at Vidyalaya's Solid plan to get your implementation surely done
Instance Live & Setup: –
After Vidyalaya's purchase, we make your instance live within 24 hours for easy access to your school data.

Then based on school's requirement we create different organizations & departments.
Ensure proper data entry: –
After the initial setup, now for effective implementation, Vidyalaya provides you with Excel interface for easy upload & download of data into & from the system.

Our support team helps you to create the database so strong for effective data retrieval as & when required.
For proper utilization of the School ERP, the data must be in an easily accessible form.

You can also do the bulk import & export of the data easily.
Onsite Training:-
After creating the database, the very next important step is effective training to all the stakeholders of the school.

We make sure the end user is completely aware of all the benefits that he is going to get from the ERP, so he can avail maximum from the School ERP.

Vidyalaya Student management system software provides onsite training as & when required to its customers so they make the most out of Vidyalaya.
Customized Dashboard & Reports:-
Every school is different & so are their requirements. Vidyalaya offers 1500+ reports with the added advantage of custom reports as per school's need.
Vidyalaya also has in-house development centre that helps to customize software or reports to meet your unique expectations.
Vidyalaya also offers personalized dashboards to users for easy access to the information.
Video tutorials, User manuals, FAQs & Remote Support:-
Vidyalaya's Dedicated Support Team operating from 8:30-7:00 to handle your request & solve your query instantly.
To get 100% ROI from Vidyalaya we also provide Video tutorials, User Manuals & FAQs for easy use of Vidyalaya.

Vidyalaya has automated ticketing system to track your query for instant resolution.
Escalation Matrix:-
Vidyalaya Escalation Matrix is designed in a way that user can reach higher management if the client is not satisfied with the support provided.
Module Activation:-
Vidyalaya module activation calls help the School management team to know how well the software is implemented in their campus

Any loophole from the School admin staff is brought to the notice of School Management to make sure you get 100% ROI.
Feedback Calls:-
After the training & implementation of Vidyalaya's Customer Relationship Management team makes feedback calls for your valuable suggestions to improve our customer service for world class experience.
Hope our Solid plan makes the successful implementation of Student management system software & helps you to get 100% Return on their investment.