CBSE is Digitizing it's Self, What About You?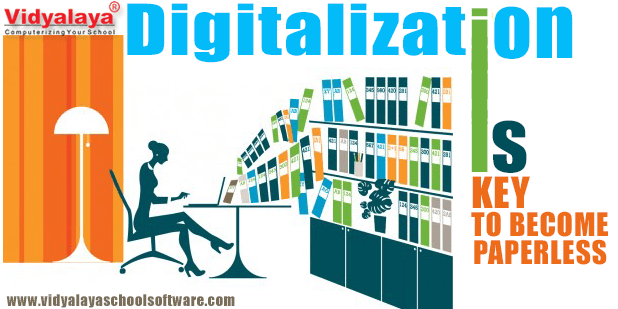 CBSE is all set to implement all it's functionality through online or this is what it's look like. Last month CBSE management released circular to institutes to upload all their fee structure online in order to turn down their financial opacity, and now board starts online reciprocity for students to view their mark sheets and official certificates related to them.
So today Team Vidyalaya whose vision is to see all educational campuses became paperless, will tell our readers one important fact why educational institutes should go online with all their activities. We will also clear misconception related to School ERP solutions.
Fact: Manage data in a secure way.
Data or records are most valued assets of any organization, and this case is, even more, concern when we talk about data of educational institutes which contain data related to school financial transactions, and batch wise reports, attendance summary and other 146 things related to students whole educational careers, so ask yourself should this data be stored by writing them manually on register and making reports whose only dependent safety factor is life expectancy of the book, register or the page it is written on.
School ERP solutions are available for digitizing schools and to get all data related to the student from class 1 to class 12 on the internet in technical way store data on the web where data safety will be secured and assured to access anytime anywhere, with unlimited life expectancy. This way school and other campuses can manage the data of dozens of the year in a secure way.
Fiction: Data security is compromised
Although most of the schools in India are acquiring School management software to run their schools, still some are which live in a bubble that migrating their data on cloud system will compromise their school's data security.
Well, anything which is online has this potential hazard on data security, but this hazard can be prevented by not using any school software you been served.There are several things you need to look before purchasing any school management software.7 things to look while choosing school management software.
But one of them is to see what security that ERP solution provider is serving you, look what hosting server they are using and how reliable it is, ask them to have an agreement on the safety of data, to cover the legal aspects, and if any school provider is not providing you this better to pull them out from your list.
Even many educational institutes which are using Campus management software don't know what security precautions and measures their software provider had taken to ensure that the data's security will not get compromised.
So for those educational campuses which are still in a bubble on the compromise of data security should burst and start looking for school management software. CBSE already in motion to Digitizing itself and schools afflicted to them sooner or later need to acquire this arrangement.