What Is Competency-Based Education (CBE)? How it will help students?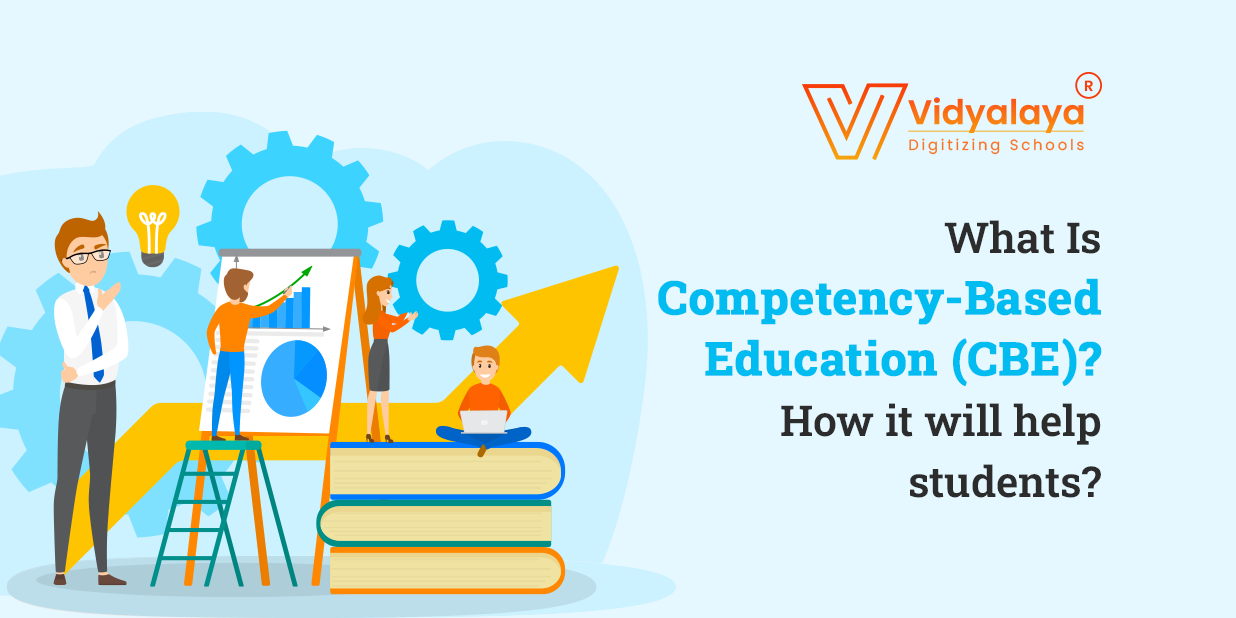 A search for better teaching strategies is another constant change that continues in the education sector. Many school runners invest ample time in thinking about improving the learning experience. Educating the children and making them good for growing society is the primary goal of Competency-based Education. This outcome-oriented learning approach focuses on the enhancement of student's outcomes and aids them in developing skills. It provides equal opportunities to each student to take hold on the necessary skills and become a successful adult so that he/she can actively contribute to society's development. To understand what is competency-based education and how software based on it can help you multiply the outcomes, stay tuned on this page!
What is Competency-based Education?
Competency-based education drives more focus on student's demonstration of desired learning outcomes. It is more concerned with the student's progression through the curriculum at their own pace. This concept is similar to mastery-based learning but differs in that the prior is more focused on observable skills or competencies and later is more aligned to academic skills. 
Students become proficient in the learning using a demonstration of their skills, values, knowledge, and implementation of it for solving real-life problems. This exceptional approach helps teachers to understand the depth of the student's understanding and align their teaching methods accordingly. 
What are the Pros and Cons of Competency-based Education?
Competency-based Education has both pros and cons and is based on the education system in the school. Let's have a look at them:
Pros of Competency-based Education:
It is a flexible approach for all students, irrespective of their social, economic, and linguistic background. 

Equity is achieved while bias is eliminated.

Students can take responsibility for their own education and become great learners.

Students are well-equipped with the skills that are necessary to succeed as adults. 
Cons of Competency-based Education:
Key competencies must be decided and defined for each class, which may look tedious.

It demands more creativity and meaningfulness in the assessments.

Teachers must have updated track of each student's performance. 
What are the principles of CBE?
Competency-based Education is based on six principles that make the approach exceptional from others. So, here are the super six principles of CBE:
1. Equity Comes First:
Equity has a different perspective in learning-based education. Rather than giving the same things to each student, it focuses on giving each student what they need to achieve the same goals. This way it eliminates the possibility of being biased. CBE focuses on training the students based on their personal strengths and weaknesses, keeping the goals to be achieved the same. This way, we can eliminate the predictability of achievement based on biased parameters such as culture, economic background, language, or social class. 
2. Measurable Competencies for Life Skill Development:
Competencies are important because they focus on practical understanding rather than just hovering around head knowledge. They are based on three things:
Understanding of key concepts

Hold on to relevant skills

Ability of students to apply knowledge to real-life problems
In competency-based learning, these competencies are defined well in advance and are set as learning objectives by the school leadership. 
3. Transparency:
Learning-based education stands out as compared to conventional strategies, in that it provides transparency. Both teachers and students are clear about the learning objectives set for the class. In this approach, students understand three things on a primary basis:
What they have to learn

How command or mastery is defined

The way of assessment
When students are clear about these aspects, they tend to bear more accountability for their own education. Students will take more interest and ownership of their learning when they know how to proceed in the process to be proficient. This transparency about the goals and outcomes helps students to bear more responsibility for their educational paths and makes them better learners. 
4. Yes for Individual Support:
Competency-based education sets a framework for which a student should work on the problem before asking for a teacher's help and when they should approach for guidance. It works through bias and produces equity. Teachers work with the students to work in their weak areas. This personalized approach offers an equal opportunity for success. And, to make this success, teachers should be available and aware of each student's learning progress to offer apt help.
5. Assessment for Sheer Growth and Command:
Assessments are an important educational process and teachers can use this medium to evaluate the students' performances at different parameters. In Competency-based learning, assessments come in different forms:
Formative assessments:
Formative assessments help teachers to improve their teaching strategies according to their student's learning progress. It helps the teachers in real-time to identify the key areas of improvement for students. For example, students may need to submit a video essay. Through this, teachers can evaluate the understanding of the subject which forms the basis for competency-based learning. From the explanation given by the students, teachers can make adjustments in their next lectures or can plan one-to-one with poorly performed students. 
Authentic Assessments:
In authentic assessments, students need to apply their gained knowledge to real-life problems. For example, writing a letter using the enriched vocabulary and art of letter writing. This way, they can demonstrate their mastery and be ready to apply knowledge in the future. 
Digital Content Assessments:
In digital learning, the assessment process becomes less tedious for both teachers and students. Software like Vidyalaya's assignment management software includes assessment and reporting features so that teachers can get the actual facts about a student's learning arc. Digital assessments can come in quizzes, puzzles, games, small seminars, etc. to evaluate the student from all perspectives. 
6. Move Forward After Mastery Demonstration:
Teachers can keep track of individual student learning arcs with the help of regular assessments and data-based progress reports. Students can move forward only when they achieve the capacity to explain the understood topic, its application, and the ability to explain how they developed important skills. This is how Learning-based Education works and delivers the desired outcomes. 
Vidyalaya, a leading name in the EdTech sector offers education management software for educational institutes of all scales, regions, and curriculum boards. The products are well integrated with contemporary technologies to handle stakeholder data, track student performance, introduce new teaching strategies, and help in achieving better learning outcomes. The adaptive and curriculum-aligned platform provided by the software helps students to develop more interest in learning and become better learners. It also helps students demonstrate and have a good mastery over the skills that are necessary for their bright future. So, why are you waiting for? Just call us for a demo and get ready to put competency-based education to work in your school!