Top 7 Advantages Of Taking Your Coaching Institute Online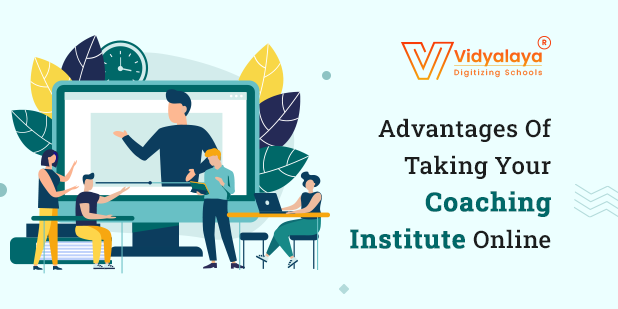 The evolution of education led to the emergence of coaching institutes at every corner of the city. Coaching centers help students as they provide guidance so that students can enhance their performance. This parallel industry plays a significant role in student's life irrespective of their academic backgrounds. Enrolling students in coaching classes has become a norm to boost their understanding levels and performance. To sustain in the throat-cutting competition, all coaching centers need an organized management system. Vidyalaya, a leading education software developer organization, facilitates the entire coaching industry with dedicated software to run online coaching institutes efficiently.
Why are coaching classes needed?
The need for coaching classes in today's age is inevitable but still, there are many people who think that learning should be limited to schools or colleges only. The existence of this external industry which parallelly runs the education industry has no significance. 
Let us tell you why coaching classes are needed:
One of the biggest advantages of coaching classes is they provide good training and repetition of exercises to have a clear understanding of the curriculum.

Coaching classes guide and orient students in the correct way and also provide exam-oriented suggestions, and notes, and address students' weaknesses.

Coaching classes can provide extra attention and individual time to each student and thus can enrich the learning experience.

With a planned way of studying along with quick tips and expert advice, students can learn without any pressure with the help of coaching classes. 
What are the advantages of shifting coaching classes to a virtual platform?
The last pandemic encouraged all of us to shift from classroom-led learning to virtual classrooms. The coaching class industry is not an exception, so they also shifted their base to the virtual classroom. Here are some of the sticking advantages of having your coaching institute online:
1. Solution for All Learners:
Many students work part-time while pursuing their educational dreams. They have to take on their family's responsibilities and so they have to look for other alternatives to continue their education. Enrolling in coaching classes that offer virtual sessions, is the best way to achieve both aims. Our Virtual Classroom Software helps coaching classes to bring education online and lets all students avail themselves of the sheer joy of learning without sacrificing their personal responsibilities. 
2. Increased Enrolment:
There are chances of increased enrolment when your coaching institute is providing options for both online and offline learning.  Our Online Classroom Management System provides you with better session management and ease of accomplishment of core activities. Facility to enjoy learning in preferred form can upgrade your institutes' enrolment and your brand impression in the long run.
3. Better Outcomes:
Even after prominent structured modules of coaching classes, if they are not contributing enough to student success, it is of no use. Not every student can cope with the pace of the rest of the class so personalized learning came into existence. With Vidyalaya's Online Classroom Management System, students can have personalized learning. Also, the online sessions have a limited number of students so teachers can concentrate on each student individually. Also, the feature of online assessment will help tutors to determine the level of the student. Easy assessment and immediate reports will help tutors to understand the student's weaknesses and strengths. With the help of the system, one can have better academic results and improvisation in students' overall development. 
4. Good Time management:
From startups to renowned coaching classes, every institute faces stretching situations during the admission period. Administrating the admission process, starting the new batches, scheduling them, and making classrooms and study material ready for every batch are some of the core activities they need to carry out during this period. To accomplish this, sometimes they need to hire extra manpower and other resources. When you opt for Vidyalaya's Virtual Classroom Software, all these hassles are handled with ease. From setting batch schedules to offering online fee payment, and from digitizing study material to conducting online exams, our software can give you a refined touch for learning. 
5. Great ROI:
Although based on the noble cause of education, the coaching class industry is a business model and owners want to earn profit from it. By investing in a technology-driven approach and taking your institute to a global platform, you can easily expect a great return on investment. With increased enrollment breaking the location barriers, your institute will not be limited to certain cities or regions. So, wider reach and technology integration will help you to lead to greater ROI and will help your online Teaching institute to shine more. 
6. Exceptional Learning Practices:
Not all coaching institutes get success and fame because they do not bring innovation in the learning practices. Same way, coaching institutes that offer a virtual learning approach, provide learning by blending different innovative techniques like integration of video, audio, or picture forms. Enrich the learning experience by following exceptional learning practices and make your online coaching institute future ready. 
7. Better connectivity with students:
One can widen the reach of your coaching class by opting for students for virtual classes and digitizing education. Through our Online Classroom Management System, offer 24*7 access to study material and recorded classroom sessions that will take the learning experience to the next level. Do not let your students halt their education because of traveling, sickness, or shifting to other cities. 
Although there are biased conceptions about the existence of coaching institutes, it is also a fact that we cannot ignore the industry as it offers several benefits to students. Vidyalaya, a global leader, identified the need for organization in this scattered sector and released tailor-made software that will help coaching institute runners run an efficient online teaching institute. Let the advent of the coaching institute contribute to a corner-stone role in building a student's career and our virtual classroom software be your driver in this successful journey!