The Complete Beginner's Guide to College Management System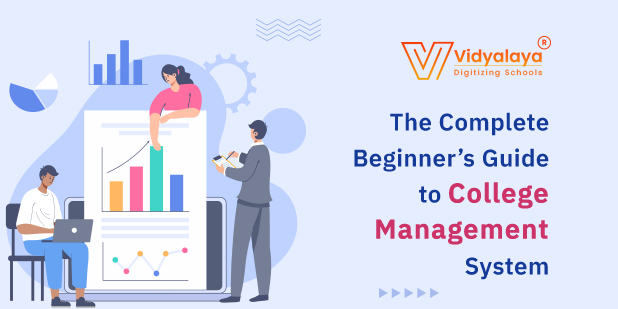 The modern era is the representation of the growth of technology and multiple skill sets across the globe. The current era focuses on technological aspects and all the sectors across the world including pharmacy, technology, entertainment, media as well as education. Earlier, all the processes and things used to work manually but nowadays, with the growing age, it has just gotten technical and smarter at each and every point. And as we experience the growth of technology across formats, we can also realize that the field of education is amongst the most technically turned around fields in the globe. Schools, colleges as well as other educational institutions are using smart campus management software solutions at the moment and they cover the majority of the aspects of an educational campus.
Schools have definitely started shifting towards school management software solutions a lot but the good thing is that colleges are also moving towards smart college management software solutions and such solutions are very highly advanced as they help you to navigate towards multiple things including student management, fees management, examinations, resources as well as multiple other things. All the important tasks for the management can be easily worked upon through smart college management software. Let us have a more detailed look at the complete functioning of a college ERP.
The College Management System is the ultimate solution to digitize and streamline the day-to-day operations of colleges and universities. From student enrolment system to admission management and online classes management to finance management and human resource management, as well as every other process of college operations. It also digitizes routine work of the campus such as the student attendance management system, student record management system, student profile management system, student record keeping system, student mark management system, student fee management, and other small and big operations. These days, there is a lot of college management software in India but only selective ones are actually useful and helpful across multiple purposes. 
Let us have a look at certain major parts that a college management system possesses:
A smart college ERP has the perfect set of modules that cover all the admission-related processes right from inquiry management, follow-up management, necessary reports, and alert systems as well as the complete process analysis right after the admission process gets completed. Thus, the complete process is taken care of through a smart college management system.
The process of attendance management should get easier and easier with the help of a college ERP. All necessary reports and analyses and summary dashboards should be present at all the correct and important places and spots in smart software.
The most important pillar for any educational institution including colleges is the fees and monetary management. The majority of college management software in India has detailed fee management modules. The process includes complete fee summarizing, data maintenance, fee collection, receipt generation, summary dashboards as well as detailed analytical reports. Also, the alert-sending system plays a very important role as late fee charges and penalty-related alerts are a must for any college and it also helps the admin staff to maintain regular fee collection inside the campus. Thus, a smart college ERP plays a very important role in the financial management of the complete college.
Examination and Academics Management:
All the processes including mark entries, creation of custom mark sheets as well as all the pre-defined mark sheets plus the examination attendance, mark entry verifications, and all the other important analysis reports including teacher's analysis, student's analysis as well as all the other important reports are a very important and essential element for a complete college management system.
A smart college ERP always maintains its focus equally on students and employees. It always has equally advanced features for employee database management and all the other features and tasks related to them like payroll, attendance, leave management, regular appraisals, processes for new recruitments, and many more such features. Thus, the system becomes complete when it includes all of the mentioned things.
All the important resources should also be managed in a complete college management solution as a college campus always has multiple resources including hostels, canteens, and libraries as well as multiple day-to-day stocks as well as inventories. Not only the database, but the complement usage as well as the tracking of all the resources are available in a college management system.
Mobile Application and extra Plug-Ins:
A smart college ERP always has additional services including plug-Ins like mobile applications, online payment systems, integration with tally software, virtual classrooms as well as the functionalities of online examinations, and many more. All these plug-Ins play a very important role in giving that extra needed depth to a college management system and in the end, they only become the difference when it comes to comparing two smart college management systems.
All of the mentioned points are a serious guide toward what exactly a college ERP system consists of. Vidyalaya college management system is the best college management software in India currently as it already has all the mentioned features inbuilt in it. Many prestigious college campuses across the country use Vidyalaya and are completely satisfied with that as well based upon multiple reviews. Also, when we talk about a college management system, it is not just the features that need to be looked upon, but also the data security aspect and many other important aspects also need to be looked upon before finalizing a system. 
Leakage in data or any other aspect can cause serious damage to the system as well as the privacy of the college. The cloud platform that software is based upon also matters a lot in such cases. Hence all educational institutions must take care while purchasing smart college management systems and should consider all the parameters that we have discussed above in order to make a smart purchase.