Why Should Every School Use Admission Management System?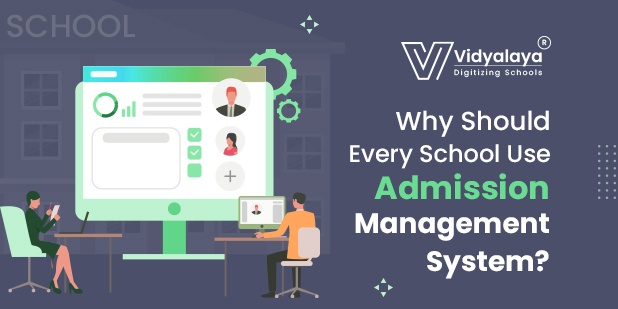 Admissions!! The word itself shivers both students and management staff. The extensive schedule imposes stress, tiredness to both participating parties. In recent years, many institutes are open to the admission management system and the shift is fascinating to others also. Vidyalaya is the renowned name in the education software sector successfully satisfying its clients. Vidyalaya makes a perfect fit for the admission management requirements and the dedicated product for school admissions has become a word of mouth because of its outstanding features.
The admission process has gained a new face, right from college inquiry to completing actual admissions, every process is revolved. The participating stakeholders feel the new end-user experience when they encounter advanced admission management software. Vidyalaya helps to offer a seamless experience for the users with its prominent software. It helps to streamline the chaotic admission processes.
What is admission management software?
Admission management software is a product that converts the unified process of admissions into a unified platform, converting all possible processes to automated. The features offered by the software make the user journey flawless, bringing efficiency in the underlying processes, starting from enrolment to final admissions.
Why should schools use software for school online admission management?
School admissions is an overwhelming task for the school administration. The manual conduction of the processes leaves several errors and doesn't offer desired results. So, the digitalization of entire processes to improve efficiency is the need of the hour.
Here is the list of reasons that tell why every educational institute should use dedicated software for admission management:
Streamlined processes
The manual process is lacking several flaws. Misleading coordination, inefficiency led to assumption-based decision making, and weak conversions. Vidyalaya offers a streamlined process through its admission management software.
The software manages the admission process through the following steps:
Verification of required documents and collection of admission fee in a few clicks
Auto-allotment of batches and course subjects to students
Admission form customization according to institute's requirements
Effective communication through direct email/SMS with students
Keep the parents and/or students in the loop regarding admission updates
Secure and centralized data management
During the peak admission period, the school office is buried under lots of papers, application forms, documents. Ditch this scenario with Vidyalaya's School admission management software and offer a secure and centralized data management solution. The cloud-based feature enables faster data retrieval and secure data access.
The software enables the following features:
All necessary documents are stored in digital format for each student
Store all comprehensive data of students and staff in a centrally stored database
Storage of all academic records including alumni
Custom and standard reports with accurate data and faster data retrieval
Increase the potential of admission inquiries
Many students visit school websites or schools for admission inquiries. Not necessary that all inquiries turn into admission applications. But the experience got during the inquiry process decides the possibility of potential admissions. Vidyalaya boosts the rate of this and helps the institute to offer extraordinary experience with its benchmark product of admission management system.
Here is how the experience is enriched by the software:
Admin of the system will get the eagle view of all inquiries for the year which can help them to improve the system for a better conversion rate.
The personalized dashboard will help the admin to keep track of sources of leads.
This sorted view can help the admin to decide future marketing campaigns.
Customize form for inquiry that will fit the institute's requirements
Different filters like new, processed, rejected for inquiries to sort them on different parameters like academic year, stream, date.
No more ambiguity in admission registration
In today's fast-paced life, no one has time and energy to wait in longer stranded queues. So, Vidyalaya cuts down the wastage of resources through its efficient School Online Admission Management enabling online admissions.
Here is the list of benefits offered by the software:
Submitting and collecting application forms is now a few clicks away.
An easy and user-friendly interface allows students to fill the application without any hassle and submit the digitalized version in one go.
This can help to reduce the number of errors and unnecessary usage of paper.
Online admissions help students to apply from any corner of the world, anytime.
Online fee payment
Why take the risk if an institute is offering online payments! Parents always prefer the way where online payment provision is offered due to its benefits. In terms of security and ease of transactions, the institute offers online fee payment which is suitable for both participating parties. Vidyalaya extends the convenience by offering a secure way of fee payment as the admission management software is collaborated with a reliable payment gateway.
Here is the list of reasons why every institute should insist on online fee payment:
Parents/students can pay fees anytime, anywhere, eliminating the need for visiting the institute physically.
No need for dedicated resources for fee collection and receipt generation.
Manage different bank accounts efficiently.
Notification is sent to the corresponding number after fee payment.
Reports at your fingertips
School management needs different types of reports that build a foundation for futuristic decisions. Faster and accurate data retrieval is the key to efficient reports. Vidyalaya enables school management to use reporting tools effectively so that data can be presented in the form of customized or standard reports. The admission management software helps management to view data at their fingertips.
Here are the features of reporting module:
Faster data retrieval and data are represented in standard or customized format
Analytical-based reports help management to use this data for futuristic decision-making.
No need to store reports in form of papers as they can be available on-demand, anytime.
An easy and user-friendly interface can help to understand the presentation of data easily.
The school admissions scenario has been changed from long-stranded queues to online admissions. No wonder, schools of all scales insist on the online admission management system. Looking at the benefits offered by the system, this scenario is no longer away. Vidyalaya with its motto line of digitalizing schools spreading digital vibes to convert the core school process into a digital one. Join hands with Vidyalaya and offer exemplary school online admission management to your stakeholders.