Key Features of College Management Software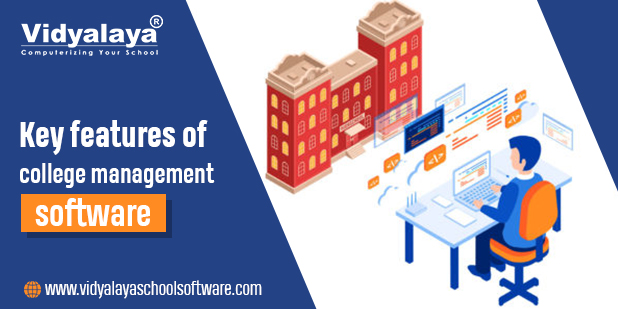 Digitization has evolved in each and every sector of the economy; some sectors are adopting the technology for their better functionality. Along with other sectors, the education sector has adopted this technology at a rapid pace.
Automated technology has made things much easier for schools, colleges, and universities. It has streamlined and shaped the whole administrative, academic, and financial day-to-day operations of educational institutions. College Management Software, also known as Campus Management Solution or Enterprise Resource Planning (ERP) has been developed over the years for automating the daily operations of educational institutions.
The software is meant to cater to the assorted needs of students, faculty members, and departmental staff. For better understanding let us look at the various features of the College Management Software.
FEATURES OF COLLEGE MANAGEMENT SOFTWARE
Student Registration and Admission Management

The software manages the entire registration and admission procedure of students. It records the educational details of students for the past years, uploads photographs of each student for easy identification, generates a unique ID for students, uploads and stores data, and reports related to students, such as character and transfer certificate, family background, etc.

Students' Inquiries Management

The software allows the college authority to respond to students' queries received by email, walk-ins, or on phone, with ease.

Entrance Test Management

The software facilitates to check the eligibility criteria of students.

Fees Collection Procedure

The college management software is a hassle-free and secure way of collecting and processing fees from all the students. The software helps to keep a record of payments received, create billing heads, enter the due amount, and generate and edit fee structures.

Student's Attendance

The software helps to track the attendance of students across the different departments in real-time while eliminating the need for maintaining attendance records of students on paper.

Examination Management

The software enables the authority to set up subject-wise examinations or tests and generate admit cards along with date sheets for each exam. Besides, it helps to generate results based on the percentile or grading system.

Timetable Generation

The Software simplifies the time-consuming task of generating timetables for each class as it generates different time slots for each timetable for avoiding conflicts in timings for teachers. Besides, flexible modifications can be done as per the requirement of the management.

Library Item Details

The software can also be used to keep the record of books in the library. Also, the book issue and return can be maintained from the software.

Manages and Control Accounts

The software helps educational institutions to manage all their expenses. It helps to generate various important accounts related reports including balance sheet, ledger, trial balance, cash book, etc. Thus in this way an educational institution can track all their financial transactions.
As mentioned, the software offers a lot of impressive features. Thus these features help educational institutions to work and achieve their management goals.
SO WHY THERE IS A NEED FOR COLLEGE ADMINISTRATION SOFTWARE?
In today's world, every educational institution is at a fast pace and is in a race of providing the best in offering education at every level. To ease and have the maximum number of admission of students in their institutions, the institutes are adapting and enhancing all kinds of latest technologies for providing the best available features for best quality education and with minimal wastage of time in administrative works.
Vidyalaya College Management software is one such advanced technologically proven software that is integrated with all the necessary features to help students, teachers, parents, and all those who are connected with the campus. The software is the best way to keep and access the record of all the students as per their academic program is concerned.
Thus Vidyalaya has become an inevitable part of an educational institution as it:
Provides hassle-free management of the whole administrative process.
Allows keeping all detailed and relevant information about all the students, guardians, teachers, and staff members so that it can be accessed by the concerned authority anytime as and when required.
By eliminating loads of manual work and repetitive tasks, the software helps in saving their time, money, and resources.
It allows all the members including students, teachers, parents, and staff to stay connected and enlightened about assorted aspects of an educational institute.
It aids in enhancing the standard of an educational institution by reducing the monotony and difficulty of dealing with routine tasks.
HOW YOU CAN CHOOSE THE RIGHT COLLEGE MANAGEMENT SOFTWARE FOR YOUR COLLEGE?
Once you can understand the benefits of college management software, you will be interested to purchase new college management software or upgrade from the existing software that may not be serving you properly.
So it is very important for you to choose the right college management software that suits the unique system and process of your college.
The first step is to study the software used in other colleges. Collect information and make a list. Also, collect the benefits and challenges faced by these colleges. This will serve as a starting point to understand the software market in your geography.
Understand the total cost of ownership of the software by comparing it with the next 5-year operational plan. How many students can be admitted in the next 5 years in your institute? This can be important as the software price may depend on student numbers.
The next step is to understand the features of the software they provide and check whether it fits with your unique requirements. This can be done by creating a small panel of faculty or IT specialist to select and manage the college management software.
Along with the above step, you can also decide to host the software on-premise or online (SaaS).
Now let us look into India's No. 1 ERP Provider Vidyalaya and let us know what the benefits they provide are:
BENEFITS OF VIDYALAYA AS COLLEGE MANAGEMENT SOFTWARE
With streamlining all academic and non-academic activities of an educational institution, good quality college management software also offers many benefits to the administration, management, teachers, students, and parents.
Let's look at some of the key benefits of Vidyalaya college ERP software:
Reduced workload and Enhanced Productivity

If utilized in a proper manner, Vidyalaya enhances the efficiency of any educational institute. By reducing manual work and facilitating a smooth flow of academic and non-academic activities, this management system helps saving time of the concerned authority and allows focusing on various other strategic tasks.

Hassle-Free Communication

Vidyalaya makes it quite easier to circulate information among students, teachers, and parents. Teachers can assign assignments on a daily basis to students online.

Data Security

There are a lot of data and information that an educational institution needs to maintain on a regular basis. By diminishing the need for endless paperwork and manual storage, Vidyalaya allows storing all the data on the cloud. It is the smartest way of storing and using a large amount of data information.

Real-time Information

Vidyalaya can generate much instantaneous and real-time information to help the administrative staff of an educational institute.

Online Classes & Remote Teaching

With Google Meet, Zoom application integration with Vidyalaya, institutes can easily conduct online classes to deliver quality education to students in real-time. This empowers students to attend online live classes and can also submit assignments at the scheduled time from their home.

Human resource management

The lifecycle of a faculty from joining the college till retirement each and every data like leave management, salary management is automated using the human resource management module available in the software. The software provides a single place for storing all employee-related information including personal details and payslips.

Placement management

Vidyalaya helps the colleges to plan and streamline the campus placement activities. The campus recruitment drive, track applicant status, result announcements can be done from here.

Reports

Vidyalaya provides more than 1500 reports to help with various decisions making. This includes the default reports in each module and also the reports can be customized according to the requirement of the institute.

Investment

Ability to customize and support any modules, Vidyalaya is the best investment as it offers complete automation and allows for fast and better decision-making.
CONCLUSION
There is no doubt that Vidyalaya College Management Software is an incredible piece of educational technology. It not only helps in reducing the need for doing repetitive tasks and managing a large number of paper-based files but also allows the institution to perform well in administrative work with the least time invested in today's competitive era.
In the coming years, more and more educational institutions will adopt Vidyalaya as the college management software due to its versatility, security, and high-quality performance at every level.