Is Your Software – The Best School ERP For You?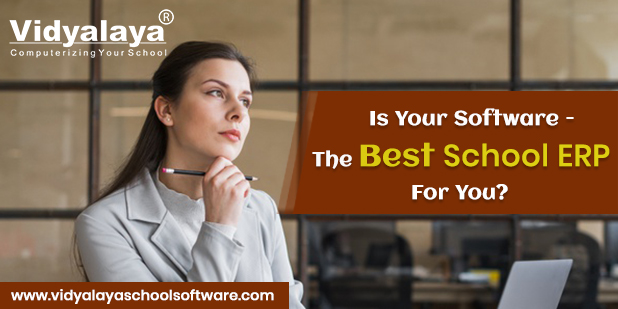 "An ERP is a real-time integrated system which is basically mediated by software and latest technology."
In the era of cut to throat competition in the domain of education, time and information has been the top priorities over other materialistic things. Productivity in correct time and availability of data or information helps to build the skill set of any employees as well as students to meet the success. Success is the only mantra to motivate students to fire up their mind-set and to open up their wings of fire in any domain.
Similarly for achieving the goals the software has to be upgraded and up skilled to meet the requirements. So the software should work to its best level to fulfill the organization's goal.
A best school ERP should have certain features to fulfill the best goals so as to streamline the system in paperless administration. It should consist of various modules that should aid the teachers and staffs in maintaining the student records, academics, and other essential information in the cloud storage system.
Now how can educational institutes understand whether the software they are using to manage the administrative task is at all performing at its best level or not? Whether it is aligned to the school goals or not? Whether it is helpful for taking decisions quicker or not?
For to understand these questions we need to underpin what are the tasks it can do so that it can be earmarked to work at its best level:-
The Software should automate all the Campus Operations : Often running a school management can be an addition of many mundane and time-consuming tasks. Many times, important academic time is spent by the teachers on administrative tasks such as attendance, report card generation, etc. and thus affecting the productivity which in turn impacts the learning of the students.

However, the use of software can simplify the process in a truly effective way. It should automate almost all the tasks related to the management of the school. This can range from data management, resource management and communication management along with integrations like SMS, Mobile App, Online Payment, Biometric System, Tally Integration, Online Exam, Bar code and Vehicle Tracking System

For example, in terms of library management, the best school ERP automates almost all the tasks such as book issue and return data, generating late fine receipts, sending book return reminders to students.

Go Paperless : A large amount of paperwork that a school deals with accumulates. The paperwork basically ranges from assignments, reports data, admission forms, inquiry registrations, alumni details, student records – and an endless list.

Thus the documentation takes a lot of time and effort as they need to be organized and stored properly. Also, retrieving the information when needed can be a tiresome and costly affair.

However, an optimally functioning ERP system ensures that the documents are saved in a digital format and saved securely on a cloud system.

Should provide with Graphical and Analytical Reports To Make Better And Faster Decisions : The main advantage of using a best school ERP is to generate reports for the various functions and departments of the school. These reports range from reports on the transport system, student attendance, human resources, admissions and registration, sports and extra-curricular—all areas where schools regularly devote a most of their resources and time. The reports should be easy to customize according to the needs of the administration and can be accessed at the click of the mouse.

These easy to get access to reports play a pivotal role in the decision-making process in schools. By providing the right information at the right times.

Proper Communication ensuring building proper bonding between Parents And Teachers and Management : Today parents take an active participation in their child's academic life. From information like the latest academic scores to all the extracurricular activities, parents take active participation in the student's learning experience and so it is equally important for schools to communicate the same with the parents regularly. 

The software should sends automatic notes or updates and reminders to the parents as and when needed.

For example, if any student is absent, an alert is sent to the parents updating the same, similarly for when of upcoming holidays or fee reminders the system should send the reminder to the parents over SMS or email, thus saving the teachers countless hours of work writing notes to the parents. This helps to improve the parent-teachers' communication and enhances the academic performance of the student.

Should enhance productivity and ROI : Opting for ERP is a onetime investment that goes a long way in improving the productivity of the school, teaching staff and administration team. By ensuring that all the daily tasks are done, it ensures that the staff is able to concentrate on essential jobs as in focusing more on the academics of the students that will not only increase the productivity of the teams but will also increase the profitability of the organization in the long run. Thus ensuring that the ERP system is an effective way for ROI to the school.

Today thus investing in a proper administrative software provides the educational institutes with several benefits and advantages. However, to use the best advantages of school management ERP software it is mandatory that the software system should work at its best level.

Kindly follow the link to know how Vidyalaya has been proven the best school ERP for many schools across the globe.
https://www.vidyalayaschoolsoftware.com/clients/testimonial