What is Data Validation And Verification (DVV) In NAAC Grading Process?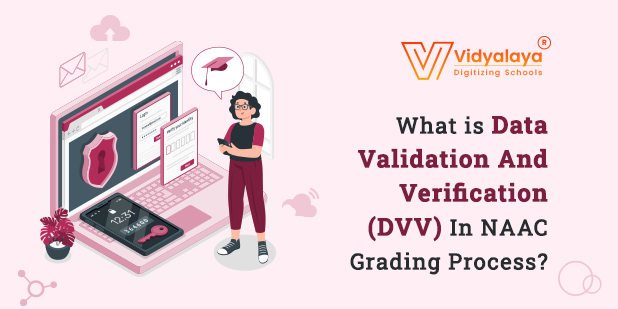 Working in the Indian education sector, you must have come across words like NAAC, and NAAC grading! For those who are not much familiar with these words, let us tell you about NAAC National Assessment and Accreditation Council (NAAC) Accreditation which assesses and accredits high education institutes like colleges and universities.This is an autonomous body established and governed by UGC for evaluating the performance of universities and colleges in the country. NAAC Grading process is considered as rigorous and includes several steps of evaluation. Data Validation and Verification is one of the critical steps in the evaluation process.
What is Data Validation And Verification?
The DVV or Data Validation And Verification in NAAC is a process of verification that verifies whether the submitted or uploaded data on the portal during the NAAC accreditation process is valid or not. This software-based process makes the NAAC accreditation process more transparent, authentic, and reliable. With this process, one can ensure that data used in the accreditation process is accurate and credible. 
What are the two stages of Data Validation And Verification?
Data Validation and Verification in NAAC comprises two steps:
Institutional Cumulative Grade Point Average (CGPA) 

Outcome-Based Accreditation (OBA)
In each of the steps, institutes need to submit relative data that covers information about institutes, institutional infrastructure, student performance, research, and others. 
Institutional Cumulative Grade Point Average (CGPA):
It is the first stage of the NAAC accreditation where institutes are evaluated based on institutional CGPA. This evaluation is based on several aspects:
Teaching and Learning 

Research

Curriculum

Infrastructure

Consultancy and extension

Student performance

Governance

Innovation 

Leadership and management
Data related to each aspect mentioned above is submitted which is thoroughly scrutinized by NAAC. After a software-based verification and validation, NAAC validates the data to ensure the set standards are met and the data developed and used is creditable. 
Outcome-Based Accreditation (OBA):
After institute-level evaluation, the next step in the NAAC accreditation is to evaluate institutes based on outcome-based accreditation. Here, the institute submits outcome-based data as research outcomes, outreach outcomes, and learning outcomes. This data is considered more critical as it determines the comprehensive quality and standards. 
Why it is necessary to have Data Validation And Verification in the NAAC evaluation process?
How Vidyalaya can help in NAAC Grading Process?
Vidyalaya, with 20+ years of education domain experience, removes the complexities in the NAAC process and extends a helping hand to colleges and HEIs. It offers a perfectly integrated product of ERP and LMS to address the NAAC accreditation process. It can work coherently in the areas like data accuracy, compliance, and other core processes. Let us learn how our most-trusted software can help you with Data Validation and Verification in NAAC. 
1. Streamlined Data Management:
NAAC accreditation involves massive data handling and covers several aspects under different heads, like student performance, teaching and learning outcomes, infrastructural information, curriculum implementation parameters, and others. Gathering and handling this data becomes tedious as data if data is scattered in different places. To overcome this problem, Vidyalaya offers a centralized database where all institutional data is stored in one place. This practice makes it easier to access and manage the data. Using a user-friendly UI, users can perform data management activities like data input, management, storage, and analysis easily. 
2. Accuracy:
Vidyalaya integrates various data verification tools in its software to identify any errors or inconsistencies in the data. This ensures that only valid and authentic data is uploaded for NAAC accreditation. 
3. Compliance process:
NAAC has released guidelines for the accreditation process which are strictly followed and grades are assigned as per the specified standards. It becomes mandatory for educational institutes to comply with these guidelines. Our software prepares pre-installed templates for data submission and makes sure that data is submitted in the specified format. There are various standard reports and analytical tools that help educational institutes to recognize their weakened areas and help to improve these aspects. 
4. Customized Workflows:
Every institute follows different workflows and thus demands customization of the workflow design and implementation. Vidyalaya fulfills this prerequisite and offers customizable workflows that enable institutes to streamline their core processes. With this customization, educational institutes can now automate various processes like data entry, validation, and data upload. Automation of these tiresome processes reduces resource wastage and brings efficiency to the overall Data Validation and Verification process. 
5. LMS is future:
Vidyalaya's Learning Management System is all set to help institutes to make their learning and teaching processes future-ready. Removing complexities from the core processes such as course creation, content management, evaluation management, and other areas, Vidyalaya makes it an effortless task of course management. In-built analytical tools can help you to keep a track of student's progress and identify the weakened areas to improve. 
No doubt Data Validation and Verification is a stringent and critical process that leaves no space for errors. So, it is important to double-check the data before uploading and going for the final submission. NAAC accreditation offers a remarkable standard for colleges and HEIs. So, you need a trustworthy partner so that you accomplish these complex processes with no hassles.
This is where Vidyalaya can step in the journey and can provide you with a futuristic digital platform to understand the NAAC evaluation and accreditation process well. Our seamless integration of ERP and LMS can help educational institutes to ace various aspects like data accuracy, compliance, and core processes. Improve overall quality standards with the help of Vidyalaya!