List of 10 Benefits of Using College Management System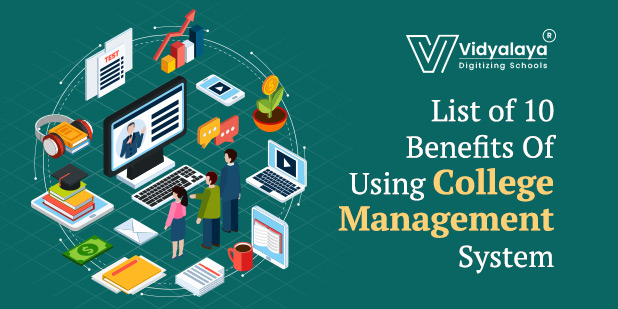 Change is inevitable. It is not a surprise that the education industry is also going through this big alteration. Lots of new software are introduced in the market and they have really changed the way of education. They are making education reach more depth, wide, and comprehensive. Schools and colleges have different working strategies as college deals with different branches, a large base of students, stream-wise subjects, classes, exams, and many more.
Vidyalaya being a leading player in the education software provider industry introduces college management software that will help college management to streamline the processes. It includes the various modules that will help to manage the college campus and off-campus activities in a streamlined manner.
Some of the major modules of Vidyalaya college management software are:
Admission Management
Student Management
Attendance Management
Fees Management
Student Assessment
HR and Payroll management
Academic and Timetable
The attractive benefits of the Vidyalaya college management system fetch the attraction of many education managements towards it.
If you are also thinking to join the queue and be a reputed institute from the crowd, then this article will guide you in further knowing the benefits:
1. Smooth Workflow Management
A college deals with different streams, departments for different streams and subjects, and separate timetables and structures of the course. Not only academic difference but also administrative difference makes the entire work a little complicated. This System offered by Vidyalaya binds all these together to offer smooth functionality among different departments. A centrally stored database will give easy access to the authorized personnel without any hassle resulting the time-saving.
Automation of all possible processes will lead to more accuracy, time-saving, and efficiency. Vidyalaya's system for college management will help not only the higher management but the managerial staff to perform day-to-day transactions more efficiently.
2. Flawless Accounting Processes
Accounting is one of the important departments of any educational institute. College accounting processes are different from those schools. As the money factor is involved, all processes need to be monitored and tracked without zero tolerance for defects. Vidyalaya understands this importance and produces a flawless accounting module that will give relief to the accounting staff from maintaining the hard-bindings ledgers and files. Also, the accuracy of the calculations is incomparable and will generate almost zero errors as there is no human intervention. The college management software by Vidyalaya will not only help the staff to carry out day-to-day transactions and but also higher management plan the budget, keep financial records within a few clicks.
3. Effective decision-making
Data processed or generated is important for higher management to make effective decisions that are important for a bright future. Gone are the days when reports were made by checking multiple files, fetching data, assessing it for accuracy, convert the data into a presentable manner. Digitalization of data will help the staff to get the results instantly. The college ERP software along with an effective reporting module will help the decision-makers to make instant but effective decisions based on accurate data.
4. Easy admission processes
Admissions are the busiest and tiresome period at any educational institute. Educational institutes hire some extra resources during this period as there is excess workload. College suffers different admission processes for different streams making the process more complicated. The online admission module offered by Vidyalaya's college management system will provide an organized approach to this.
5. Accurate entrance and other student assessments
Entrances are the exams applied by a large number of applicants and the massive response requires more resources. But with the student assessment module of Vidyalaya's college management software, college administration can easily implement hassle-free entrance tests. Also, the easy compilation of results will help the administration to generate error-free results and merit admission lists.
6. Eco-friendly process
We all know that lots of resources like paper, energy, and manpower are consumed during the various processes of college management. Reducing these resources without affecting the process outcome is now possible with the help of Vidyalaya's college ERP software. Digitalization of all major processes will help to cut down the paper and other stationery expenses. The efficient usage of all resources will help the wastage and will help the processes to be eco-friendly.
7. New-age attendance monitoring 
Attendance registers or blackboard attendance have become old-school concepts. Vidyalaya offers you a new-age attendance monitoring system that will overcome the flaws of the manual attendance management system. Integration with biometrics or RFID will help the teachers to spend less or zero time on the attendance process. Easy reports will make attendance monitoring and internal grade calculations easy. Also, the integration with the SMS system will send the attendance notification of the ward to the parents' mobile number.
8. Boost in E-learning 
E-learning is the new way of education. During the Covid-19 pandemic, we all realized the importance of e-learning. With the academic module of Vidyalaya's college management software, students and teachers will share a common e-learning platform and continue their education without any hassle.
9. No more clashes in timetable management
Timetable management is a hectic process that needs to be carried out every academic year. Prominent timetable management by Vidyalaya's software can resolve the overlapping issues of timetables and will come up with a flawless timetable.  This will also facilitate the students and teachers for any changes instantly to avoid inconvenience.
10. Redefined the fees management process
When you implement Vidyalaya's college management system on your campus, you will see no queues for fee collection or receipts. Parents or students can pay the fees online using a secure online fee management system. Easy downloading of receipts will ensure the parents about fee collection and they will also get reminders about the due dates, and important updates. This will help them to avoid the due date fine. Education is a systematic approach through which the learner will get the knowledge, skills, experience, and good values. The benefits of Vidyalaya are inviting. Install this system from Vidyalaya that is enriched with out-of-world features and avail of the benefits and make your educational institute stand ahead of others.