What is Timetable Management Software, and How will it help in the Educational Management System?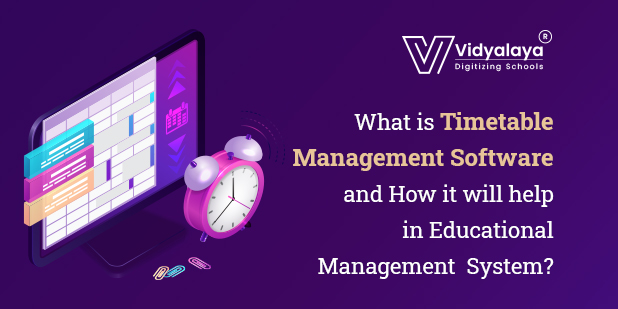 An effective and intelligent timetable design guarantees that the school's resources and the time kids spend in school are perfectly synergistic. A well-designed Timetable Management Software can help schools save time, money and effort management spends on doing day to day time table tasks.
We seldom come across folks that follow a daily schedule, don't we? it is how a typical day in an individual's life looks in this fast-paced world! It not only hurts our health, but it also has a huge impact on our work lives! As a teacher, you must manage a plethora of responsibilities. Taking regular lectures, keeping track of course materials for different parts and branches, and maintaining daily attendance are just a few of the duties!
In such a situation, mastering the art of time management by preparing everything ahead of time is unquestionably necessary to attain optimum productivity and world-class learning outcomes.
As Antoine de Saint-Exupéry once said, 'A goal without a plan is simply a dream,' thus, instructors must guarantee that a suitable timetable is created from the start of the academic term. When creating a timetable, instructors must consider their availability and the needs of their students so that they are not bored.
However, a significant issue that instructors confront throughout this procedure is that if a faculty member is on leave or absent, the entire planning process is null and void! Changing the schedule may be mentally taxing for instructors. In such cases, a school administration system with scheduling software might be beneficial to instructors.
Software for Timetable Management
Creating a timetable that genuinely represents the optimum arrangement is difficult. When this operation is performed manually, there is a chance that it will be less than optimum and will require numerous iterations before becoming efficient. The Time Table module saves schools time by automatically generating the whole school's daily, weekly, monthly, and yearly time tables based on school choices.
• The Student Time Table module allows you to build timetables for all school divisions and standards.
• Detect conflicts between teachers teaching two or more classes simultaneously, resulting in an error-free timetable.
• Place many teachers in the same classroom at the same time.
Features
• Automatic creation of school schedules based on their choices
• Plan professors' and staff members' and students' time effectively.
• Class schedule to ensure that there are gaps between complicated and high-priority classes for a low-stress learning environment.
• Re-adjust summer and winter timetables by school/government requirements. mandates of authority
• The ability to easily replace an existing scheduled subject with a new one with a single click
Benefits
• Accurate timetable generation by school restrictions
• Efficient use of time and instructional resources thanks to an intelligently prepared timetable.
• Controls the stress levels of pupils and teachers
• Minimization of effort in developing, duplicating, and sending scheduling information
• Making timetables based on preset slots.
• Print a schedule for each standard.
Here's how a school schedule may help schools increase productivity…
Paperless Timetable Creation with No Stress
The first and most apparent advantage of combining an ERP with an automated school schedule generating system is that it eliminates time-consuming manual processes and saves instructors a significant amount of time. Promoting a paperless environment is a bonus! With schedule management software, there's no need to create the timetable on paper numerous times until you get it right the first time!
Classroom Management that is Error-Free and Clash-Free
Manual schedules are prone to contain mistakes. Sometimes, the same faculty member is assigned to two classes at the same time! Conflicts between the work-times of two faculty members emerge as a result of such mistakes. Sure, it can fix it, but it takes too long to go through the full timetable again and assign a specific classroom to the faculty.
A timetable management system can produce a schedule free of clashes depending on criteria such as the number of classrooms, the availability of instructors, the number of topics, the number of branches, sections, and much more. It guarantees that resources are used efficiently and that courses, including library, laboratory, sports, and extracurricular activities, are distributed equitably.
The ability to change the schedule
When a student is absent, it has an impact on their academics. However, when a teacher is absent, it has an impact on the entire class's learning! It may be frustrating to assign another instructor to a class when a teacher is away for a long time due to illness or other personal reasons. To plan out the full day, faculty members must verify the availability of various staff members. It may appear simple for a single day, but everything becomes jumbled when a teacher is absent for multiple days. It is when you should think about implementing a school timetable management system. It allows you to examine the schedule of the entire faculty and, if necessary, change the timetable. As a result, regardless of who is absent, pupils' time will be used.
A Timetable Management System That Is Simple To Use
Senior instructors appear to be dissatisfied with the idea of using a time management system in the classroom. The explanation for this is that younger teachers are not as technologically proficient. As a result, the dread of interacting with technology is always there in their minds. Nonetheless, most school ERP software suppliers guarantee that their system is user-friendly so that even employees with limited technical expertise can use it with ease.
Payroll Calculation Simplified
In addition to improving the learning environment in schools, the timetable management system may compute faculty members' compensation. The use of information such as the total number of lectures delivered in a month, the total number of leaves taken, and working hours may make payroll management simpler.
As a responsible faculty member, consider how much effort and time you must devote to simply establishing a timetable. If your response addresses all of the concerns raised above, it's time to install a school administration system with a scheduling module. Digitizing your school with excellent timetable management software will undoubtedly improve workflow and save time.